American Expansionism, which would eventually be labeled Manifest Destiny by the 1840s, was a mindset that many Americans had after the American Revolution.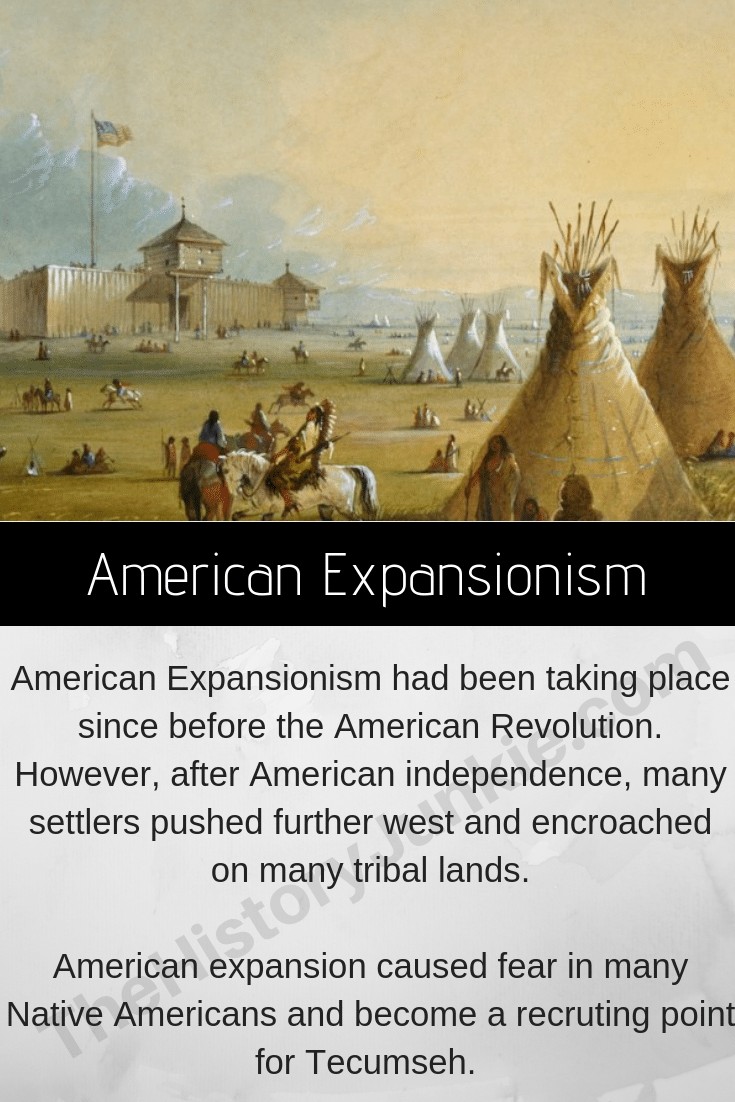 America was founded by men and women coming from another country and colonizing a New World. Every generation that came after continued to push westward. By the time of the War of 1812, Americans had already pushed past the Appalachian Mountains and begun settling the Indiana territory.
Within 5 decades after the War of 1812, Americans would expand all the way to California.
Jump to:
War of 1812
This mindset caused many problems with the Native Americans and the British.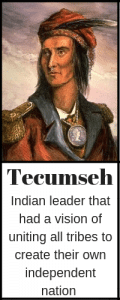 A united Indian nation would serve two primary purposes:
A separate Indian nation would create a powerful nation alongside a young and growing nation. If the tribes of North America would have been able to unite, then they would have been a military and economic force on the Continent and perhaps the world.
A separate Indian nation would serve as a buffer between British Canada and the United States.
Great Britain foresaw the possible economic strength that America would have if it continued its expansion, and they believed that an independent Indian nation would help balance the power on the continent.
Great Britain: The continued expansion kept causing problems with the British because of their disputes with boundaries. Forts that were supposed to be removed after the American Revolution remained and caused tension with many American pioneers who were pushing west.
Couple this with Great Britain's support of an Indian nation, and tensions with the British continued to get worse.
Louisiana Purchase
The Louisiana Purchase doubled the size of the country when Thomas Jefferson purchased it from Napoleon. This land was still inhabited by Indians when it was purchased, and the port of New Orleans was a major shipping point in the Gulf of Mexico. The Louisiana Purchase not only expanded the country further west but gave Americans direct access to the Caribbean.
The Louisiana Purchase upset the British since Napoleon used the money from the purchase to fund his army during the Napoleonic Wars.
The purchase also continued to infringe on the Native Americans that were in the region.
By the time of the War of 1812, the land within the Louisiana Purchase had only been explored and not settled, with the exception of a few areas. However, The Battle of New Orleans would become one of the most famous battles of the War of 1812.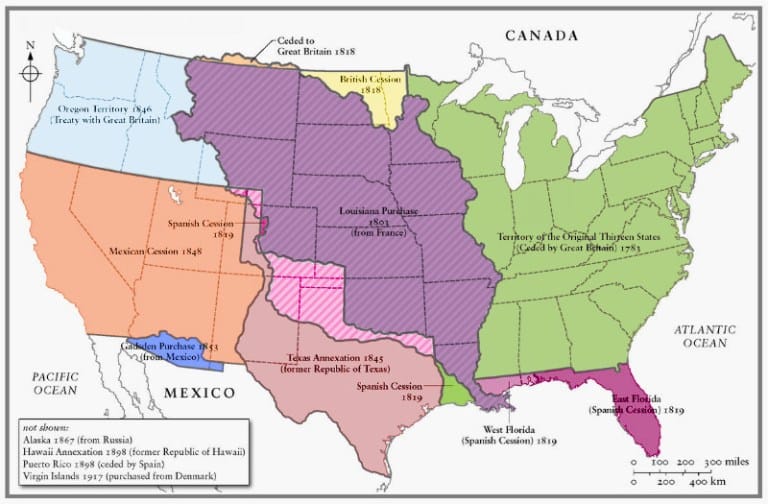 British Canada
American Expansionism was not relegated to just the west. Since the American Revolution, the citizens of the United States believed Canadians to be similar to them and believed they would be able to liberate the Canadians from the tyranny of the British.
That was the American belief, and when the War of 1812 was declared, their primary objective was to invade Canada.
Canada also gave the British an access point to invade America.