Anna Strong was a possible member of the Culper Spy Ring during the Revolutionary War. It is believed that she served as a relay that would signal Caleb Brewster of new information from Abraham Woodhull and Robert Townsend.
Her exact responsibilities during the American Revolution are unknown due to the secrecy of the spy ring and that she does not seem to mention it publicly in her life.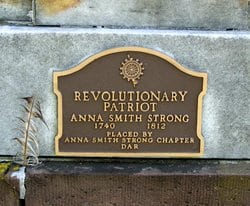 Early Life and Family
Anna Smith Strong was descended from colonial elites, and closely related to the other Culper Spy Ring members.
Anna's father was Colonel William Smith, son of Henry Smith and grandson of Colonel William Smith, a justice of the supreme court established in New York in 1691. He was clerk of Suffolk County, New York, and judge of the Common Pleas Court for the county for several years before the American Revolution.
Anna's mother was Margaret Lloyd Smith, daughter of Henry Lloyd of Lloyd's Neck.
Her husband was a leading Patriot judge, and their family-controlled one of Long Island's manors, ancestral estates, much like those in England or certain Southern plantations.
Most of the Long Island Manors were basically plantations, complete with slavery, in the early part of the 18th century. The status that accompanied both Anna's home and her husband's political appointment made her family a target of the occupying British soldiers.
Anna married Selah Strong who was an adamant patriot who served in the first three provincial congresses in New York and was a captain in the New York Militia. Despite his wealth, he was loyal to the patriot cause and paid dearly for it.
In late 1777 or early 1778, he was presumed a spy by the British that occupied New York and sent to prison. He most likely served this sentence out on the prison ship HMS Jersey. Through much resourcefulness and the aid of Selah's Tory relatives, Anna managed to negotiate for his release. After his release, he went to Connecticut where he stayed the remainder of the war, presumably to avoid more encounters with the prison ships.
Anna had moved the younger children to other relatives and she remained on Long Island.
She and her husband had nine children:
Keturah S.
Thomas Shepherd
Margaret
Benjamin
Mary (died young)
William Smith
Joseph (died young)
George Washington
Joseph.
Culper Spy Ring Involvement
After the death of Nathan Hale, General Washington placed Benjamin Tallmadge in charge of intelligence. Tallmadge favored a much larger effort than one man going in and trying to come out alive with enough information. He wanted to recruit many people and build a sophisticated intelligence network throughout New York.
This led to the recruitment of Abraham Woodhull who began working with Tallmadge in the summer of 1778. Others were also recruited and those that had direct contact with Anna Strong (would have been Woodhull, Robert Townsend, and Caleb Brewster.
Anna Strong's role in the ring was to relay signals to Caleb Brewster who ran a whaleboat across Long Island Sound on smuggling and military missions.
She did this by hanging a black petticoat on her clothesline at Strong Point in Setauket, which was easily visible from a boat in the Sound, and also by Woodhull from his nearby farm. She would add a number of handkerchiefs for one of six coves where the courier would bring his boat and Woodhull would meet him.
Historian Richard Welch writes that the tradition of the clothesline signal is unverifiable, but it is known that the British suspected a woman at Setauket who fit Anna's profile.
Conversely, authors Brian Kilmeade and Don Yaeger suggest that she was an unlikely candidate to be the woman member of the Culper Ring. They claim that British law provided for lands to be confiscated if left abandoned, and they speculate that this forced Anna to remain on Long Island when her husband left for Connecticut. They further state that she had her children with her and her arrest would have left them parentless.
The most telling evidence of Anna's involvement occurred after the war when George Washington reimbursed Selah Strong for expenses incurred in connection with the Culper Spy Ring. This would have been most likely due to Anna's involvement since Selah was in prison or living in Connecticut for most of the war.
Post-War
After the war, Anna and her husband lived a quiet life.
With exception of a few pieces of evidence such as George Washington's visit, there is not a lot of evidence left behind of her involvement. The evidence suggests that it was her that was involved in the Culper Spy Ring, however, it was never spoken of by any other family member.
Her grandson Selah Strong, the son of Thomas Strong, would go on to become a United States Representative for the 1st district of New York and he was oblivious to his grandmother's involvement in the Revolution.
Anna died on August 12, 1812. Her husband would remarry but only lived another 2 years.