The Battle of Saratoga was one of the most significant victories in the American Revolution.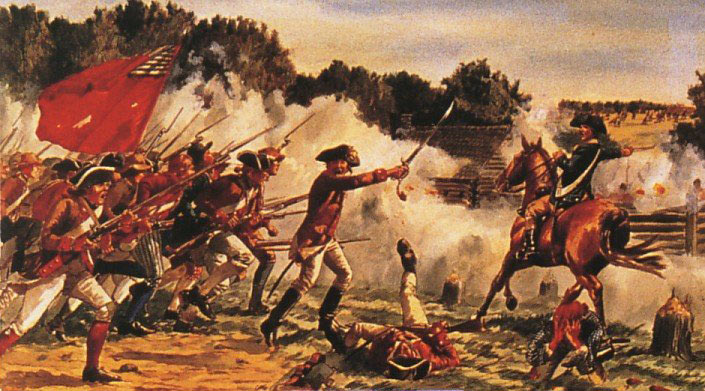 It set off a chain reaction that would cause France to join the Revolutionary War on the side of the Americans, and it also led to some political strife among America's leadership.
It would elevate Horatio Gates to fame that he could not handle and would be the last time that Benedict Arnold would lead an American army in the field.
Timeline
May 1776: General John Burgoyne arrives in Canada with reinforcements. He would become the head of the Northern Army and would spearhead the Northern Invasion into the 13 original colonies.
February 28, 1777: Burgoyne submits his plans for the Northern Invasion to his superiors for approval. Within 3 days, his plans are approved.
June 1777: Burgoyne begins his invasion
June 12, 1777: General Arthur St. Clair takes replaces General Horatio Gates
June 20, 1777: General Philip Schuyler takes over command and prepares for Burgoyne's Northern Invasion.
June 30, 1777: General Burgoyne's army appears near Fort Ticonderoga. The Americans are aware of their movements and prepare evasive actions.
July 5, 1777: The Continental Army evacuates Fort Ticonderoga and began actions that would slow the British march.
July 27, 1777: Jane McRae was killed by Native Americans. The news of her death galvanized the Americans, which would swell their numbers.
July 29, 1777: British forces take control of Fort George and Fort Edwards, but they are behind schedule.
August 1777: General George Washington sends extra troops towards General Burgoyne's invading army. 
August 15, 1777: In a surprising victory, the Americans defeated the British at the Battle of Bennington. The Americans, under commander John Stark eliminate a significant portion of Burgoyne's northern army.
August 16, 1777: After the Battle of Bennington, Most of Burgoyne's Native American allies held a council and decided to go back to Quebec. 
August 19, 1777: The Continental Congress promotes General Horatio Gates to command the Northern Army.
September 12, 1777: General Gates cautiously moves his men toward Bemis Heights.
September 19, 1777: The Battle of Freeman's Farm takes place in which the Americans under the command of Daniel Morgan and Benedict Arnold inflict heavy casualties on the British Army and their Native allies.
September 20, 1777: The Battle of Bemis Heights begins and will take nearly two weeks of maneuvering and skirmishes to decide. 
September 26, 1777: General William Howe captures Philadelphia, thinking it would end the war. That did not happen, and it left Burgoyne vulnerable to defeat.
October 7, 1777: After taking heavy casualties, General Burgoyne retreats to Saratoga.
October 13, 1777: With his army surrounded, Burgoyne holds a council of war to discuss the terms of his surrender.
October 17, 1777: General John Burgoyne surrenders his Northern Army to Horatio Gates. 
Late 1777: Due to Gates's victory at Saratoga and Washington's defeat at New York, and Philadelphia cabal known as Conway's Cabal began to petition Congress to remove George Washington for Horatio Gates.
December 18, 1777: Congress names December 18th as a day of Thanksgiving. It would be the first holiday with this name.