One of the most interesting founding fathers is Benjamin Franklin.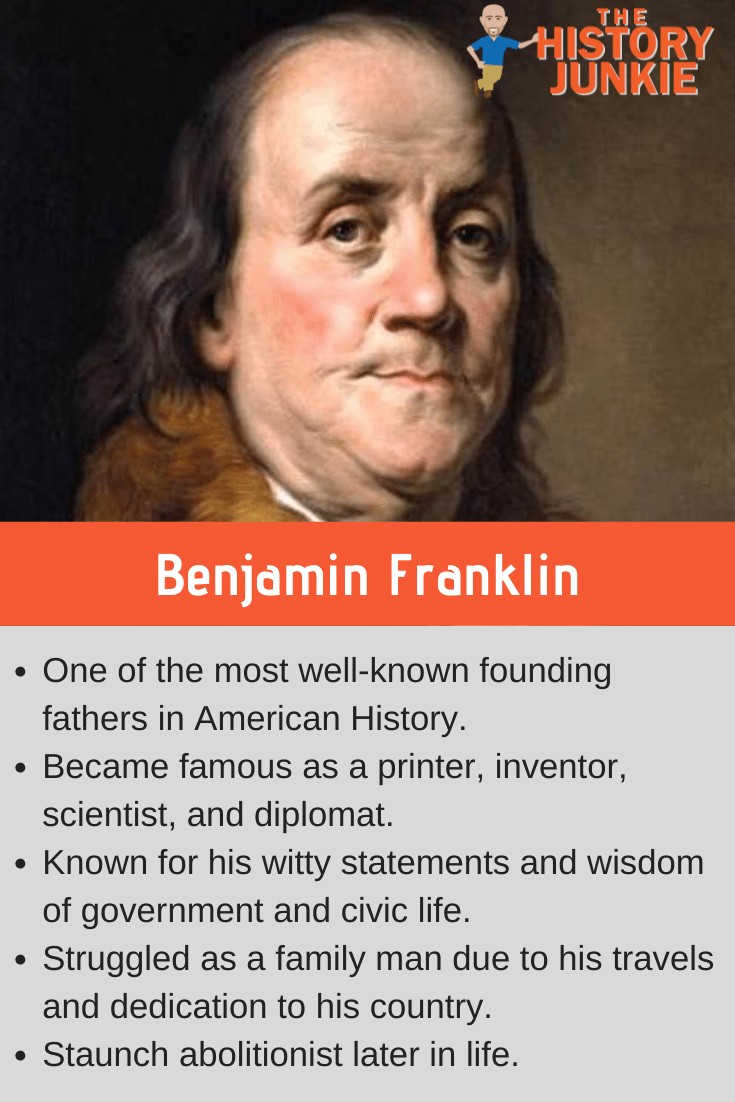 He is known for his uncanny wit and many contributions to the foundation of the United States. He was not only an inventor but contributed much to civic life with the formation of some of the first libraries, fire stations, and even daylight savings time.
Jump to:
During the American Revolution, he was a senior statesman who brokered the deal with France that led to them entering the Revolutionary War. His inventions and discoveries made him the most well-known American, with the exception of George Washington, in the world.
When he returned to the United States after his diplomatic mission to France, he helped guide the young nation into a new chapter by giving his insight and wisdom for the new Constitution of the United States.
Family Overview
Benjamin Franklin's father, Josiah Franklin, was a tallow chandler, soaper, and candlemaker. Josiah Franklin was born at Ecton, Northamptonshire, England, on December 23, 1657, the son of Thomas Franklin, a blacksmith and farmer, and his wife, Jane White.
Benjamin's father and all four of his grandparents were born in England.
Josiah Franklin had a total of seventeen children with his two wives.
He married his first wife, Anne Child, in about 1677 in Ecton and emigrated with her to Boston in 1683; they had three children before emigration and four after.
Following her death, Josiah married Abiah Folger on July 9, 1689, in the Old South Meeting House by Reverend Samuel Willard and had ten children with her.
Benjamin, their eighth child, was Josiah Franklin's fifteenth child overall and his tenth and final son.
Benjamin Franklin's mother, Abiah, was born in Nantucket, Massachusetts Bay Colony, on August 15, 1667, to Peter Folger, a miller and schoolteacher, and his wife, Mary Morrell Folger, a former indentured servant.
Mary Folger came from a Puritan family that was among the first Pilgrims to flee to Massachusetts for religious freedom, sailing for Boston in 1635 after King Charles I of England had begun persecuting Puritans.
Her father, Peter, was "the sort of rebel destined to transform colonial America." As clerk of the court, he was jailed for disobeying the local magistrate in defense of middle-class shopkeepers and artisans in conflict with wealthy landowners.
Family Tree Chart
Parents:
Josiah E. Franklin (1656 - 1745)
Abiah Folger (1667 - 1752)
Spouse:
Deborah Read: The couple married on September 1, 1729. Franklin had lived with the Read family before sailing to England; upon his return, she had already married another. Her husband passed away, and Franklin would then marry her.
The couple's marriage was a mixed bag. They seem to do very well in business, and Deborah certainly accepted Franklin's illegitimate son, William, as her own.
However, as time passed, she would spend most of her time alone, as Franklin would spend much of his time traveling.
By the late 1750s, Benjamin Franklin had established himself as a successful printer, publisher, and writer. He was appointed the first postmaster of Philadelphia and was heavily involved in social and political affairs that would eventually lead to the establishment of the United States.
In 1757, Franklin embarked on the first of numerous trips to Europe. Read refused to accompany him due to a fear of ocean travel.
While Franklin stayed overseas for the next five years, Read remained in Philadelphia, where, despite her limited education, she successfully ran her husband's businesses, maintained their home, cared for the couple's children, and regularly attended Quaker meetings.
Franklin returned to Philadelphia in November 1762. He tried to persuade Read to accompany him to Europe, but she again refused. Franklin returned to Europe in November 1764, where he would remain for the next ten years.
Read would never see Franklin again.
In 1768, Read suffered the first of a series of strokes that severely impaired her speech and memory. For the remainder of her life, she suffered from poor health and depression.
Despite his wife's condition, Franklin did not return to Philadelphia even though he had completed his diplomatic duties.
In November 1769, Read wrote Franklin saying that her stroke, declining health, and depressed mental state were a result of her "dissatisfied distress" due to his prolonged absence. Franklin still did not return but continued to write to Read. Read's final surviving letter to Franklin is dated October 29, 1773.
Thereafter, she stopped corresponding with her husband. Franklin continued to write to Read, inquiring as to why her letters had ceased, but still did not return home.
On December 14, 1774, Read suffered a final stroke and died on December 19. She was buried at Christ Church Burial Ground in Philadelphia.
Children:
William Franklin (1731 - 1813) - He was illegitimate, and his mother was unknown but believed to be a prostitute. He and his father were close until the Revolutionary War, when he sided with the loyalists and eventually fled to England. When Franklin died, he was omitted from his will.
Francis Folger Franklin (1732 - 1736) - Died of smallpox. His death always bothered Franklin because he did not get inoculated from smallpox when he was a child.
Sarah Franklin (1743 - 1808) - She took care of her father during his later years.
Siblings:
Elizabeth Franklin (1678 - 1759)
Samuel Franklin (1681 - 1720)
Hannah Franklin (1683 - 1723)
Josiah Franklin (1685 - 1715)
Joseph Franklin I (1687 - 1688)
Anne Franklin (1687 - 1729)
Joseph Franklin II (1689 - unknown) - Died as a child
John Franklin (1690 - 1756)
Peter Franklin (1692 - 1766)
Mary Franklin (1694 - 1759)
James Franklin (1697 - 1735)
Sarah Franklin (1699 - 1731)
Ebenezer Franklin (1701 - 1703)
Thomas Franklin (1703 - 1706)
Lydia Franklin (1708 - 1758)
Jane Franklin (1712 - 1794)