Christmas is such a special time of year, and it differs from every other holiday we celebrate in America due to the Christmas Season that comes with it. Within that Christmas Season are many different Christmas Traditions and Customs that are implemented in different ways depending on your family, religion, background, and ethnicity.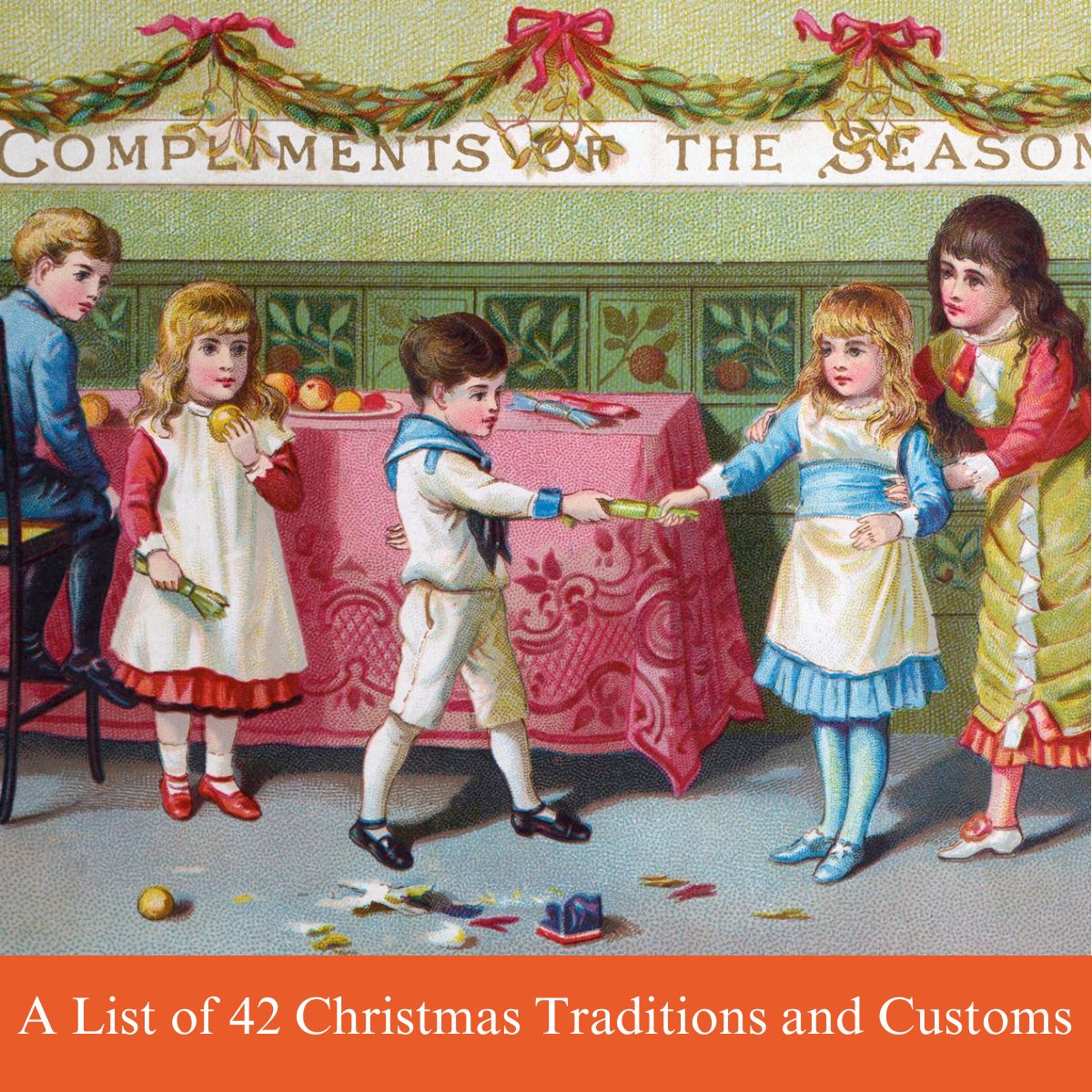 The first time I came in contact with this was when I was in my early 20s and working at a local factory with many different ethnicities.
A few days before Christmas, many of us were sitting around a table eating our lunch and got into a discussion about different Christmas traditions and customs.
Many of the folks I worked with were from Spanish-speaking countries, islands, and territories. It came as a big surprise to me that each different location had its own traditions and customs. They ate different food, sang different songs, etc.
Although there were many differences, most of what they did was the same as my family. They still decorated a Christmas Tree, celebrated with family, and recognized the Birth of Christ.
Here is a list of well-known and lesser-known Christmas Traditions and Customs:
When is Christmas Celebrated: Most people celebrate Christmas on December 25th, but that is not the case for everyone. Many folks celebrate before and after the 25th for various different reasons.
12 Days of Christmas: Many people know of the popular Christmas carol bearing the same name, but this tradition goes back to Medieval times and is often a time for remembering what took place to bring Christ to the world.
How Christmas is Spelled - Christmas or Xmas: Most people believe that X-Mas is a shorthand version of Christmas, and some even find it offensive because they believe it is taking the "Christ" out of Christmas. That is not actually true, and to understand why that is not true, you would have to go back to the early church and how they would view it.
Christmas Bells: How many recitals do we go to where kids ring the bells of Christmas? How many Christmas carols do we sing that mention bells? Where did this tradition come from, and why is it so prevalent in our celebration?
Boxing Day: This holiday takes place on the day after Christmas and has an interesting history that follows it. This is not a holiday in the United States but is a holiday in the United Kingdom and countries that have ties to the UK, such as Australia, South Africa, New Zealand, and other European Countries.
Christmas Candles: Candles are a part of many Christmas celebrations. Many churches have candlelight services that are held on Christmas Eve that commemorate the night Jesus's parents were looking for a place to stay. Candles are also used in other holiday traditions during this time. An example of this would be Hanukah and the lighting of the menorah.
Candy Canes: Often looked over is this traditional candy at Christmas time. Over the years, Candy Canes have undergone some changes, such as their color and flavors. However, they have a fascinating history that possibly goes back to the late 17th century.
Christmas Stockings: A tradition that has been in place for centuries and can be linked to Saint Nicholas. While the origin of the actual tradition is the stuff of legend, the Christmas stocking is a mainstay in America despite your religious beliefs.
Chrismons: While you probably don't know what a Chrismon is, I can promise you that you have seen them. Chrismons are Christmas decorations with Christian symbols on them. You have probably seen them in your local Wal-Mart or Christmas shop.
Christmas Cake: If you watch some of the older Christmas Movies, you will notice the mention of the Fruit Cake as a staple at Christmas. This is a true tradition that began in the United Kingdom and was eventually picked up in America and throughout the world.
Christmas Carols: It is hard to imagine Christmas without the singing of Christmas Carols. Carols have been a part of Christmas since its beginning, and every year, there are new versions of classics and even new songs that become mainstream. Radio stations now dedicate an entire month to Christmas music because of the ad revenue it will bring in.
Christmas Cards: When I was a kid, I remember my parents receiving Christmas Cards from Family and Friends and then taping them around the door frame that led into the kitchen. That was a Christmas Tradition and Custom unique to my family, but every family has its own tradition when it comes to Christmas Cards.
Christmas Eve: What do you do on Christmas Eve? This will be different for everyone. Some will celebrate Christmas with their extended families on this day, Some will participate in a Candlelight service, and others will do something that is not listed. However, Christmas Eve has its own history that is unique to this time of year.
Christingles: This is an interesting tradition that many have not heard of that came to America from Germany. I won't go into details here, but it involved an orange ribbon, a candle, four sticks, and candies.
Christmas Crackers: Whenever I first saw this, I thought this was an actual cracker, but after doing research, I learned that the name cracker came from the sound it makes when it is pulled apart. Christmas Crackers began in the UK and made their way across the pond to America.
Christmas Colors: Ever wonder where we got the Colors of Christmas from? There is an interesting history to that, and one of the interesting facts about the Colors of Christmas is that each color has its own meaning.
Christmas Villages: One of my favorite decorations at Christmas and is definitely becoming a popular tradition in my house is the Christmas Village. The houses, fake snow, little ice rinks, toy trains, and the little people paint a picture of a happy, traditional Christmas in a small town.
Eggnog: Every year after Thanksgiving, the Pumpkin Spice drinks that were on the shelves during the fall are replaced with eggnog. Eggnog has changed throughout the years and has become a wonderful creamy drink that can be given to folks of all ages. However, the eggnog that we drink today is not the same as the eggnog from a couple of centuries ago.
Elf on the Shelf: When I was a kid, my grandma put an elf at the center of her tree and told me that he would be watching to see if I was being good and then report to Santa. Now, I use that same tradition with my own children every year, and they enjoy it. While that is a fun tradition, I had no idea how new it was, especially since my grandma did it back in the 80s!
Holly, Ivy, and Other Greenery: The history of the greenery goes back before Christ and was used in the celebration of the Winter Solstice. After Christianity became popular, it was redefined to have Christian meanings.
Santa Claus Around the World: The legend of St. Nick is not the only legendary figure that brings gifts at Christmas. Around the world, there are different figures that bring presents, and they have different names. Many are connected to Santa Claus.
Jesse Trees: They get their name from the father of David in the Bible. It refers to a prophecy in Isaiah that names Jesse and how Jesus would be a descendant of David. These trees are much different than Christmas Trees.
Mince Pies: Originally, these pies were made with meat, and over time, they changed into a sweeter variety. There is a unique history that accompanies them.
Mistletoe: The Mistletoe has a long and distinguished history in pagan and Christian culture. The association of "kissing under the mistletoe" came when Christianity gained influence. Prior to that, it was used to ward off evil spirits and bring good luck to a household.
The Nativity: This is one tradition that belongs exclusively to Christianity. The Nativity represents the night of the birth of Jesus. Often depicted in the Nativity are Joseph, Mary, The Wise Men, Shepherds, Animals, an Angel, and the baby Jesus.
Pantomime: This is a performance that really has nothing to do with Christmas that somehow developed into a Christmas Tradition and Custom in the UK.
Christmas Cantata: A tradition that is often seen in churches is the Christmas Cantata. This play is often put on by adults or children, depending on the church, and the community is invited to view the play. The stories are told from a Christian perspective and involve various Christmas Carols and other songs that relate to what the character is feeling at that moment. Some productions are low-budget, while some can rival a Broadway show.
The Christmas Pickle: One of the strangest Christmas traditions and one I did not know about until after I started looking into Christmas traditions. This tradition has three different possibilities of origin.
Poinsettias: This is one of the more popular traditions that occur during the entire season. Poinsettias come from Mexico and are linked to a South Carolinian, Joel Robert Poinsett, who brought them to the United States.
Christmas Presents: This is probably the most popular part of Christmas and what has made Christmas the most marketed holiday across the world. The first Christmas presents were given to Jesus by the Wise Men, and that is where the tradition originated.
Christmas Pudding: A UK tradition that originally started with a pudding made of beef and mutton. Over time, it became a sweeter treat but was eventually banned by the Puritans. Eventually, the tradition came back, and the pudding evolved into what we know today.
White Christmas: In the original Christmas Story, there is no mention of snow. Jesus was born in a stable after his parents had traveled a long distance to Bethlehem. The idea of a White Christmas is more of a Victorian influence, and the cold weather is often referenced in classic Christmas stories.
Christmas Movies: An absolute favorite tradition of mine is sitting down in front of the television and watching a classic Christmas movie. Some of my favorite Christmas memories as a child were made watching Christmas Vacation, Home Alone, or Rudolph the Red-Nosed Reindeer.
The Legend of Santa Claus: Where did Santa Claus come from? St. Nick, as he is often referred to, was a bishop in the fourth century who was a wealthy man with a kind heart who did many good deeds. There are many amazing stories about him, and that is where the legend of Santa Claus originated.
Star of Bethlehem: The Star of Bethlehem comes from the story of the Wise Men who journeyed to meet Jesus. The star appeared to them, and as educated men who knew the scriptures, they knew what it meant. The Magi journeyed and eventually met Jesus when he was a toddler.
The Wise Men: There were more than three, and they were from Persia. They did not arrive to see Jesus until he was 2 or 3 years old. How did these men from Persia know about Jesus being born? This was probably because the Prophet Daniel was a well-respected wise man in Persia, and he foretold of the birth of Christ.
Christmas Trees: This tradition has pagan origins, and as Christianity took over the culture of Europe, it became Christianized. Originally, it had to do with the Winter Solstice or the worship of a different god. However, tradition eventually became a part of Christmas and is used as a centerpiece in the home.
Christmas Turkey: Turkey in America is synonymous with Thanksgiving, but the bird is also known to be a centerpiece for Christmas. This tradition has never been a staple in my home as we typically ate something different at Christmas, but it is still referenced in various Christmas stories.
Wassailing and Mumming: This is an interesting tradition that has its roots in the United Kingdom. Wassailing has to do with a drink, while Mumming has to do with a party.
Hanukkah: The Jewish Festival of Lights. This is a celebration of 10 nights, and it recognizes the rededication of the Temple in Jerusalem.
Kwanzaa: A seven-day celebration that celebrates African culture. It takes place from December 26 - January 1. Despite it being an African holiday, Kwanzaa is mostly celebrated in the United States.
The Yule Log: A tradition that goes back to the Winter Solstice. A log was cut into small pieces, and a small piece was burned every night during the 12 days of Christmas.