Dred Scott was an enslaved African-American who sued the United States for his freedom. His argument was that he had been living in Illinois with his wife and children for four years, and since slavery was illegal in the state, he should be free. His argument was unsuccessful, and he was forced back into slavery. This decision did not settle the issue of slavery as the Supreme Court had hoped but further divided the country.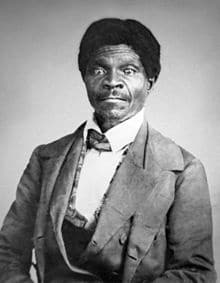 Jump to:
Dred Scott in Slavery
Dred Scott was born into slavery in 1799 in Southhampton, Virginia.
In 1818, Peter Blow and his family took six slaves to Alabama, where they failed at farming. The Blow family then moved to St. Louis, Missouri, where they ran a boarding house. The slave Dred Scott was sold to Dr. John Emerson.
When Scott learned that he was being sold to Emerson and would be relocated to Illinois, he ran away.
He did not distance himself from his pursuer and hid from his master by hiding among other slaves.
He was captured in the Lucas Swamps of Missouri and taken back.
Dr. Emerson moved frequently, taking Scott with him to each new army posting.
Emerson moved around from Illinois, Minnesota, and Wisconsin. It was during his stay in Wisconsin that Scott met and married Harriet Robinson, a slave owned by Lawrence Taliaferro.
Slave marriages had no legal sanction, but due to the marriage, Taliagerro transferred Harriet to Emerson, who treated the Scotts as his slaves.
Emerson moved in 1837 and left behind the Scott family.
He married Eliza Irene Sanford in Louisiana and sent for his slaves to join him. The two joined them, but while on the steamboat to Louisiana, Harriet gave birth to her daughter Eliza.
The Emersons and Scotts returned to Missouri, and in 1842, Emerson left the Army.
Emerson died in Iowa Territory, and the Scotts were transferred to his wife. Eliza continued to lease the Scott family out as hired slaves.
Dred Scott attempted to purchase his and his family's freedom. He offered $300, but his offer was denied.
When he failed to purchase his freedom, he took legal action.
Dred and Harriet went to court. After going back and forth, the Scotts were granted freedom. However, the slave owners pushed back, and the case went all the way to the Supreme Court.
The Dred Scott decision ended the freedom of the Scott Family. The decision shocked the country and caused a deeper divide.
Following the ruling, the Scotts were deeded back to the Blow family, who freed them.
Dred Scott died of tuberculosis in 1858. He was survived by his wife and daughters.
Related Pages