Thomas Gage was the British commander-in-chief of the North American forces. He was a distinguished military officer for his service in the French and Indian War and was a celebrated administrator in the province of Montreal. He was given the position of commander in chief of British America after General Amherst resigned. He would be made royal governor of Massachusetts in 1774 to enforce the Intolerable Acts. There, he would stay until William Howe replaced him shortly before the Battle of Bunker Hill.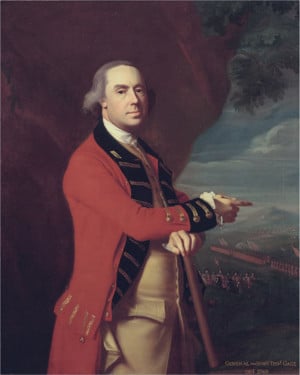 Jump to:
General Thomas Gage Facts: Early Life
Thomas Gage was born in 1719 in Firle, Sussex, England, to a noble family. His father, Thomas Gage, was a nobleman in Ireland. He was born into a privileged family, which led to his admittance into Westminster School in England. Here, he met fellow contemporaries John Burgoyne and Richard Howe, the brother of General William Howe.
After graduating from Westminster School, Gage joined the British Army. Here, he would be commissioned as an ensign and eventually rise to become commander-in-chief of British America. However, in his early years, he mainly dealt with recruiting in Yorkshire.
General Thomas Gage Facts: The French and Indian War
During the French and Indian War, Gage was met with more failures than successes. He was part of the failed Braddock expedition, where he became friends with a young George Washington. During the expedition, Gage was blamed for poor field tactics during the British retreat. His failures would not end there. Later, under General Amherst at Fort Ticonderoga, Gage was deployed to capture the French Fort La Galette. He was unable to do so. However, General Amherst was able to accomplish his mission without the fort, and Gage was placed as governor of Montreal. Here, he gained a solid reputation for his administration abilities.
Although he had significant setbacks in the French and Indian War, Gage did have one large success. He formed the first British regiment of light infantry. This unit was much quicker than the British regulars and was able to fight the Indians and the French in wooded areas rather than in the open field.
General Thomas Gage Facts: American Revolutionary War
After General Amherst left the Americas for good, Thomas Gage was promoted as commander in chief of British America. He was the highest-ranking officer in all of North America. Gage spent most of his time in New York, where he and his wife Margaret Gage presided over the colonies. Like most officers of this time, Gage engaged in nepotism. He promoted many of his friends and family members to higher-ranking positions, although they were not necessarily qualified.
During this period, colonial tensions began to rise. Gage began to pull his frontier troops back to the larger cities of the colonies. British regulars began to be quartered in New York and Boston, which made relations even worse. This occupation led to the Boston Massacre and the withdrawal of British troops from Boston.
Tensions continued to rise when the British responded to the Boston Tea Party with the Intolerable Acts. England sent Thomas Gage back to North America as Royal Governor of Boston to squash the rebellion and maintain order. At this point, relations were beyond repair, although Gage gets most of the blame for being unable to secure Boston. The Bostonians had organized an army of militia and minutemen to fight the British. They had also begun to store ammunition in Concord. With each passage of each new act, the British only made things worse.
Lord Dartmouth of England ordered Gage to seize the rebel leaders and the rebel stores of ammunition. With great haste, Gage sent 700 men into the Middlesex countryside late at night. The rebels were ready as Dr. Joseph Warren, Paul Revere, and others warned the countryside and mobilized the provincial militias. Gage's 700 met small resistance at Lexington but was pushed back in Concord. Heavy casualties were inflicted on the British during the retreat. After the battle was over, the rebels had embarrassed the British regulars, and Boston was under siege. Gage was unable to defeat the rebels and was replaced by William Howe, who suffered substantial losses at the Battle of Bunker Hill and was eventually forced to abandon Boston completely.
General Thomas Gage Facts: Later Years
When Thomas Gage returned to England from the Americas, he was met with a lukewarm reception. While many sympathized with him, many had argued for his removal months earlier. Gage continued to serve in the military and served under General Amherst when the British prepared for a French invasion in 1781. He was eventually promoted to General.
By the time the 1780s had come, Gage's health was declining. He died in 1787, just 13 years after his commission as royal governor in Boston. His wife and children survived him.
Gage is remembered for his failures, but many historians recognize that there was very little he could have done to avoid war. Parliament had united the colonies and lost support within the loyalist population with the passage of the Intolerable Acts. Once Gage arrived, he became nothing more than a scapegoat. He was provided with an insufficient force to secure Boston. Parliament had provided him with 3,000 men when the provincials around Boston numbered around 10,000. He deserves criticism for some of his failures, but the blame does not solely fall onto him.
General Thomas Gage Facts: Online Resources