George Rogers Clark was born on November 19, 1752, in Albemarle County, Virginia Colony. He was the second of 10 children of John and Ann Rogers Clark, who were Anglicans of English and Scots ancestry. Five of their six sons became officers during the American Revolutionary War, and their youngest, William Clark, became famous as the co-leader of the Lewis and Clark Expedition. The Clarks always seemed to have an interest in the frontier.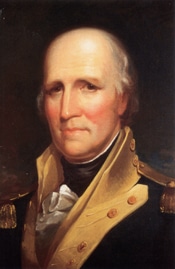 Clark's military career began in 1774 when he served as a captain in the Virginia militia. He was preparing to lead an expedition of 90 men down the Ohio River when hostilities broke out between the Shawnee and settlers on the Kanawha frontier that eventually culminated in Lord Dunmore's War.
Jump to:
Most of Kentucky was not inhabited by Indians, although several tribes used the area for hunting. Tribes were angry in the Ohio country who had not been party to the treaty signed with the Cherokee because the Kentucky hunting grounds had been ceded to Great Britain without their approval. As a result, they tried to push the American settlers to out of the area but were unsuccessful.
Clark spent a few months surveying in Kentucky, as well as assisting in organizing Kentucky as a county for Virginia prior to the American Revolutionary War.
George Rogers Clark Facts: American Revolution
In 1777, the Revolutionary War intensified in Kentucky. British Lieutenant Governor Henry Hamilton armed his Indian allies from his headquarters at Fort Detroit, encouraging them to wage war on the Kentucky settlers in hopes of reclaiming the region as their hunting ground. The Continental Army could spare no men for an invasion in the northwest or for the defense of Kentucky, which was left entirely to the local population. Clark spent several months defending settlements against the Indian raiders as a leader in the Kentucky County militia while developing his plan for a long-distance strike against the British. His strategy involved seizing British outposts north of the Ohio River to destroy British influence among their Indian allies.
In December 1777, Clark presented his plan to Virginia's Governor Patrick Henry, and he asked for permission to lead a secret expedition to capture the British-held villages at Kaskaskia, Cahokia, and Vincennes in the Illinois country. Governor Henry commissioned him as a lieutenant colonel in the Virginia militia and authorized him to raise troops for the expedition. Clark and his officers recruited volunteers from Pennsylvania, Virginia, and North Carolina. The men gathered in early May near the Falls of the Ohio, south of Fort Pitt. The regiment spent about a month along the Ohio River preparing for its secret mission. Patrick Henry had been a leading land speculator before the Revolution in lands west of the Appalachians where Virginians had sought control from the Indians, including George Washington and Thomas Jefferson.
In July 1778, Clark and about 175 men crossed the Ohio River at Fort Massac and marched to Kaskaskia, capturing it on the night of July 4 without firing their weapons. The next day, Captain Joseph Bowman and his company captured Cahokia in a similar fashion without firing a shot. The garrison at Vincennes along the Wabash River surrendered to Clark in August. Several other villages and British forts were subsequently captured after most of the French-speaking and Indian inhabitants refused to take up arms on behalf of the British. To counter Clark's advance, Hamilton recaptured the garrison at Vincennes, which the British called Fort Sackville, with a small force in December 1778.
Prior to initiating a march on Fort Detroit, Clark used his own resources and borrowed from his friends to continue his campaign after the initial appropriation had been depleted from the Virginia legislature. He re-enlisted some of his troops and recruited additional men to join him. Hamilton waited for spring to begin a campaign to retake the forts at Kaskaskia and Cahokia, but Clark planned another surprise attack on Fork Sackville at Vincennes. He left Kaskaskia on February 6, 1779, with about 170 men, beginning an arduous overland trek, encountering melting snow, ice, and cold rain along the journey. They arrived at Vincennes on February 23 and launched a surprise attack on Fort Sackville. Hamilton surrendered the garrison on February 25 and was captured in the process. The Winter Expedition was Clark's most significant military achievement and became the basis of his reputation as an early American military hero.
News of Clark's victory reached General George Washington, and his success was celebrated and was used to encourage the alliance with France. General Washington recognized that Clark's achievement had been gained without support from the regular army in men or funds. Virginia also capitalized on Clark's success, laying claim to the Old Northwest by calling it Illinois County, Virginia.
George Rogers Clark Facts: Later Years and Death
Clark's story after the war is a bit of a tragedy. Due to poor organization, he could never satisfy his burden of proof to acquire all the funds to repay his debts, and much of the land he was given for his service was never developed. He had many business ventures that failed and was never given the respect he deserved for what he accomplished during the war. He became an alcoholic and eventually suffered a severe stroke.
In 1812, Clark was given a 400-dollar-a-year pension and began to receive his due for his accomplishments during the war. At this point, he was an old man who had dealt with much hardship and had aged quickly.
He died from a serious stroke in 1818. He was given much honor posthumously.
George Rogers Clark Facts: Online Resources