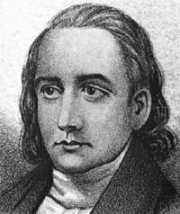 John Penn (May 17, 1740 – September 14, 1788) was one of the few men who signed the Declaration of Independence and the Articles of Confederation.
He served alongside fellow North Carolina Delegates: William Hooper and Joseph Hewes in the Second Continental Congress.
He died shortly before George Washington took office as the first President of the United States. He never saw his contribution to the United States come into reality because of early death, but his contributions were not forgotten.
The Biography of John Penn
John Penn was born in Caroline County, Virginia. At the time Virginia was the largest colony in the union and had much wealth tied up in its tobacco crop as well as the slave trade.
He was the only child of his father Moses Penn and his mother Catherine Taylor. Unlike many of the signers of the Declaration of Independence, Penn did not grow up wealthy and only attended school for two years.
His father did not see the need for education when there was plenty of work to be done in providing for one's family.
His father died when John Penn was 18 years old and although he mourned his father's death it opened up an opportunity for him to learn the law.
He would become a lawyer in Virginia in 1762 but moved back to North Carolina in 1774 where he practiced it. This increased his standing in the community shortly before the Second Continental Congress.
In 1763, just after he became a lawyer in Virginia, Penn married Susannah Lyne. The couple loved each other dearly and went on to have two children together.
Their daughter Lucy would become the most famous of their children as she would marry John Taylor who would become a political force in Virginia during the late 18th century and early 19th century.
John Penn was elected to the North Carolina Provincial Congress and then elected to the Continental Congress in 1775 where he served until 1780. He served in both the First and Second Continental Congress and supported the Olive Branch Petition as well as the Declaration of Independence.
His career included a stint on the Board of War in 1780 during the American Revolutionary War, Signing the Articles of Confederation, and being a successful practitioner of law.
Unfortunately, John Penn died at the early age of 47 years old. He would be buried at the Guilford Courthouse National Military Park in 1894. The park marked the spot of the famous Battle of Guilford Courthouse. He is buried alongside fellow delegate William Hooper.