The Paul Revere Family Tree is one of the largest and most prolific of the early founders. He had two wives, and Paul Revere was well-known around Boston and served as a spy during the early part of the Revolution.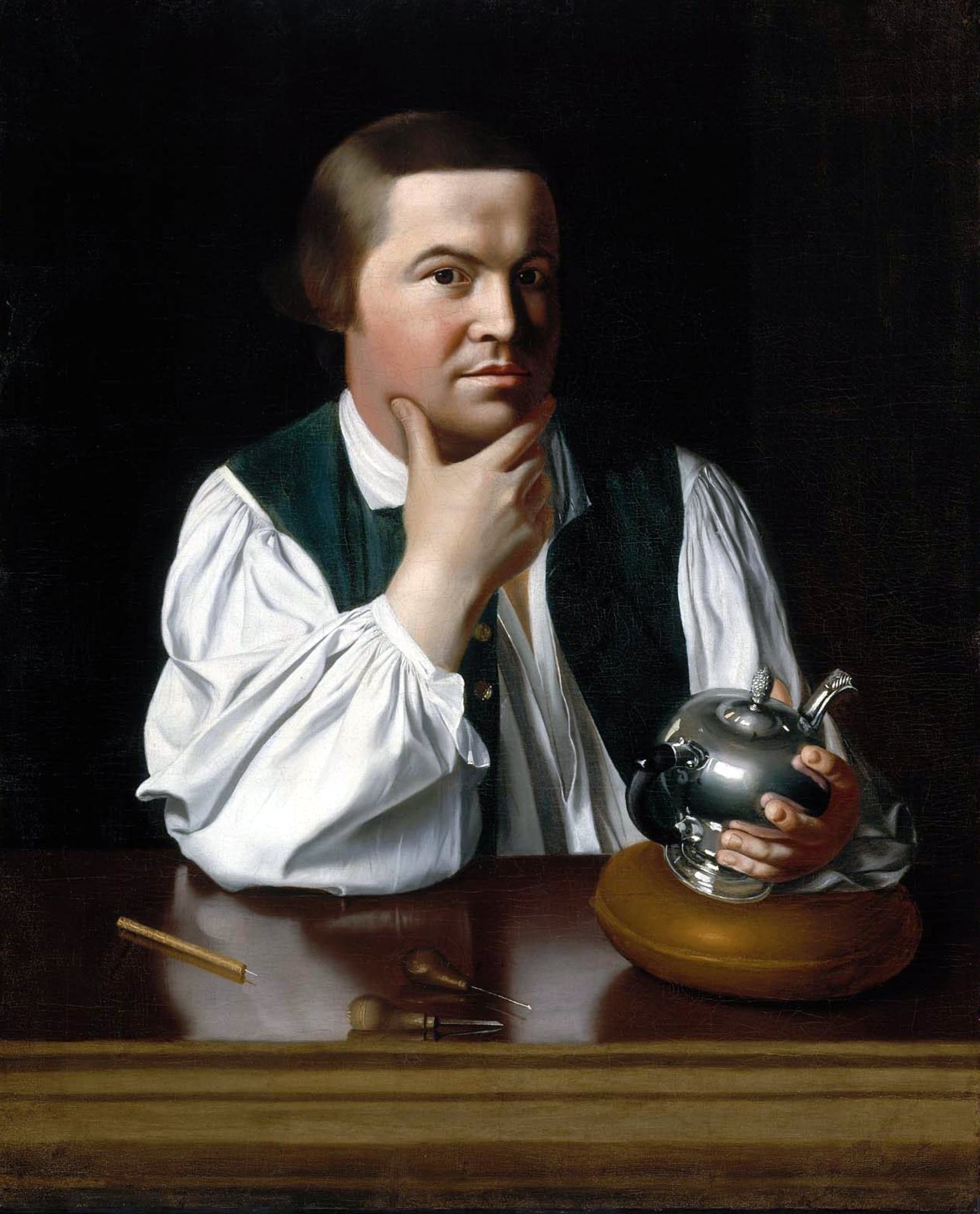 He, along with other colonial leaders, organized a sophisticated alarm system that was used to alarm the colonists of the British march to Concord that resulted in the Battles of Lexington and Concord.
He became infamous after the poem written by Henry Wadsworth Longfellow was published around the time of the Civil War.
Jump to:
Paul Revere Family Tree: Overview
Paul Revere was named after his father, Paul Revere Sr, and had two siblings, with only one surviving to adulthood.
His father was a French Huguenot who went under the name Apollos Riviore. After arriving in Boston, he became an apprentice to John Coney and learned the trade of the silversmith.
He went on to marry Deborah Hirchbourn, and by that time, his name had been anglicized to Paul Revere.
Paul Revere Jr. would marry Sarah Orne, who would die in 1773.
He remarried Rachel Walker and, between the two wives, had 15 children, with 10 surviving to adulthood.
Many of his children lived long lives and also had many kids, which makes Paul Revere's line one of the most well-known lines of the American Revolution.
Paul Revere Family Tree: Family Chart
Parents:
Paul Revere (1702 - 1754)
Deborah Hitchbourn Revere (1704 - 1777)
Spouses:
Sarah Orne Revere (1736 - 1773)
Rachel Walker Revere (1745 - 1813)
Children:
Deborah Revere Lincoln (1758 - 1797)
Paul Revere (1760 - 1813)
Sarah Revere Bradford (1763 - 1791)
Mary Revere (1764 - 1765)
Frances Revere Eayres (1766 - 1799)
Elizabeth Revere Lincoln (1770 - 1805)
Mary Revere Lincoln (1770 - 1853)
Isannah Revere (1772 - 1773)
John Revere (1776 - 1776)
Joseph Warren Revere (1777 - 1868)
Lucy Revere (1780 - 1780)
Harriet Revere (1783 - 1860)
John Revere (1783 - 1786)
Maria Revere Balestier (1785 - 1847)
John Revere (1787 - 1847)
Siblings:
John Revere (1730 - 1730)
Mary Revere Baker (1742 - 1801)
Paul Revere Family Tree: Online Resources