The Presidential Election of 1872 was the second election to occur after the Civil War and was the only election in which a nominee died during the campaign.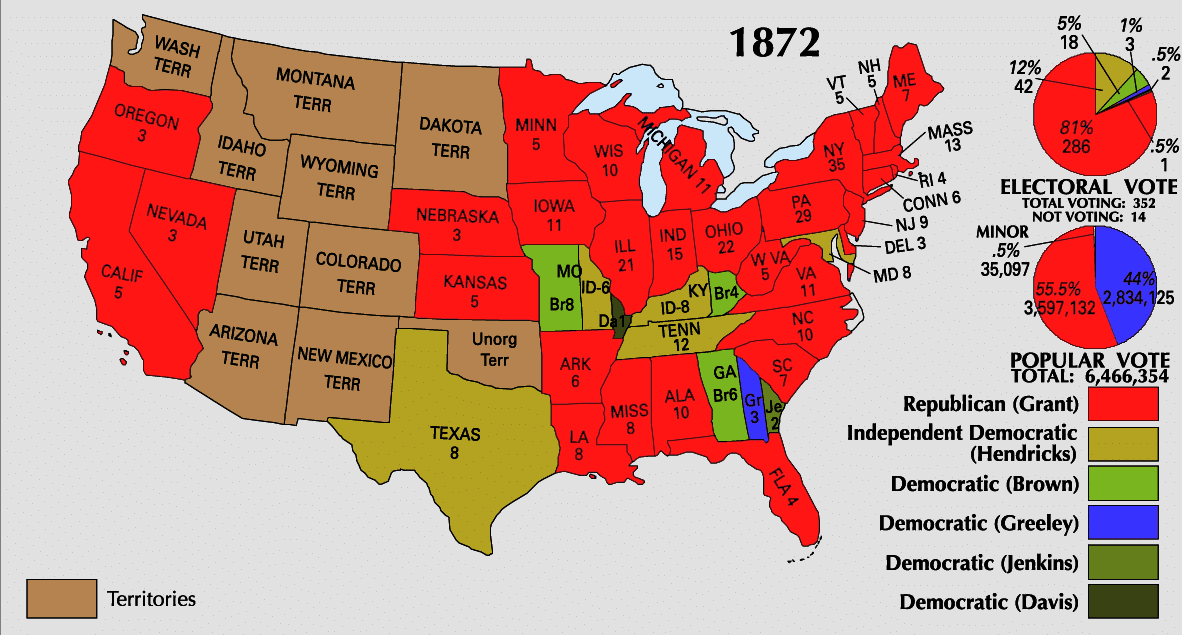 Ulysses S Grant remained very popular across the United States, which made it difficult for Democrats to gain much traction. The Republican party had a small split with more liberal members of their party and formed the Liberal Republican Party.
Jump to:
The Democrats believed their best chance at defeating Grant was to rally around the Liberal Republican nominee.
The Candidates are as follows:
Republicans: Ulysses S. Grant and Vice President Henry Wilson
Liberal Republicans: Horace Greeley and Vice President Benjamin G. Brown.
Platforms
Republicans: Grant ran on his reputation as a General in the Civil War and on continuing Reconstruction the same as the 4 years previously. It was clear that he wanted peace but with the assistance of the Federal Government and did not want the states to have control. Grant also had a large Campaign budget that was funded by many business tycoons.
Liberal Republicans: The Liberal Republicans wanted civic reform as there were rumors of much corruption in Grant's cabinet. They also wanted an end to Reconstruction and believed that the states should oversee their own reconstruction. 
Outcome
Prior to the Electoral votes being cast, Horace Greeley died. It would not have mattered if he lived, as that would not have changed the results.
Ulysses S. Grant won the presidency easily.
The Democrats were not happy with Horace Greeley as their candidate. They did not believe he was competent enough to be President. Also, his time spent in the Newspaper Industry gave his opponents a lot of ammunition to deploy against him as he had a history of taking some radical stances.
This election would be one of the first appearances of the Women's Suffrage Movement. Women began pushing back on societal norms and wanted the right to vote. Some women, such as Susan B. Anthony, tried to cast their vote and were arrested. This movement would continue to gain momentum throughout the 19th century.
This election was the last in which Arkansas voted for a Republican until 1972 and the last in which it voted against the Democrats until 1968. Alabama and Mississippi would not be carried by a Republican again until 1964, and they wouldn't vote against the Democrats until 1948. North Carolina and Virginia wouldn't vote Republican again until 1928. West Virginia, Delaware, and New Jersey wouldn't vote Republican again until 1896.