The Presidential Election of 1884 would be the first time that a Democratic candidate won the election since James Buchanan in 1856.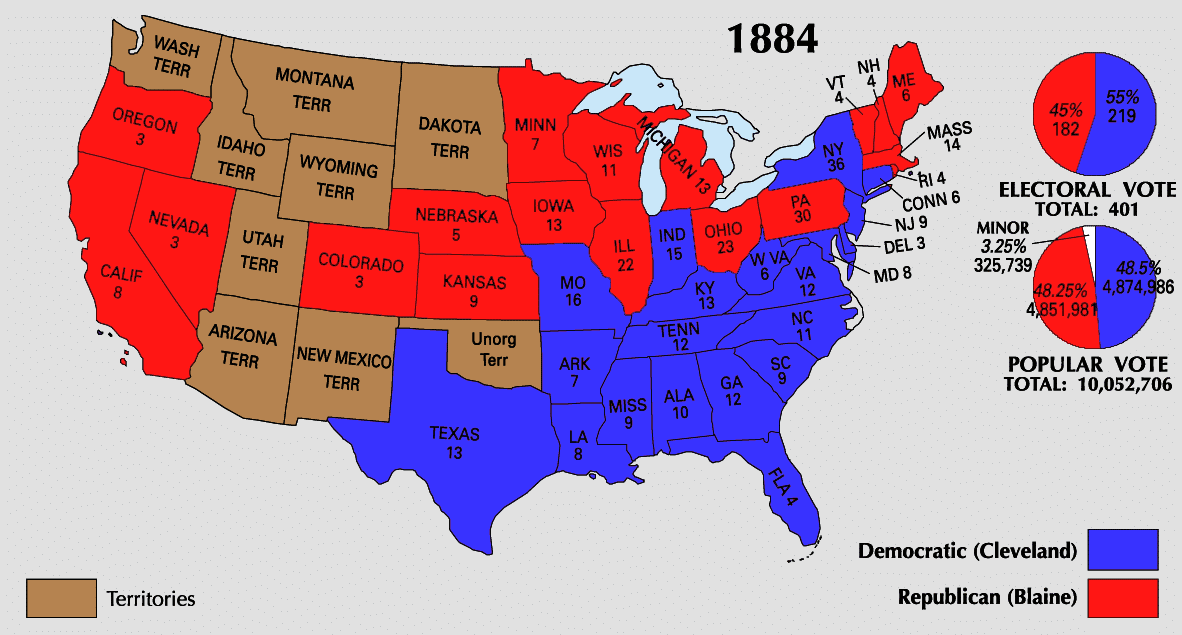 The Republican candidate in the previous election was James Garfield. Garfield was assassinated, and Chester A. Arthur became President. Arthur would not be nominated by the Republicans.
Jump to:
Americans continued to be divided. The South voted Democrat, while the North would vote Republican. In the past, the Republicans did not even need to campaign in the South due to the North having more population and electoral votes. However, the North began to shift as the Civil War distanced itself in the rearview mirror.
The candidates were as follows:
Republicans: James G. Baine and Vice President John A. Logan
Democrats: Grover Cleveland and Vice President Thomas A. Hendricks
Platforms
The personal character of the candidates played an important role in the Presidential Election of 1880. Corruption during the Grant administration seemed to spread throughout the Republican Party,
Republicans: James G. Baine was known as corrupt. His character had been in question since the Grant Administration and the "Mulligan Letter" a decade earlier. During this time, the issue of corruption took center stage, and the moral character of the individual played significant.
Democrats: Grover Cleveland was accused of fathering a child out of wedlock. Cleveland, who was believed to be of moral character, told his followers to tell the truth. He admitted to what had happened and that he had paid child support. He quickly rebounded from the attacks.
Outcome
While third parties did not have much influence, they kept influencing the issues of the day. Prohibition, women's suffrage, anti-monopoly, and civil rights continued to be an undercurrent, and in the future, the primary parties would adopt some of these ideas.
The end result was a victory for Grover Cleveland. It would be the first Democratic nominee to win since 1856.
Corruption in the Republican party had grown old, and folks were tired of the constant scandals. A candidate who seemed to be honest and admit his faults were refreshing. 
The Mugwumps were political activists and had split from the Republican party. Their support would be pivotal during the Presidential Election of 1884.