The Presidential Election of 1888 would put President Grover Cleveland and Benjamin Harrison against each other for the presidency.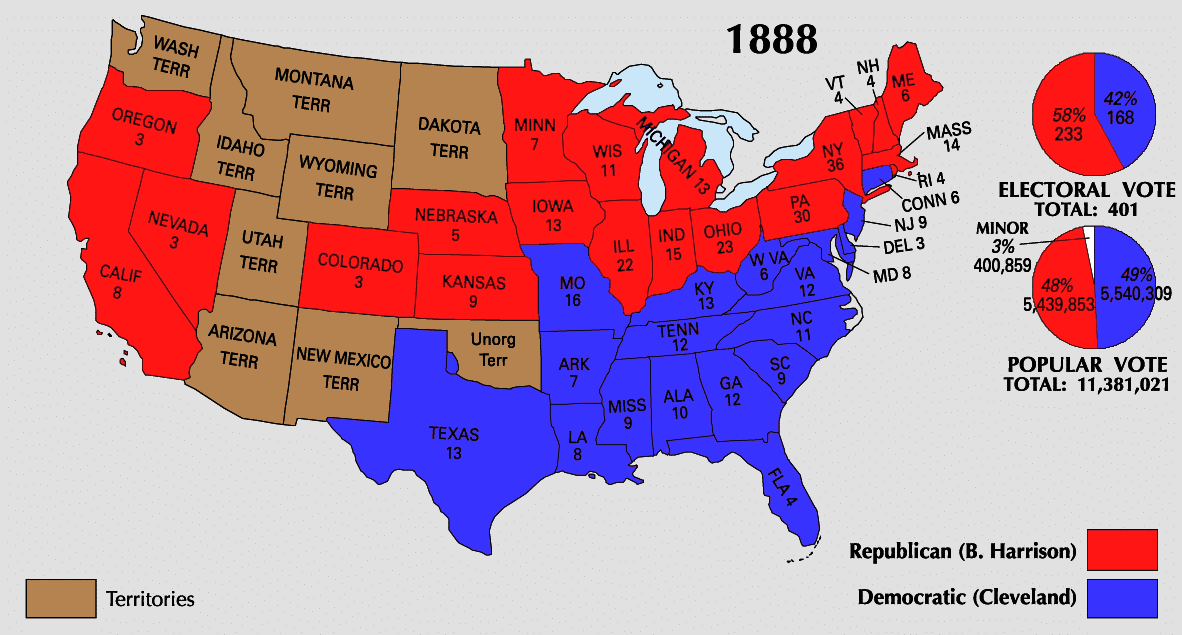 Tariff policy was the principal issue in the election, as Cleveland had proposed a dramatic reduction in tariffs, arguing that high tariffs were unfair to consumers.
Harrison took the side of industrialists and factory workers who wanted to keep tariffs high. Cleveland's opposition to Civil War pensions and inflated currency also made enemies among veterans and farmers.
Jump to:
On the other hand, he held a strong hand in the South and border states and appealed to former Republican Mugwumps.
The candidates were as follows:
Republicans: Benjamin Harrison and Vice President Levi P. Morton
Democrats: Grover Cleveland and Vice President Allen G. Thurman
Platforms
Republicans: Benjamin Harrison campaigned on higher tariffs and pensions for Civil War veterans. The higher tariffs allowed American companies to compete domestically with cheaper foreign products. It also protected American jobs.
Democrats: The Democratic platform largely confined itself to a defense of the Cleveland administration, supporting a reduction in the tariff and taxes generally, as well as statehood for the western territories.
Women's Suffrage, Prohibition, and the treatment of former slaves continued to be in the background but were gaining momentum.
Outcome
This would be the third time in United States history that the winner of the popular vote would lose the electoral vote.
The election focused on the swing states of New York, New Jersey, Connecticut, and Harrison's home state of Indiana.
Harrison and Cleveland split these four states, with Harrison winning by means of notoriously fraudulent balloting in New York and Indiana.
Upon leaving the White House, First Lady Frances Cleveland told White House staff to keep everything in order as she would be returning in four years. She proved to be correct, as Grover Cleveland would win the election of 1892.