The Presidential Election of 1932 was the end of Republican dominance since the Civil War. With the exception of Grover Cleveland and Woodrow Wilson, the Republicans had dominated the political landscape.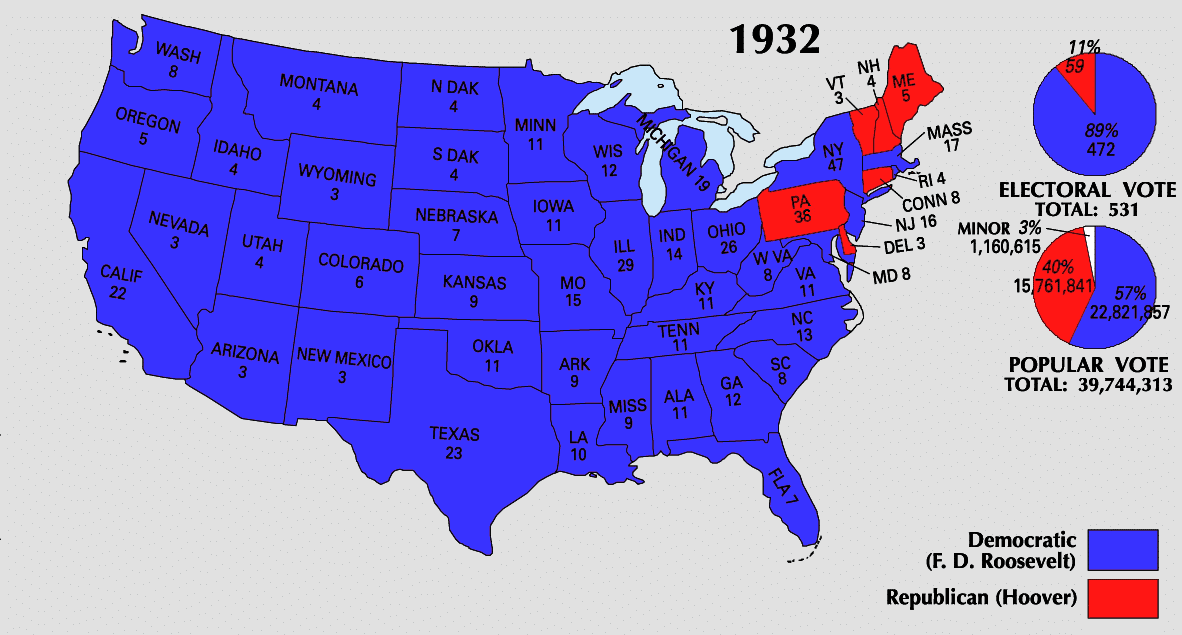 However, the Great Depression and Hoover's response to the Depression changed everything. He did not have an answer to what had occurred and could not provide a solution.
Jump to:
A new Democrat had emerged named Franklin D. Roosevelt. He had been a Vice President candidate in the election of 1920 and had a more progressive view than his counterpart.
The Candidates are as follows:
Republicans: Herbert Hoover and Vice President Charles Curtis
Democrats: Franklin D. Roosevelt and Vice President John Nance Garner
Platforms
Republicans: The Depression had taken a toll on Herbert Hoover's popularity, and it seemed as if he could not provide answers. The Republican party was split as the rural Republicans struggled to support him. Hoover had an inability to relate to common people, and his opponent could.
Democrats: Franklin D. Roosevelt provided answers. He talked about a New Deal for Americans and proposed ideas that would expand the federal government's role in the lives of the citizens. The New Deal would give Americans hope. FDR related to Americans, and they wanted to trust him. He also spoke out against prohibition.
Outcome
Franklin Delanor Roosevelt resonated with the suffering Americans and carried a large electoral victory.
The Socialist Party continued to grow in American support as it had a decent showing, and many of its policies influenced Franklin D. Roosevelt.
This was a dark time in American history as many people were out of work and in the bread line. Folks were not buying anything, and the economy had stalled. 
Hoover did not have an answer as he believed the economy would eventually self-correct. It resulted in the population revolting against him.
Roosevelt would embark on an ambitious plan to speed up the self-correction.