The Presidential Election of 1948 was the first election in 16 years in which Franklin Roosevelt was not running.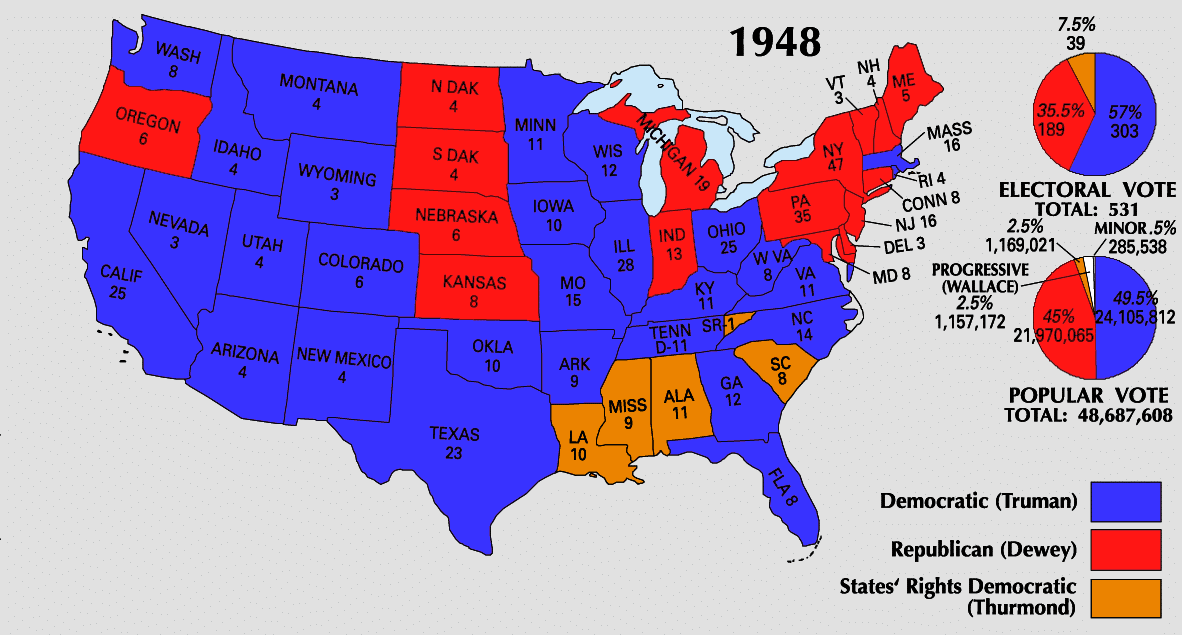 FDR died shortly after winning the Election of 1944 and securing his fourth term. However, his health was in extreme decline, and he probably should not have run, but he wanted to see America through World War 2. That would not happen.
Jump to:
After his death, Harry Truman became President, and it was under him that the United States defeated Japan after dropping two atomic bombs on Hiroshima and Nagasaki.
America had moved on from World War 2 and was beginning to see an economic boom and a different world. Civil Rights began to become a dominant issue and would divide the Democratic party into another party called the Dixiecrats. The Cold War had also begun with Russia, and the new foreign policy of containment was beginning to take shape.
The Republicans had been out of power for four election cycles and were seeking to gain power once again. They believed that Truman and a divided Democratic party provided them the chance to seize power once again.
This would result in one of the biggest upsets in Presidential Election history.
The Candidates were as follows:
Republicans: Thomas Dewey and Vice President Earl Warren
Democrats: Harry Truman and Vice President Alben Barkley
Dixiecrats: Strom Thurman and Vice President Fielding Wright
Progressives: Henry Wallace and Vice President Glen Taylor
Platforms
Coming into the election of 1948, the Republicans looked to be gaining momentum as they had taken control of Congress and were leading by double digits in the polls.
Republicans: With Truman's popularity low and the Republicans seemingly in control, they believed all that Dewey needed to do was to avoid the big mistake. Dewey spoke in platitudes and was vague about where he stood on many issues. He avoided Civil Rights and other controversial issues of the day.
Democrats: The Democrats were split into three different parties, and it seemed as if the vote would be divided and Dewey would walk into the presidency. Still, Truman was determined to fight, and he targeted four distinct interest groups: Labor Unions, Farmers, African-Americans, and consumers. He delivered fiery speech after fiery speech and was aggressive in his campaign. He called out Dewey's vague stances and unwillingness to choose a side on controversial issues.
Dixiecrats: The southern democrats were alarmed by Truman's support of Civil Rights. This seemed to be in opposition to what they stood for, and it caused a split with Strom Thurman being the nominee. Thurman was never a threat to win the presidency. However, he was a threat to destroy Truman's chances by taking some states in the South and eating away at the Electoral College.
Progressives: They did not have much influence on the national stage. However, it was believed that they would hurt Truman by splitting the vote into some of the northern states and allowing Dewey to walk into the presidency. Wallace was opposed to the Marshall Plan and the Truman Doctrine. The progressives would prove to be irrelevant.
Outcome
James Farley was the campaign manager for FDR and had come up with a theory that became known as Farley's Law. He believed that most voters had their minds made up about which candidate they would support during the conventions. While this may have been true in the past, it would not hold true during this election.
Dewey believed he would coast to a victory and listened to the election results in the Roosevelt Hotel in New York City while Truman had slipped away in Kansas City to head to bed in his hotel. Throughout the night, he would wake to the radio and hear the famous commentator H. V. Kaltenborn delivering updates on the election.
At first, Truman jumped out to a strong lead, which many thought he would lose throughout the evening as more states came in. Truman woke again later in the night and learned he had taken a commanding lead in the popular vote, but many still believed that he would not hold the Electoral College.
By 4 AM, enough results had come in that Truman now knew he had beaten Dewey.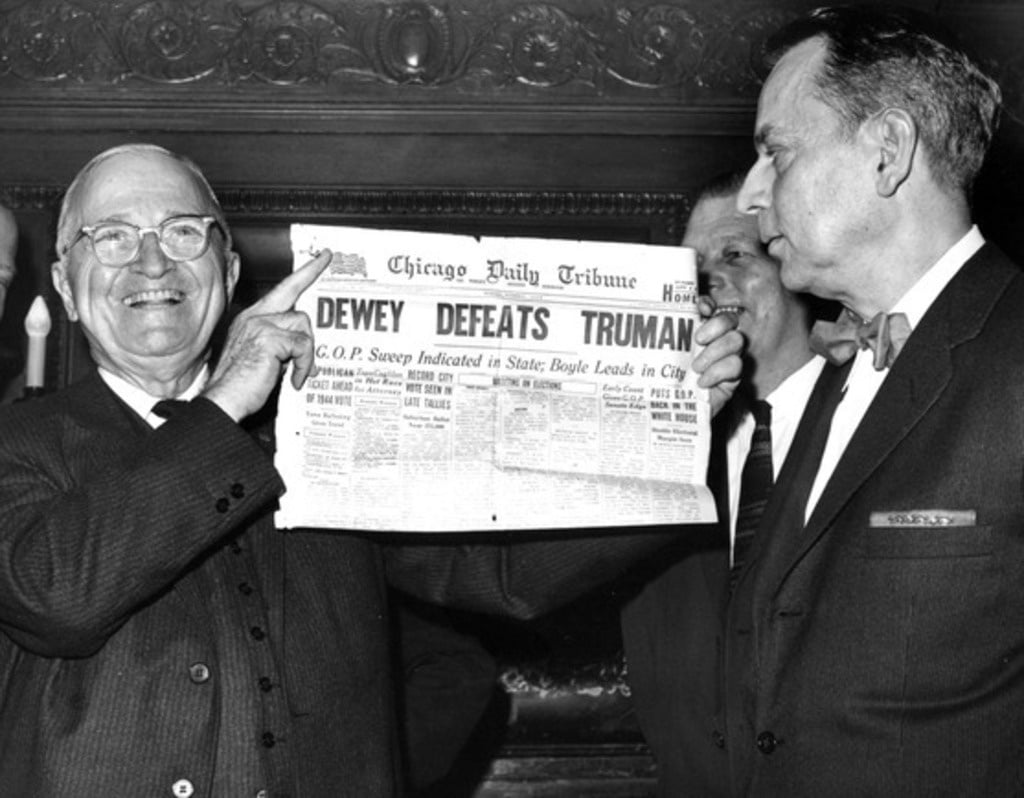 The election hinged on three states that all went for Truman: California, Ohio, and Illinois. Each of these states was close, and Truman would win by less than a percent.
Strom Thurman of the Dixiecrats managed to win South Carolina, Alabama, Mississippi, Louisiana, and 1 electoral vote in Tennessee.
The reason for Dewey's loss was his complacency. He believed in Farley's Law and believed that he just needed to cruise to election night without making any serious mistakes. However, this election showed that many voters changed their minds days before the election.
This occurred because of Truman's fiery campaign style and Dewey's refusal to respond to Truman's challenges.
Also, Truman identified four key elements of the population and convinced them to vote for him. This would begin to change the way campaigns were conducted. Rather than delivering a broad message, they would identify issues that were important to different people groups.