The Presidential Election of 1976 came after the resignation of Richard Nixon, who had been a popular incumbent during the election of 1972 but was forced to resign after news of the Watergate scandal broke. Vice President Gerald Ford took office and tried to put the pieces back together before the election of 1976.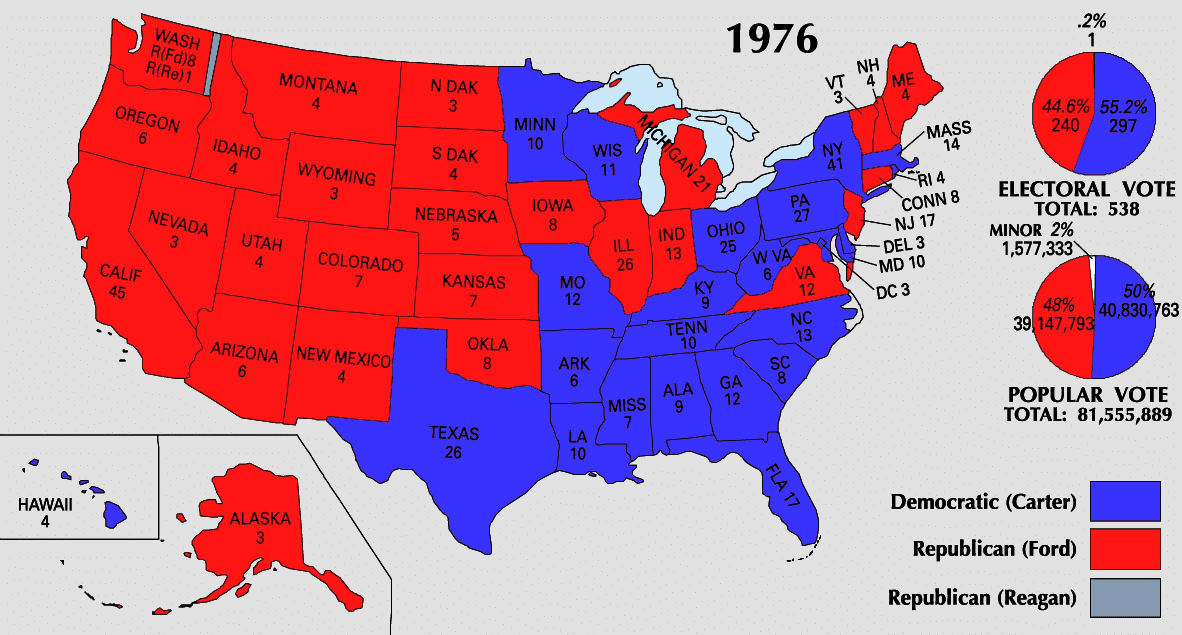 Richard Nixon had successfully de-escalated Vietnam, opened China, and entered Detente with Russia. Although a corrupt President, he had been very successful in foreign policy and handling much of the unrest at home. Ford spent most of his presidency trying to clean up Nixon's personal mess while the Democrats seized on an opportunity.
Jump to:
The candidates were as follows:
Republicans: Gerald Ford and Vice President Bob Dole
Democrats: Jimmy Carter and Vice President Walter Mondale
Platforms
Republicans: The Republicans ran on a "Rose Garden" strategy that portrayed Ford as an experienced candidate. However, with the fall of South Vietnam and his unpopular pardoning of Richard Nixon, it was hard for Ford to escape the portrayal of him as someone stained by the corrupt system of Washington.
Democrats: Jimmy Carter was portrayed as a candidate of reform and untainted by Washington politics. His portrayal as a simple peanut farmer from Georgia and his religious beliefs as a born-again Christian resonated with many in the nation who did not want the corruption that had occurred during Nixon and Ford's administrations. 
Outcome
President Gerald Ford began the campaign at a significant disadvantage to Jimmy Carter, who was polling much higher than him. The pardoning of Former President Richard Nixon was a serious problem for him to overcome as it was unpopular across party lines.
However, Ford put up a good fight. He had a strong first presidential debate, which gave him a boost in the poll.
Another element that boosted Ford's numbers was that 1976 was the 200-year anniversary of the Signing of the Declaration of Independence during the American Revolution. This gave Ford much positive publicity as patriotism swelled.
Carter lost much of his support among Evangelicals and other conservatives when he did an interview with Playboy magazine.
However, Ford blundered in the second presidential debate, as did Bod Dole during the first Vice Presidential debate that would halt their momentum.
In the end, the election was close. This was due to both candidates being weak. Jimmy Carter won the election and took office in 1977. He would go on to become one of the worst presidents in United States history.