The Presidential Election of 2004 was the first election after the terrorist attack on September 11, 2001, and nationalism was high.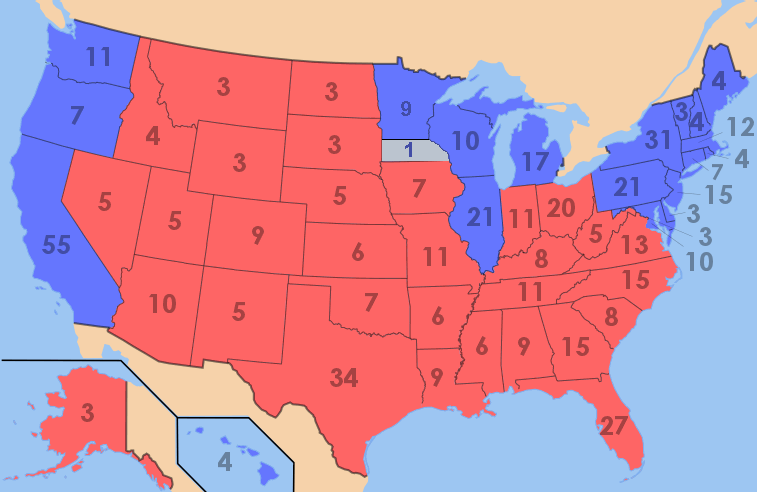 George W. Bush had become a fairly popular President for his reaction to the attacks and the Iraq War. He had become a wartime president and presided over a very difficult time during the country's history.
Jump to:
The Democrats had lost the election of 2000 and went on to lose the House and Senate in the 2002 midterm elections. The Republicans had control of the Presidency and Congress. Coming in the 2004 election, the Republicans were enjoying much popularity, and the Democrats were fighting an uphill battle.
After a difficult primary, John Kerry emerged as the Democratic nominee.
The candidates were as follows:
Republicans: George W. Bush and Vice President Dick Cheney
Democrats: John Kerry and Vice President John Edwards
Platforms
Republicans: George W. Bush ran on his record. He had a favorable response to 9/11, and most Americans were in support of the Iraq War. In 2003, the United States captured Saddam Hussein, which again boosted his popularity. Shortly before the election, Osama Bin Laden released a video taunting President Bush. This would also increase his popularity before the election.
Democrats: John Kerry was embroiled in controversy shortly after his nomination with the Swift Boat controversy. Kerry was a former Vietnam veteran and was accused of embellishing his experiences during the war. Foreign policy dominated the campaign, and Kerry had a hard time overcoming the anti-Vietnam rhetoric that he said 30 years prior to the 2004 election.
Outcome
John Kerry was a weak candidate. However, his 2004 convention showcased a young and charismatic politician named Barack Obama when he delivered an electrifying speech. However, the swiftboat controversy and the popularity of George W. Bush were too much to overcome for the Democratic candidate.
Unlike the 2000 election, Bush won the popular vote and also picked up two states that he lost in 2000, Iowa and New Mexico.
Traditionalists also came out for George W. Bush as a big issue was the issue of Gay Marriage.
The Democrats side-stepped a disaster by losing this election as the 2008 bubble crashed and brought on a recession. Bush would take the fall for the crisis, and the Democrats would seize on the opportunity in 2008 when Barack Obama won the election and became the first African-American to be elected President.