Samuel de Champlain was born on or before August 13, 1574 – December 25, 1635, "The Father of New France", was a French navigator, cartographer, draughtsman, soldier, explorer, geographer, ethnologist, diplomat, and chronicler. He founded New France and Quebec City on July 3, 1608 and created the first accurate map of Canada's coast.
Samuel de Champlain Facts: Early Life
Champlain was born to Antoine Champlain and Marguerite Le Roy, in either Hiers-Brouage, or the port city of La Rochelle, in the French province of Aunis.
He was born on or before August 13, 1574.
Champlain claimed to be from Brouage and belonged to either a Protestant family, or a tolerant Roman Catholic one. Brouage was a Catholic city located in a strong Protestant region.
Champlain was from a family of seamen which gave him a head start in his education. He learned to navigate, draw, and make nautical maps at a young age.
Wanting to advance himself in the art of war he learned how to use the firearms of his day and served in the French army under King Henry IV.
Samuel de Champlain Facts: Voyages
In 1598, his uncle-in-law, a navigator whose ship Saint-Julien was chartered to transport Spanish troops to Cadiz pursuant to the Treaty of Vervins, gave Champlain the opportunity to accompany him. After a difficult passage, he spent some time in Cadiz before his uncle, whose ship was then chartered to accompany a large Spanish fleet to the West Indies, again offered him a place on the ship.
This journey lasted two years, and gave Champlain much experience. He learned of and saw the Spanish settlements in the Caribbean.
Along the way he took detailed notes, and wrote an illustrated report on what he learned on this trip, and gave this secret report to King Henry, who rewarded Champlain with an annual pension.
Champlain's uncle died and left him a large estate. This combined with the annual pension he was receiving allowed young Champlain much independence. He was not dependent on financial backing from the government or other investors.
He served as a geographer for King Henry. During this time he frequented many French ports and learned much about North America, including the rich fishing grounds off the coast of Newfoundland.
The king approved Champlain's first voyage to North America. On his first voyage he went as an observer on a fur trading expedition. Here he met Francois Grave Du Pont. Champlain and Du Pont formed a lifelong friendship. Du Pont taught Champlain about navigation in North America, including the Saint Lawrence River.
During this first voyage Champlain created a map of the Saint Lawrence River and met the natives and formed a friendship with them.
Champlain's second voyage allowed him to explore much more of the Atlantic coast and establish Port Royal which he used as his base of operations until 1607. This voyage took a few years as Champlain explored and looked for possible sights for a permanent settlement. He explored as far as Cape Cod.
Champlain's third voyage was sponsored by the French nobleman Dugua who asked Champlain to found a French colony.
On July 3, 1608, Samuel de Champlain founded Quebec City. He would serve as the administrator of Quebec City the rest of his life.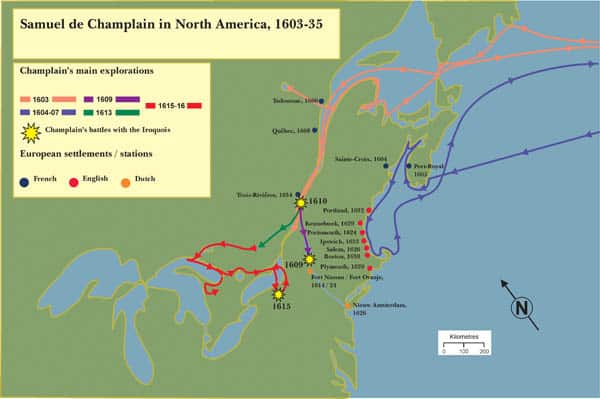 Samuel de Champlain Facts: Relations with the Natives
During the summer of 1609, Champlain attempted to form better relations with the local native tribes.
He made alliances with the Wendat and with the Algonquin, the Montagnais and the Etchemin, who lived in the area of the St. Lawrence River.
These tribes demanded that Champlain help them in their war against the Iroquois, who lived farther south. Champlain set off with nine French soldiers and 300 natives to explore the Rivière des Iroquois (now known as the Richelieu River), and became the first European to map Lake Champlain.
Having had no encounters with the Iroquois at this point many of the men headed back, leaving Champlain with only 2 Frenchmen and 60 natives.
On July 29, Champlain and his party encountered a group of Iroquois.
In a battle begun the next day, two hundred Iroquois advanced on Champlain's position, and one of his guides pointed out the three Iroquois chiefs. In his account of the battle, Champlain recounts firing his arquebus and killing two of them with a single shot, after which one of his men killed the third. The Iroquois turned and fled.
The Battle of Sorel occurred on June 19, 1610, with Samuel de Champlain supported by the Kingdom of France and his allies, the Wyandot people, Algonquin people and Innu people against the Mohawk people in New France at present-day Sorel-Tracy, Quebec.
The forces of Champlain armed with the arquebus engaged and killed or captured nearly all of the Mohawks. The battle ended major hostilities with the Mohawks for twenty years
Samuel de Champlain Facts: Exploration of New France
Approximately 60 years before Samuel de Champlain arrived in New France, Jacques Cartier explored the region. Now Champlain was able to push further than Cartier.
On March 29, 1613, arriving back in New France, he first ensured that his new royal commission be proclaimed.
Champlain set out on May 27 to continue his exploration of the Huron country and in hopes of finding the "northern sea" he had heard about (probably Hudson Bay).
He traveled the Ottawa River, later giving the first description of this area. It was in June that he met with Tessouat, the Algonquin chief of Allumettes Island, and offered to build the tribe a fort if they were to move from the area they occupied, with its poor soil, to the locality of the Lachine Rapids
By August 26 Champlain was back in Saint-Malo. There he wrote an account of his life from 1604 to 1612 and his journey up the Ottawa river, his Voyages and published another map of New France.
In 1614 he formed the "Compagnie des Marchands de Rouen et de Saint-Malo" and "Compagnie de Champlain", which bound the Rouen and Saint-Malo merchants for eleven years.
He returned to New France in the spring of 1615 with four Recollects in order to further religious life in the new colony. The Roman Catholic Church was eventually given en seigneurie large and valuable tracts of land estimated at nearly 30% of all the lands granted by the French Crown in New France
Samuel de Champlain Facts: Later Years
Champlain returned to New France in 1620 and focused his time on administration of the territory rather than exploration. He continued to build healthy relations with the natives and negotiate with the lucrative fur monopoly.
He continued to travel back and forth from New France to France. He traveled 25 times across the Atlantic and never lost a single ship.
He returned to Quebec in 1633 after being absent for four years. He was given the title of Lieutenant General of New France, but not Governor. Champlain did not need the title since everyone in New France, including the natives, believed him to be that anyways.
Two years after arriving in Quebec Champlain suffered a stroke and died on December 25, 1635.
His remains were buried in Quebec but after a terrible fire the location of his remains are unknown.