Sir Walter Raleigh was an was an English landed gentleman, writer, poet, soldier, politician, courtier, spy, and famous explorer. He was cousin to Sir Richard Grenville and the younger half-brother of Sir Humphrey Gilbert.
He is also well known for popularizing tobacco in England. He came to the height of his influence under the reign of Queen Elizabeth and became a trusted advisor to her.
Sir Walter Raleigh Facts: Early Life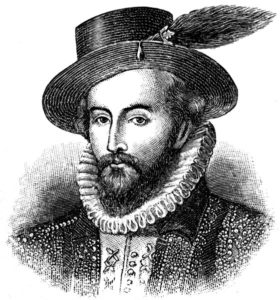 Little is known about Raleigh's birth and historians have a couple of different ideas, but he was probably born in the 1550s. He was the youngest of five sons born to Catherine Champernowne in two successive marriages.
His half-brothers John Gilbert, Humphrey Gilbert, and Adrian Gilbert, and his full brother Carew Raleigh were also prominent during the reigns of Elizabeth I and James I. Catherine Champernowne was a niece of Kat Ashley, Elizabeth's governess, who introduced the young men at court.
Raleigh's family was highly Protestant in religious orientation and had a number of near escapes during the reign of Roman Catholic Queen Mary I of England.
In the most notable of these, his father had to hide in a tower to avoid execution. As a result, Raleigh developed a hatred of Roman Catholicism during his childhood and proved himself quick to express it after Protestant Queen Elizabeth I came to the throne in 1558.
In matters of religion, Elizabeth was more moderate than her half-sister Mary.
In 1569, Raleigh left for France to serve with the Huguenots in the French religious civil wars. In 1572, Raleigh was registered as an undergraduate at Oriel College, Oxford, but he left a year later without a degree.
Raleigh proceeded to finish his education in the Inns of Court. In 1575, he was registered at the Middle Temple. At his trial in 1603, he stated that he had never studied law. His life is uncertain between 1569 and 1575, but in his History of the World, he claimed to have been an eyewitness at the Battle of Moncontour (3 October 1569) in France. In 1575 or 1576, Raleigh returned to England.
Sir Walter Raleigh Facts: Activity in Ireland
Between 1579 and 1583, Raleigh took part in the suppression of the Desmond Rebellions. He was present at the Siege of Smerwick where he led the party which beheaded some 600 Spanish and Italian soldiers.
Raleigh received 40,000 acres upon the seizure and distribution of land following the attainders arising from the rebellion, including the coastal walled towns of Youghal and Lismore. This made him one of the principal landowners in Munster, but he had limited success inducing English tenants to settle on his estates.
Raleigh made the town of Youghal his occasional home during his 17 years as an Irish landlord, frequently being domiciled at Killua Castle, Clonmellon, County Westmeath. He was mayor there from 1588 to 1589. His town mansion of Myrtle Grove is assumed to be the setting for the story that his servant doused him with a bucket of water after seeing clouds of smoke coming from Raleigh's pipe, in the belief that he had been set alight.
But this story is also told of other places associated with Raleigh: the Virginia Ash Inn in Henstridge near Sherborne, Sherborne Castle, and South Wraxall Manor in Wiltshire, home of Raleigh's friend Sir Walter Long.
Amongst Raleigh's acquaintances in Munster was another Englishman who had been granted land there, poet Edmund Spenser. In the 1590s, he and Raleigh traveled together from Ireland to the court at London, where Spenser presented part of his allegorical poem The Faerie Queene to Elizabeth I.
Raleigh's management of his Irish estates ran into difficulties, which contributed to a decline in his fortunes. In 1602, he sold the lands to Richard Boyle, 1st Earl of Cork, who subsequently prospered under kings James I and Charles I. Following Raleigh's death, members of his family approached Boyle for compensation on the ground that Raleigh had struck an improvident bargain.
Sir Walter Raleigh Facts: The New World
In 1584, Queen Elizabeth authorized the charter for Sir Walter Raleigh to explore and colonize the New World.
The idea for this charter was to enrich England by gaining different natural resources, trading for precious metals with the natives, and creating a base for English privateers to attack Spanish vessels in the Caribbean. Queen Elizabeth gave Sir Walter Raleigh seven years to establish England in the New World.
Sir Walter Raleigh attempted to establish a colony on Roanoke Island, twice. The first of these attempts were made with military men and had little success. 15 of these men were left behind, but were never seen again.
In 1587, a second and the more well-known attempt set sail with a more diverse group of settlers. These 150 men and women arrived on Roanoke Island, but quickly realized they did not have enough resources. Governor John White returned to England to acquire more resources but was not allowed to return due to the attack of the Spanish Armada.
John White returned 3 years later to find all of the settlers gone with only the name CROATOAN inscribed on a tree. The settlers were never found again and Roanoke Colony became known as the Lost Colony.
In 1592, Raleigh was given many rewards by the Queen, including Durham House in the Strand and the estate of Sherborne, Dorset. He was appointed Captain of the Yeomen of the Guard. However, he had not been given any of the great offices of state. In the Armada year of 1588, Raleigh had some involvement with defense against the Spanish at Devon. His ship, the Ark Raleigh, was Lord High Admiral Howard's flagship.
In 1591, Raleigh was secretly married to Elizabeth "Bess" Throckmorton. She was one of the Queen's ladies-in-waiting, 11 years his junior, and was pregnant at the time. She gave birth to a son, believed to be named Damerei, who was given to a wet nurse at Durham House, but he died in October 1592 of plague.
Bess resumed her duties to the queen. The following year, the unauthorized marriage was discovered and the Queen ordered Raleigh to be imprisoned and Bess dismissed from court. Both were imprisoned in the Tower of London in June 1592.
He was released from prison in August 1592 to manage a recently returned expedition and attack on the Spanish coast. The fleet was recalled by the Queen, but not before it captured an incredibly rich prize— a merchant ship named Madre de Deus off Flores.
Raleigh was sent to organize and divide the spoils of the ship. He was sent back to the Tower, but by early 1593 had been released and became a member of Parliament.
It was several years before Raleigh returned to favor, and he traveled extensively in this time. Raleigh and his wife remained devoted to each other. They had two more sons, Walter and Carew.
Raleigh was elected a burgess of Mitchell, Cornwall in the parliament of 1593. He retired to his estate at Sherborne, where he built a new house, completed in 1594, known then as Sherborne Lodge. Since extended, it is now known as Sherborne (new) Castle. He made friends with the local gentry, such as Sir Ralph Horsey of Clifton Maybank and Charles Thynne of Longleat.
During this period at a dinner party at Horsey's, Raleigh had a heated discussion about religion with Reverend Ralph Ironsides. The argument later gave rise to charges of atheism against Raleigh, though the charges were dismissed. He was elected to Parliament, speaking on religious and naval matters.
Sir Walter Raleigh Facts: Trial and Imprisonment
Royal favor with Queen Elizabeth had been restored by this time, but his good fortune did not last; the Queen died on 23 March 1603. Raleigh was arrested on 19 July 1603, charged with treason for his involvement in the Main Plot against Elizabeth's successor, James I, and imprisoned in the Tower of London.
Raleigh's trial began on 17 November in the converted Great Hall of Winchester Castle. Raleigh conducted his own defense. The chief evidence against him was the signed and sworn confession of his friend Henry Brooke, 11th Baron Cobham. Raleigh repeatedly requested that Cobham be called to testify.
"[Let] my accuser come face to face, and be deposed. Were the case but for a small copyhold, you would have witnesses or good proof to lead the jury to a verdict; and I am here for my life!" Raleigh argued that the evidence against him was "hearsay", but the tribunal refused to allow Cobham to testify and be cross-examined.
He was found guilty, but King James spared his life.
He remained imprisoned in the Tower until 1616. While there, he wrote many treatises and the first volume of The Historie of the World (first edition published 1614) about the ancient history of Greece and Rome.
His son, Carew, was conceived and born (1604) while Raleigh was imprisoned in the Tower.
Sir Walter Raleigh Facts: Execution
Raleigh was beheaded in the Old Palace Yard at the Palace of Westminster on 29 October 1618. "Let us dispatch", he said to his executioner. "At this hour my ague comes upon me. I would not have my enemies think I quaked from fear." After he was allowed to see the ax that would be used to behead him, he mused: "This is a sharp Medicine, but it is a Physician for all diseases and miseries." According to biographers, Raleigh's last words (as he lay ready for the ax to fall) were: "Strike, man, strike!"
Having been one of the people to popularize tobacco smoking in England, he left a small tobacco pouch, found in his cell shortly after his execution. Engraved upon the pouch was a Latin inscription: Comes meus fuit in illo miserrimo tempore ("It was my companion at that most miserable time").
Raleigh's head was embalmed and presented to his wife. His body was to be buried in the local church in Beddington, Surrey, the home of Lady Raleigh but was finally laid to rest in St. Margaret's, Westminster, where his tomb may still be visited today. "The Lords", she wrote, "have given me his dead body, though they have denied me his life.
God hold me in my wits." It has been said that Lady Raleigh kept her husband's head in a velvet bag until her death. After his wife's death 29 years later, Raleigh's head was returned to his tomb and interred at St. Margaret's Church.
Although Raleigh's popularity had waned considerably since his Elizabethan heyday, his execution was seen by many, both at the time and since, as unnecessary and unjust, as for many years his involvement in the Main Plot seemed to have been limited to a meeting with Lord Cobham.
One of the judges at his trial later said: "The justice of England has never been so degraded and injured as by the condemnation of the honorable Sir Walter Raleigh.
Sir Walter Raleigh Facts: Legacy
Sir Walter Raleigh was not a student of the Renaissance, in fact, much of his work took a different direction than the authors during the Renaissance. However, he would be considered a Renaissance man since he seemed to be good at many different things. Raleigh was considered a "silver poet" due to his strong personal treatment of love, loss, beauty, and time.
Raleigh while imprisoned in the Tower penned his incomplete "The Historie of the World." Using a wide array of sources in six languages, Raleigh was fully abreast of the latest continental scholarship. He wrote not about England, but of the ancient world with a heavy emphasis on geography.
Despite his intention of providing current advice to the King of England, King James I complained that it was "too sawcie in censuring Princes.
Sir Walter Raleigh Facts: Online Resources
Sir Walter Raleigh's History of the World Overview