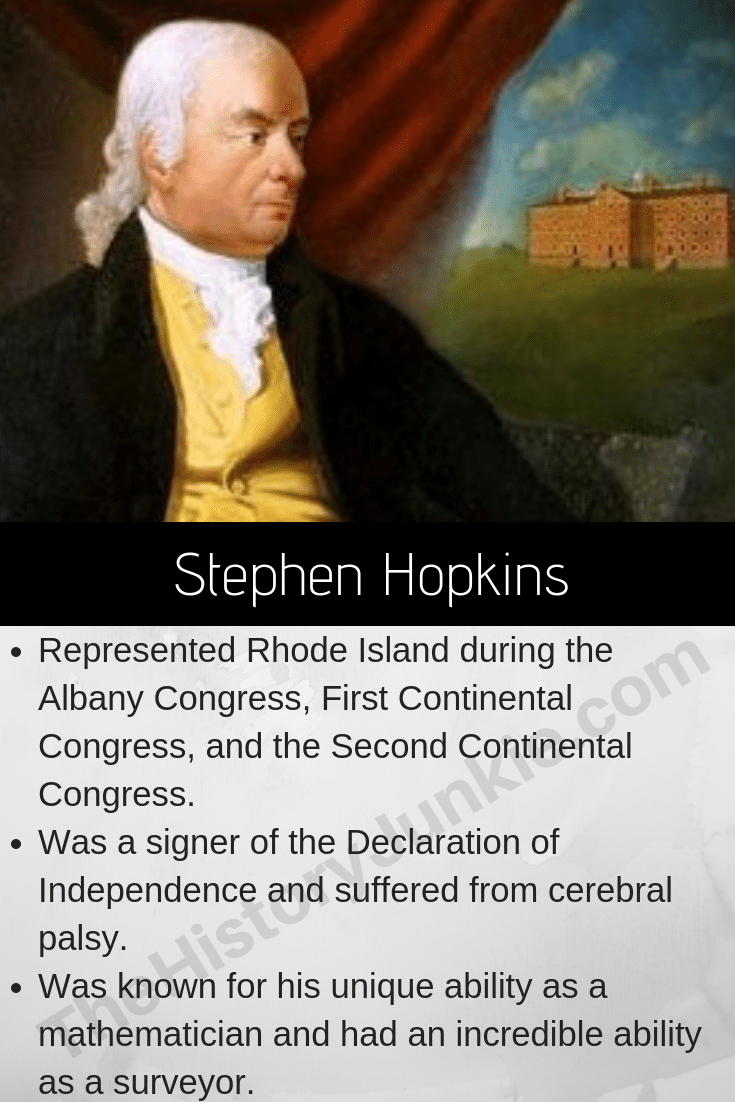 Stephen Hopkins was born, March 7, 1707, in Providence, Rhode Island. He married at 19 to Sarah Scott. The two would have 7 children together, 5 of whom would live to maturity.
Stephen would outlive his wife and marry a widow named Anne Smith. The two would not have any children together.
Although Hopkins was self-educated he would rise through the ranks in America. He, like many during this period, was an example of the American dream. Through hard work, he would become one of the most influential men in Rhode Island.
Early Political Career
His early political life begins when Scituate Township separated from Providence in 1732. Within the next ten years, he would serve as the following:
moderator of the first town meeting of Scituate

town clerk

president of the town council

town solicitor

justice of the peace

justice

clerk of the Providence County Court of Common Pleas.
Stephen Hopkins would represent Rhode Island during the Albany Congress in New York Colony.
It was here where Benjamin Franklin proposed the Albany Plan which would unite the 13 colonies. Although it was quickly rejected, Hopkins and others did consider it.
He would return to Rhode Island and be elected Governor of the colony and would be voted in as Governor nine times throughout his lifetime.
American Revolution
Stephen Hopkins proudly served Rhode Island in the First and Second Continental Congresses and was one of the first voices to be heard on the issue of British tyranny.
He and Samuel Ward would serve in the First Continental Congress. He would sign the Declaration of Independence alongside fellow Declaration of Independence Signer, William Ellery.
His hand shook due to him having cerebral palsy so much that he had to guide his right hand with his left. It is recorded that Hopkins said, My hand trembles, but my heart does not.

John Adams also had some kind words for Hopkins. In his autobiography he wrote:
…Governor Hopkins of Rhode Island, above seventy Years of Age kept us all alive. Upon Business his Experience and judgment were very useful. But when the Business of the Evening was over, he kept Us in Conversation till Eleven and sometimes twelve O Clock. His Custom was to drink nothing all day nor till Eight O Clock, in the Evening, and then his Beveredge was Jamaica Spirit and Water. It gave him Wit, Humour, Anecdotes, Science and Learning. He had read Greek, Roman and British History: and was familiar with English Poetry particularly Pope, Tompson [Thomson] and Milton. And the flow of his Soul made all his reading our own, and seemed to bring to recollection in all of Us all We had ever read. I could neither eat nor drink in those days. The other Gentlemen were very temperate. Hopkins never drank to excess, but all he drank was immediately not only converted into Wit, Sense, Knowledge and good humour, but inspired Us all with similar qualities.
During the American Revolutionary War Stephen Hopkins served on the committee created by Congress to outfit the first Continental Navy. His shipbuilding knowledge made him perfect for the job.
He was influential in framing the naval legislation and drafting the rules and regulations necessary to govern the Newfound organization during the war.
Once established he used his influence to make his brother Esek Hopkins the first commander-in-chief of the Continental Navy.
Unfortunately, that would not work out. In September of 1776, Hopkins resigned due to poor health and returned to Rhode Island where he would serve in the Rhode Island General Assembly until 1779.
Later Years and Death
Stephen Hopkins died at his home in Providence, Rhode Island on July 13, 1785. He was 78 years old.
Charles A. Goodrich said this about Stephen Hopkins:
As a statesman and a patriot, he was not less distinguished. He was well instructed in the science of politics; had an extensive knowledge of the rights of his country, and proved himself, through a longer life than falls to the lot of most men, an unshaken friend of his country, and an enemy to civil and religious intolerance. He went to his grave honored as a skillful legislator, a righteous judge, an able representative, a ignited and upright governor. Charity was an inmate of his habitation. To the cry of suffering his ear was ever open, and in the relief of affliction he ever delighted.