Thomas Jefferson (April 13, 1743 - July 4
, 1826), the 3rd President of the United States, is one of the most notorious names in American History.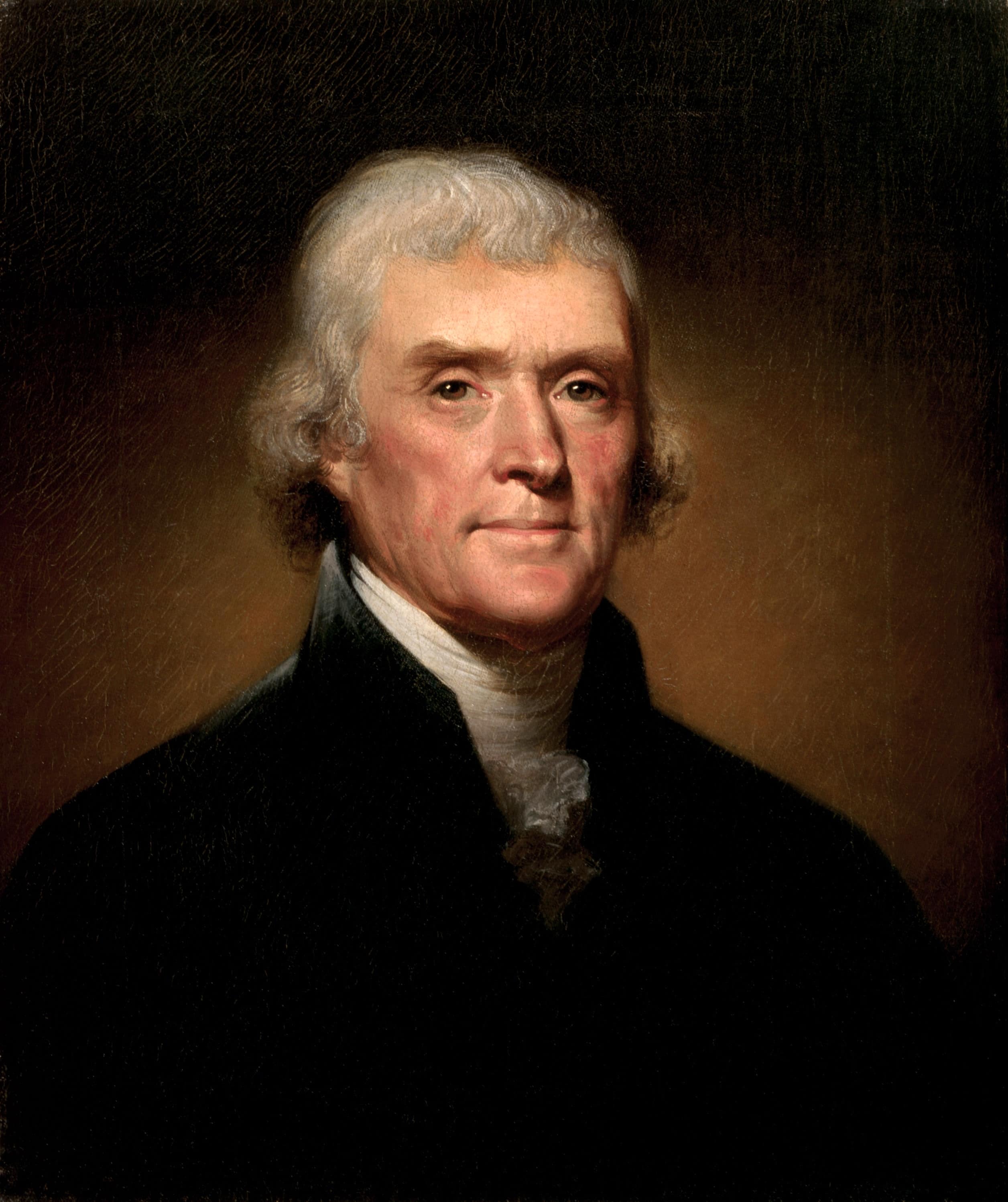 There is an abundance of facts on Thomas Jefferson that show to us the man behind the pen of the most famous document in the history of the United States.
This is a quick overview of his life before the American Revolutionary War and his Presidency.
Jump to:
Like many of the men during this time, Jefferson was a Renaissance Man. He explored political philosophy, economics, warfare, science, metaphysics, government, law, religion, and the arts. He served his country tirelessly and through a great tragedy.
Education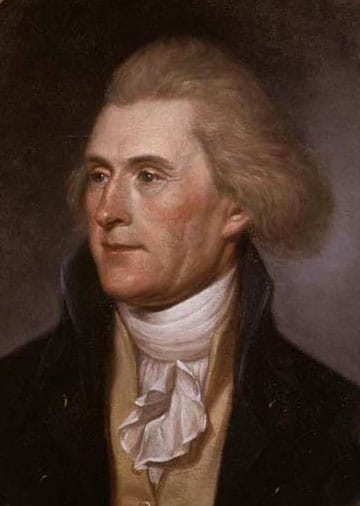 At the age of 9, he attended a local school under the schoolmaster William Douglas. Douglas was a Scottish minister who was influential in the life of Young Jefferson.
It would be here that he would learn Greek, Latin, and French. The French would come in handy when he served as a diplomat during the French Revolution.
At the age of 15, he moved on and studied under minister James Maury. Here, he would learn an education in History and Science.
At the age of 16, he was accepted into William and Mary College in Williamsburg. Here he excelled in Mathematics, Philosophy, and Metaphysics. Upon Graduation, he would receive the highest honors.
He studied under William Small, who introduced him to the writings of John Locke, Isaac Newton, and Francis Bacon. During this time, he also made improvements in his Greek, French, and violin. He then studied law under George Wythe.
Wythe would eventually be a fellow Signer of the Declaration of Independence. Jefferson would be admitted to the Virginia Bar in 1767.
Jefferson also was self-taught. He read constantly and educated himself further in political philosophy, writing, economics, religion, and other essential topics of his day.
He loved books until the day that he died in Monticello. Although he was well-educated, he never stopped learning.
Occupation and Marriage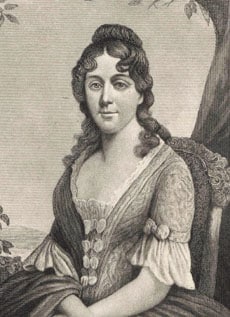 During his early years, Jefferson was a lawyer and a political activist. He was never a great orator, so his influence came from the power of his pen, which was immense.
He wrote A Summary View of the Rights of British America in response to Great Britain's passage of the Intolerable Acts. It would be this writing that would encourage John Adams to ask that Jefferson pen the Declaration of Independence.
At the age of 29, Jefferson married the 23-year-old widow Martha Wayles Skelton. Martha and Thomas Jefferson were deeply in love, but their marriage was filled with heartbreak.
They had six children together, and only two survived until adulthood. Shortly after giving birth to their last child, Lucy, Martha died. Jefferson was at her bedside when she passed and never remarried, which he had promised her.
Children
Martha Washington Jefferson (1772 - 1836) - Married Thomas Mann Randolph Jr., who would become the governor of Virginia. Named after George Washington's wife, Martha.
Jane Jefferson - (1774 - 1775) - Did not survive past the first year
Stillborn and unnamed (1777)
Mary Wayles Jefferson (1778 - 1804) - was called Polly and married her cousin, John Wayles Eppes. Mary died at the age of 25 after the birth of their third child. The couple only had one son, who made it to adulthood, Francis W. Eppes. Jefferson would make his grandson the designated heir to Poplar Forest in Virginia. It was originally going to be given to Mary.
Lucy Elizabeth Jefferson (1780 - 1781) - Died within the first year
Lucy Elizabeth Jefferson (1782 - 1785) - It was customary to name the following child after the child that died before them. Died at the age of three. After hearing the news, Jefferson sent for his youngest surviving daughter, Polly, to come to him in France. Polly was 9.
The Revolutionary War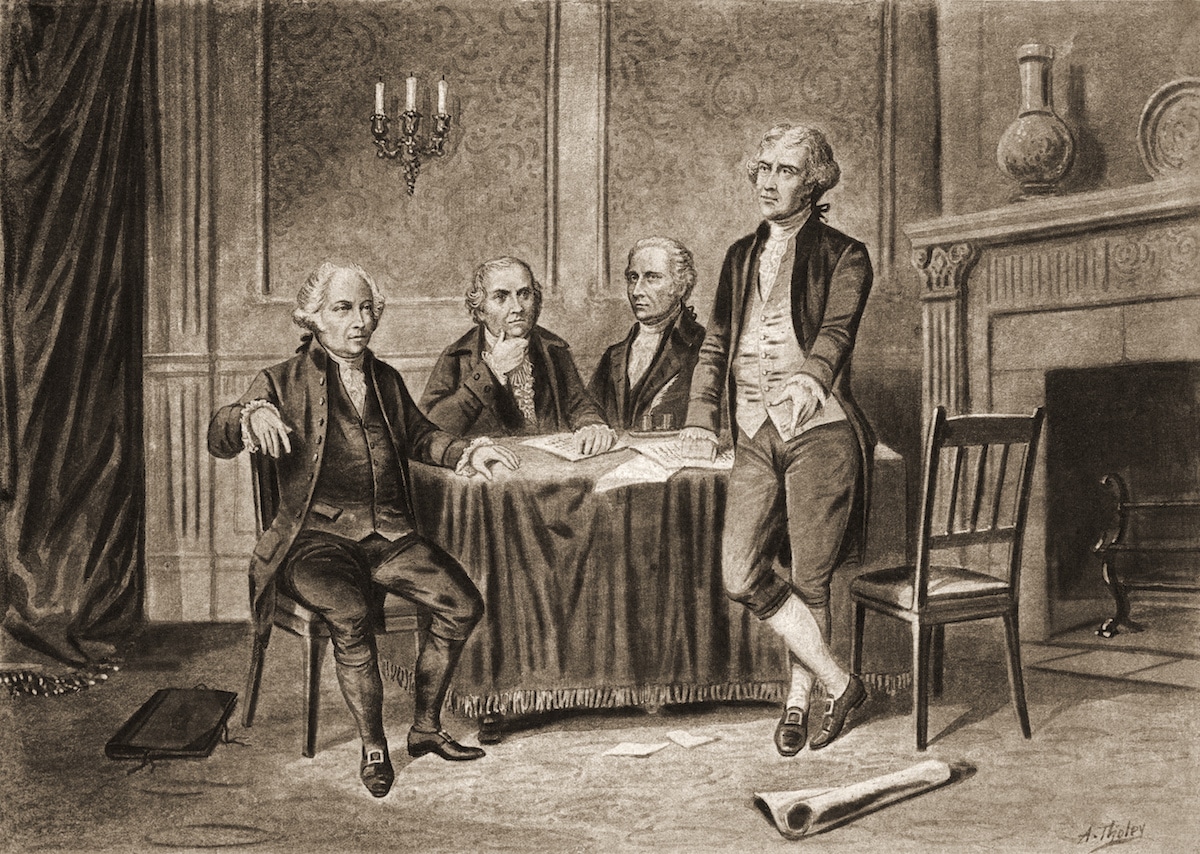 He penned A Summary View of the Rights of British America in response to the Intolerable Acts
Served as a delegate to the Second Continental Congress, where he authored the Declaration of Independence under the recommendation of John Adams. His writings would be edited by Adams and Benjamin Franklin.
He served in the Virginia House of Delegates from September 1776 - June 1, 1779.
Served as Governor of Virginia from 1779 - 1781.
In 1781, the notorious traitor Benedict Arnold led an armada of British ships with 1600 British regulars into Virginia and conducted raids along the James River. During the mission, Lord Cornwallis dispatched a secret mission to Monticello to capture Jefferson. Jack Jouett, a captain of the Virginia militia, learned of the plan and rode to Monticello to warn Jefferson.
He was able to travel faster than Tarleton due to knowing the land. Jouett warned Jefferson, which allowed him to escape. However, the British raided his estate and destroyed everything.
They also captured 27 slaves, to which Jefferson said, "Had he carried them off to freedom, He would have done right."
Jefferson did not see any active duty and would be elected to Congress in 1783, shortly before the Treaty of Paris was signed.
Post-Revolution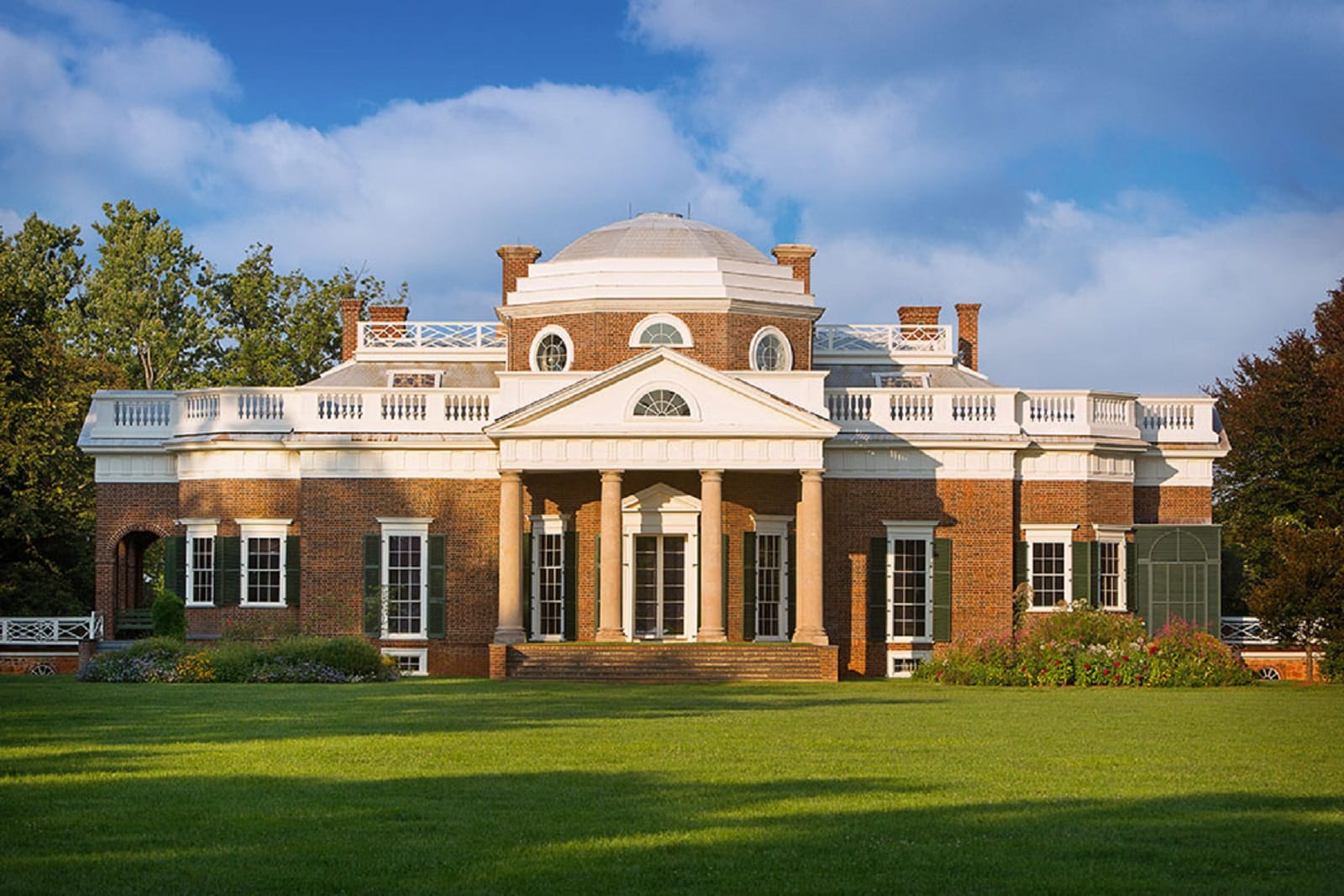 Jefferson was appointed Minister to France in 1784
While in France, he met up with John and Abigail Adams. Here, he was charmed by Abigail Adams and would become best friends with John Adams.
He and John Adams would not attend the Constitutional Convention. Ironically, two of the architects of the Declaration would have little influence on the upcoming government.
While in France, Jefferson corresponded with Marquis de Lafayette and Comte de Mirabeau, who were leaders in the French Revolution.
Jefferson brought some of his own slaves to France, most notably James Hemings. During his stay, his daughter Polly's companion was Sally Hemings. It is believed that Thomas Jefferson had a long-term relationship with Sally.
Upon his return to America in 1789, President George Washington urged him to become Secretary of State. After meeting with the President, he accepted and served until 1793.
The service in Washington's cabinet was a disaster. Washington trusted Hamilton's judgment over Jefferson, and the Citizen Genet controversy only hurt Jefferson's pull in the cabinet. Jefferson would retire from public office in 1796 when he ran against and lost to John Adams. He would serve as John Adams's Vice President.
In 1800, he would beat John Adams and win the Presidency.
Jefferson would purchase the Louisiana Purchase in 1803 from France and send Lewis and Clark to explore the property.
After 1808, he would retire from public life and finish his days at Monticello.
Read Article: The Presidency of Thomas Jefferson
Thomas Jefferson Facts: Post Presidency and Death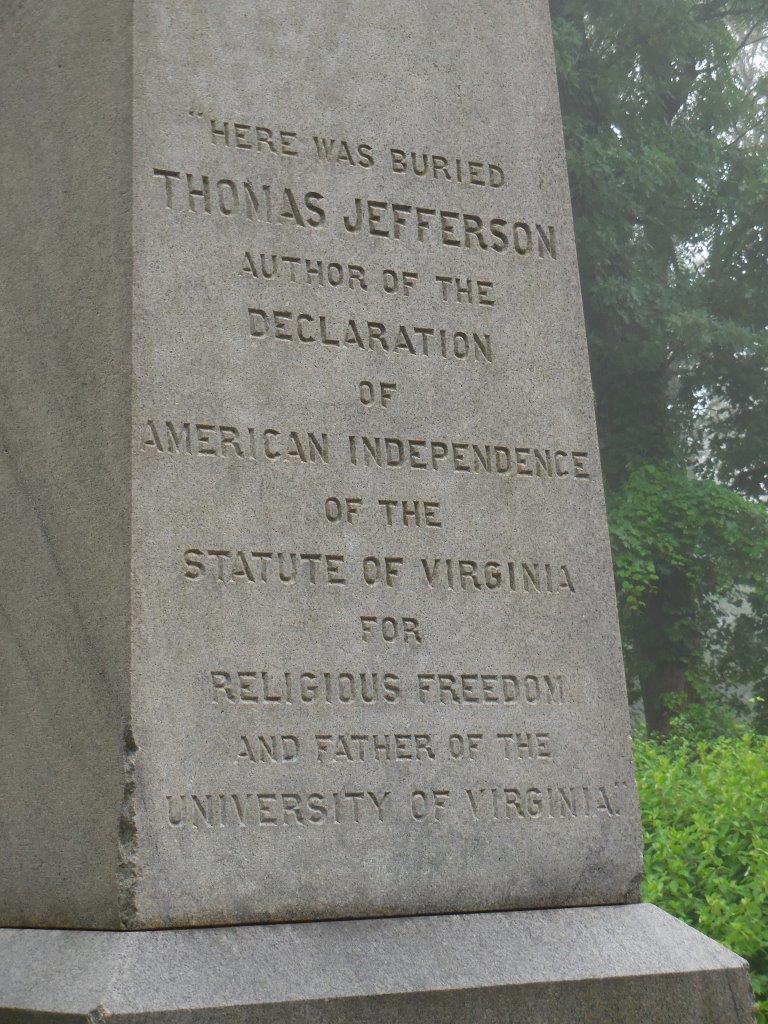 Founded the University of Virginia in 1819
Accumulated much debt but was allowed to continue to live in Monticello due to being a hero in the American Revolutionary War.
He and John Adams resumed their friendship after Abigail Adam's Death. It was encouraged by Benjamin Rush.
Jefferson died on July 4, 1826.
On John Adam's deathbed, he said, "Jefferson still lives."
Ironically, Jefferson, a few hours away, had passed away earlier that day. John Adams was often called the voice of the Revolution, while Thomas Jefferson was called the pen of the revolution.
The two had a unique relationship that was splintered during the 1800 election when Jefferson engaged in personal attacks on Adams.
They were brought back together and would write to each other until their death. They both died on the same day, July 4, 1826. It was the 50th Anniversary of the Declaration of Independence.

Writings
A Summary View of the Rights of British America
The Declaration of Independence
Virginia Statute for Religious Freedom
Notes on the State of Virginia
Autobiography
Outside Resources