Vasco Nunez de Balboa (c. 1475 – around January 12–21, 1519) was a Spanish Conquistador and governor. He is known for being the first European to discover the Pacific Ocean on a mission to try and find a spice trade route to Asia.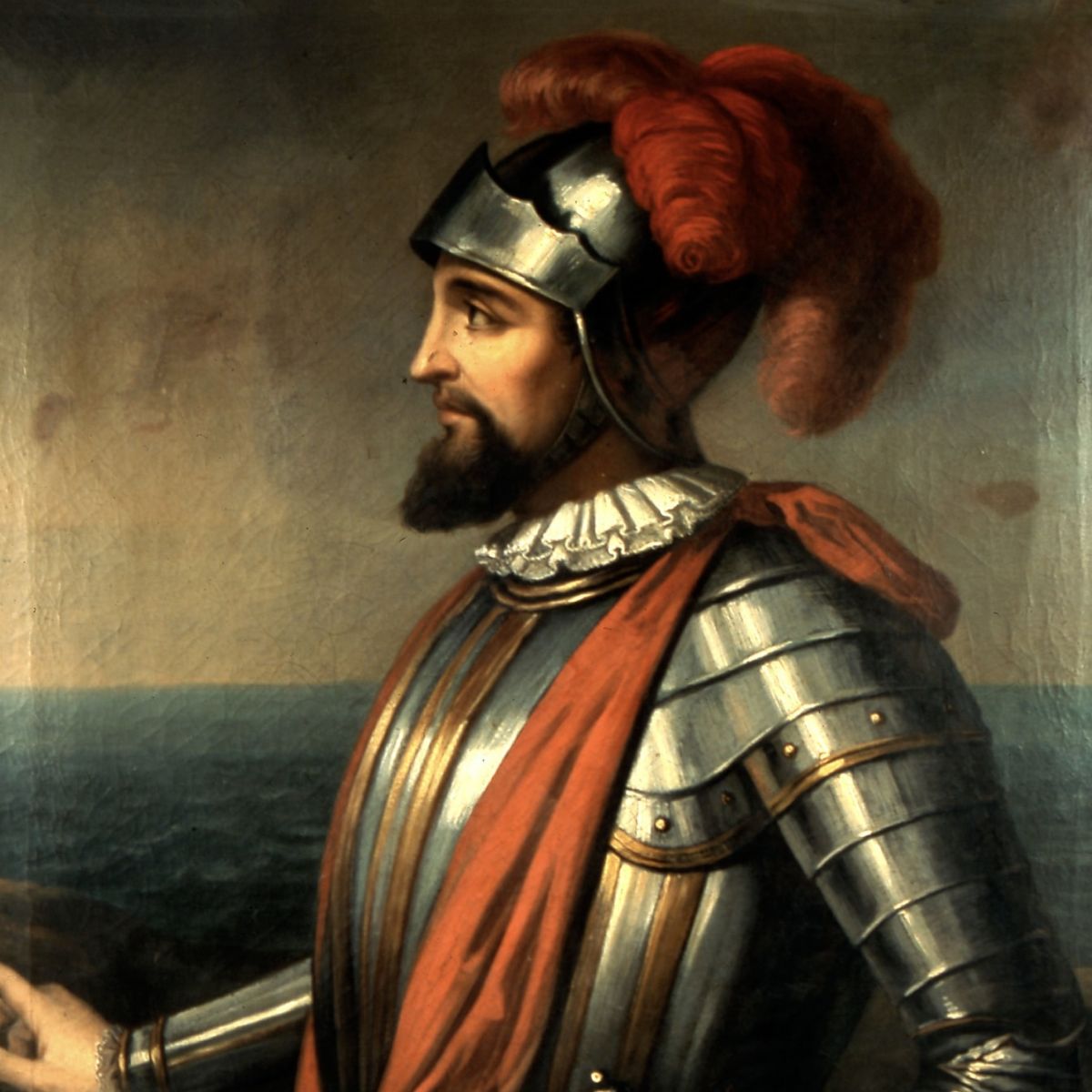 Balboa also accomplished founding the first permanent settlement on the mainland of the New World. His successes were cut short by his own ambitions and those of others as he was wrongfully accused and sentenced to death. Francisco Pizarro, the conquistador who conquered the Incas, oversaw his execution.
Jump to:
Early life
Balboa was born in Spain around 1475. His family was of wealthy descent, which gave him privileges that many others did not have. He was well-educated, and he served as a page and squire to Don Pedro de Portocarrero. When he was 17 years old, Christopher Columbus set sail to find a route to the East. He believed that by sailing west, he would run into Asia, but Columbus had grossly miscalculated the size of the world and accidentally discovered a New World that he died believing to be India.  Balboa grew up hearing these stories and was then convinced to sail to the New World in 1500 on Rodrigo de Bastidas' expedition. By the end of the expedition, Vasco de Nunez Balboa settled in Hispaniola and lived the life of a planter and pig farmer. This vocation was not successful for him, and he landed himself in debt.
To avoid his creditors, Balboa escaped to Santo Domingo by hiding in a barrel together with his dog in order to board a ship. Before the expedition arrived at San Sebastian de Uraba, Balboa was discovered aboard the ship and was threatened by Fernandez de Enciso to be left at the first desolate island they came across. Balboa was able to convince Enciso to allow to to stay aboard due to his knowledge of the region. This expedition would be the first time that Vasco de Nunez Balboa met Francisco Pizarro.
During this expedition, Balboa had gained a positive reputation. He was charismatic and showed great leadership ability. He displayed a keen sense of the region, which enabled the Spanish to move efficiently. He became extremely popular with the crew, but the commanding officer, Enciso, was disliked after a series of blunders that left many doubting his ability to command.
After finding the settlement of San Sebastian in utter ruin, Balboa suggested that the settlement be moved to a different region, the region of Darien. He believed that Darien offered more fertile soil and the natives were not as hostile. Upon arriving in the region of Darien, they found the natives waiting for them. Apparently, the natives were hostile, and a battle was fought between the natives and the Spanish. The Spanish were vastly outnumbered, but the natives had inferior technology. After a tough battle, the Spanish won an important victory. Balboa then established the first permanent settlement on the mainland of the New World and named it Santa Maria.
Santa Maria
After the victory against the natives, Balboa's thoughts about the Darien region were proven correct. The natives of the area were relatively calm compared to the settlement of San Sebastian, and the land was fertile. This, coupled with his charisma, caused much of the crew to push for him to become Mayor of Santa Maria.  The crew began to mutiny against the commanding officer Fernandez de Enciso, and the ambitious Balboa took advantage of it by removing Enciso. Balboa and Martin Samudio were appointed in the first election of the Americas as the municipal council of Santa Maria.  After being elected to the municipal council, Balboa would become Governor of Veragua.
As Governor Balboa put Fernandez de Enciso on trial, stripped him of all his possessions, and sent him back to Hispaniola. With Enciso out of the picture, Balboa began to expedite the territories and quickly learned of another sea. He then organized an expedition to explore the isthmus of Panama in search of the South Sea and a quest for more riches. Balboa was sent for aid from Spain, but at this point, many had turned against him due to his actions against Enciso. Balboa decided to journey there on his own with a small amount of men. Through some hardships, Balboa reached the South Sea, thus discovering a new ocean that would later be named the Pacific Ocean due to its passive nature.
The discovery of the South Sea was an important discovery for the Spanish Empire:
It confirmed the discovery of a New World. Even though the idea that Christopher Columbus had actually sailed to Asia was beginning to fade, the discovery of the Pacific Ocean allowed future explorers to plan their voyages differently.
The Spanish could now prepare to establish a trade route to Asia that had been monopolized by the Portuguese up until this time.
Balboa's main mission was not to discover the Pacific Ocean but rather to find wealth in precious metals. He did so by ransacking any of the native peoples he came across. When he returned to Veragua, he returned a much wealthier man. Even so, he followed the law of Spain and sent the appropriate portion back to the Spanish Crown, along with news of his discovery.
Death and Legacy
The story of Vasco de Nunez Balboa ended tragically. After making major discoveries and successfully leading economic reforms that increased the wealth of the colonies that he oversaw, he was always in constant conflict with inferior minds but with greater last names. He married the daughter of Predrarias, one of his rivals, and seemed to become close to him. Pedrarias gave Balboa permission to continue his expeditions of the South Sea, but while on an expedition, Balboa received a series of kind letters from Pedrarias asking him to come home immediately. Balboa, suspecting nothing, quickly obeyed. While returning, he was confronted by Francisco Pizarro and accused of trying to usurp Pedrarias' power. Balboa denied all charges and requested a trial in Spain, but Pedrarias and Martin Enciso quickly tried him in the New World. Balboa was found guilty and sentenced to beheading, which was carried out immediately.
Balboa was one of the greatest minds. He, along with Cortes, were more than just Conquistadors as they understood how to run a nation. His economic reforms caused a boom in the economy, which allowed him to acquire great wealth. Unfortunately, greed and those jealous of his successes betrayed him.