William Floyd (December 17, 1734 – August 4, 1821) was a delegate from New York to the Second Continental Congress and eventual signer of the Declaration of Independence.
He was born on Long Island, served in the militia during the American Revolutionary War, was selected to the First Continental Congress and Second Continental Congress, a presidential elector in 1802, and served as a State Senator. His influence in politics went throughout generations as he also served as an electorate to Martin Van Buren.
During the Second Continental Congress William Floyd served alongside fellow delegates: Philip Livingston, Francis Lewis, and Lewis Morris.
William Floyd Facts: Biography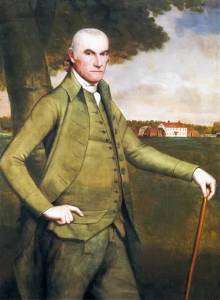 William Floyd was born on Long Island, New York into a family of English and Welsh origins and took over the family farm when his father died. His great-grandfather Richard Floyd was born in Brecknockshire, Wales in about 1620 and settled in the Province of New York.
William Floyd was a member of the Suffolk County Militia in the early stages of the American Revolutionary War, becoming Major General.
He was a delegate from New York in the First Continental Congress from 1774 to 1776. He was a member of the New York State Senate from 1777 to 1788.
In March 1789, he was elected to the 1st United States Congress under the new Constitution as an Anti-Administration candidate and served until March 3, 1791.
Floyd was a presidential elector in 1792, voting for George Washington and George Clinton.
In 1795, Floyd ran for Lieutenant Governor of New York with Robert Yates on the Democratic-Republican ticket, but they were defeated by Federalists John Jay and Stephen Van Rensselaer.
Floyd was again a presidential elector in 1800, voting for Thomas Jefferson and Aaron Burr; and in 1804, voting for Thomas Jefferson and George Clinton.
Floyd was again a member of the State Senate in 1808.
In 1820, Floyd was again chosen a presidential elector, but did not attend the meeting of the electoral college, and Martin Van Buren was appointed to fill the vacancy.
The William Floyd House, the family home, is in Mastic Beach, is part of Fire Island National Seashore and is open to visitors. The home is in the middle of extensive woods, grassland and wetlands.
Among his descendants are cinematographer Floyd Crosby, his son, rock musician David Crosby and former Massachusetts Governor William Weld. A second cousin twice removed was Abraham Lincoln.
William Floyd Facts: Online Resources