Arthur Middleton (June 26, 1742 – January 1, 1787), of Charleston, South Carolina Colony, was a signer of the Declaration of Independence. He served alongside fellow South Carolina colony delegates Thomas Lynch Jr., Thomas Heyward, and Edward Rutledge. He was born to Henry Middleton and Mary Baker Williams. Arthur Middleton's home would be passed down for multiple generations in the Middleton family and is now a popular destination in South Carolina.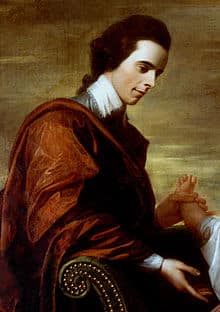 Life Story
Arthur Middleton was born and educated in England. He went on to study law at the Middle Temple and traveled throughout all of Europe. During his travels, Middleton became interested in many of the arts.
Like many of the founding fathers, Arthur Middleton was a renaissance man. He and his wife settled in Middleton Place during the 1760s. Here, Middleton would become interested in South Carolina politics. Soon, he would forget his British ties and support the American cause.
Arthur's father, Henry, retired from the Continental Congress, and Arthur would take his place. Arthur was younger and highly influenced by the movement for independence. He became one of the loudest voices in South Carolina for the American cause.
In 1776, he valiantly signed his name to the Declaration of Independence and became a traitor to the nation he was birthed and educated. He became known for his viciousness towards loyalists and supported all military action against them. South Carolina would become one of the most violent battlegrounds against loyalists and patriots.
He served in the Continental Army during the defense of Charleston. The city was captured, as was he. Middleton remained a prisoner of war for close to a year until a prisoner exchange.
After the war ended, Middleton retired from public life and spent time with his family. By 1783, he was only 40 years old and had accomplished a great deal within South Carolina and built a large estate for his family.
In 1786, he battled an intermittent fever, which would claim his life on January 1, 1787. He would never see George Washington elected President of the United States.
His son Henry would take over the Middleton plantation. He would follow in his father's footsteps and pursue a life in politics. He became the Governor of South Carolina, a U.S. Representative, and a Minister to Russia
Arthur Middleton was described as a passionate patriot and a loving husband and father. Although his life was brief, his impact was great. He left a legacy that his children would follow and generations after him could build on. Greatness is not only defined by all of your accomplishments but also by those that come after you.

Online Resources