Date: October 4, 1777
Region: Middle Colonies, Pennsylvania
Commanders: British: Lieutenant General Sir William Howe and Lieutenant Baron Wilhelm von Knyphausen
American: General George Washington, Major General John Sullivan, Major General Adam Stephen, Major General William Smallwood, Brigadier General Thomas Conway, Brigadier General William Maxwell, Brigadier General Francis Nash, General Nathanael Greene, and Brigadier General Anthony Wayne.
Opposing Forces:
British: 10,000
American: 11,000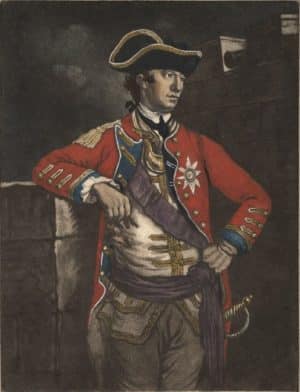 British Perspective: For the British, the Battle of Paoli eliminated the Patriot threat that had been plaguing their rear. General Howe was now free to focus his attention west against General Washington's main army at Reading or east against Philadelphia.
Jump to:
Howe decided to establish his army along the southern banks of the Schuylkill River from Gordon's Ford in the west, Fatlands Ford, and Valley Forge in the east. 
The construction of a bridge across the river at Gordon's Ford was undertaken, which enticed Washington to focus his attention on Reading instead of Philadelphia. The British ruse worked well, and on the 22nd of September, Howe ordered his army to cross the fords at both ends of the river and move toward the colonial capital.
Marching unopposed in two columns along the Ridge Road and Germantown Pike, Howe's British occupied Germantown on September 25.
This move placed his army between Washington's command and Philadelphia. The British were now within five miles of the city. Howe dispatched scouts to reconnoiter routes leading southward into the colonial capital.
On September 26, while Howe remained in Germantown five miles north of the city with 9,500 men, Lord Cornwallis, and 3,000 troops moved south and occupied Philadelphia without resistance at about 10:00 a.m. 
Local Tories were all that remained in the capital, the rebels and their Congress having evacuated the city. It had taken Howe 80 days and a loss of many lives and treasures to capture the Patriot capital.
However, unlike what Howe experienced in Europe, the capture of Philadelphia meant little, and Washington was no closer to surrendering than before its capture. The Americans moved their capital to York, Pennsylvania, and their government continued to exist.
His capture of Philadelphia caused another problem for himself: supply. He still had an army to feed, and with the rebels lurking and becoming more effective at harassing the supply lines, he looked for another opportunity to drive them from the area.
On October 3, Howe learned that Washington's army was advancing toward Germantown. He ordered his outposts to be observant.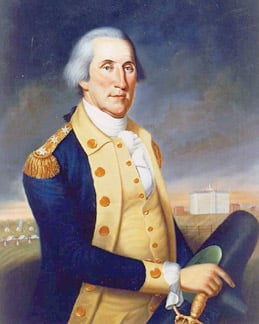 American Perspective: General Washington and the Patriot cause had dealt with many setbacks in September 1777. 
They had been defeated at the Battle of Brandywine, Battle of the Clouds, and the Battle of Paoli.
In response to these defeats, General Washington tried to rally his men and reorganize his tattered army at Reading. He posted Scouts along the northern bank of the Schuylkill River to watch the enemy and guard the fords while Washington figured out what to do next.
He had to make a decision between defending Reading or Philadelphia. He could only defend one, and he had to do so blind as he did not know Howe's next move. 
Based on his scout's information, he believed that Howe was going to attack Reading, but by September 23, it was obvious that Philadelphia would be his next target.
He dispatched Colonel Alexander Hamilton to warn the citizens of the British arrival. Hamilton also retrieved valuable supplies for the army, such as blankets, horses, shoes, and food. 
Three days later, General Cornwallis marched his men into the city.
Despite losing Philadelphia, Washington intended to continue to fight. He ordered the commander of the Pennsylvania Navy, Commodore John Hazelwood, to defend against any ship coming into Philadelphia on the Delaware River at Forts Mifflin and Mercer.
This caused logistical problems for General Howe's army, and he was forced to send foraging teams into the countryside to feed his army in the city and to escort vulnerable supply trains from Head of Elk.
Washington's plan was to slowly choke off Howe's supply routes to the north and west and continue to tighten the noose.
He also believed that Germantown was a weak spot in Howe's defense and susceptible to a surprise attack.
Washington received reinforcements of 8,000 Continentals and 3,100 militia, which provided him with sufficient manpower to attack Howe. He moved his army to Pennypacker's Mill and, on September 29, marched five miles east to the village of Skippack, where he stayed until October 2, when he moved his army a few more miles to Centre Point.
Washington planned to move into an attack position on Germantown at dusk. However, he failed to see that his plan was too ambitious and complex for an amateur army. 
The Patriot army moved out around 7:00 PM, but the march was slowed by bad roads and execution. The army did not reach Germantown before dawn, and just as the sun was rising, the Patriot cavalry ran into a British outpost at Mt. Airy on the Shippack Road.
This confrontation triggered the first shots of the Battle of Germantown.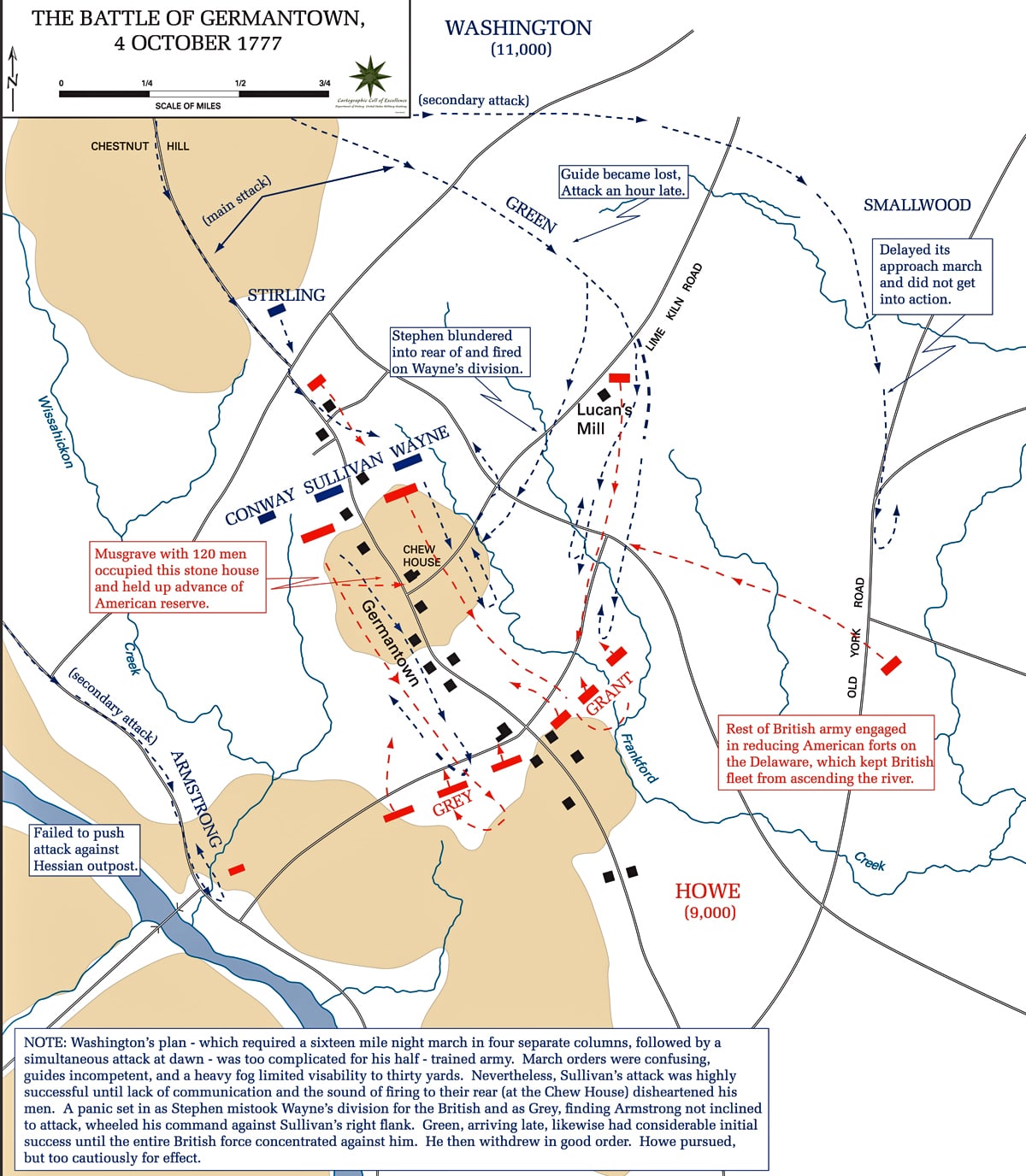 The Fighting: General Washington was traveling with the American center column when the first shots were fired. 
Despite not knowing if General Nathanael Greene was in position, he ordered General Sullivan's center wing to lead the attack
Sullivan extended Anthony Wayne's division on the east or left flank, Thomas Conway's in the middle, and his own on the right. With a strong line of battle, Sullivan advanced south against Lieutenant Colonel Thomas Musgrave's British 40th Regiment of Foot, which had arrived to bolster the light infantry pickets.
At that time, a dense fog fell on the battlefield, reduced visibility to a handful of yards, and slowed Sullivan's advance to a crawl.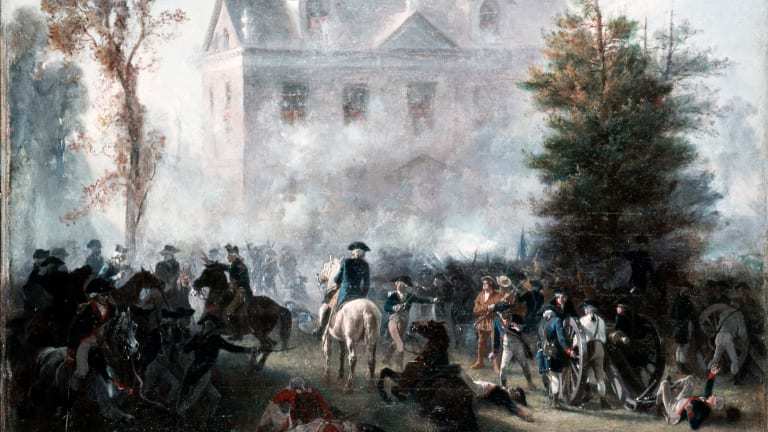 The fog played a positive and negative role in the battle. It made it near impossible for Sullivan to control his line of battle. However, it also provided cover from British musket balls.
Musgrave put up an excellent defense but was outnumbered. He and his men slowed the American march during their retreat.
Meanwhile, on Washington's right flank, General Armstrong's militia was located on the left of Howe's line, which was held by Hessians under Wilhelm von Knyphausen.
Armstrong fired off a few artillery rounds to grab the enemy's attention, but little else was achieved on that flank.
On the American left, the situation went from good to terrible. Both Greene and Smallwood took the wrong road and were lost for a short period of time. Eventually, Greene reached his assigned position north of Lucken's Mill about 45 minutes after the fighting began.
He deployed Stephen's division on his right, his own in the center, and McDougall's brigade on the left. and advanced.
The fighting at the center continued as the British used every means of defense available to them. Henry Knox convinced Washington that the Chew Bastion needed to be captured. William Maxwell's brigade was brought up for that purpose.
The Patriots were unable to inflict sufficient damage and then ordered an infantry charge. This, too, was not effective.
Howe began preparing for the evacuation of not only Germantown but Philadelphia under the belief that the wide American front threatened to overwhelm his command.
General Wayne began pushing forward on Sullivan's left flank beyond the Chew House and made significant advances into the British line.
Greene's men marched behind Wayne's men and, unaware of their movements, mistook them for the enemy and fired into them. Unaware that it was Greene who was firing into him, he believed that he was being surrounded and began to retreat.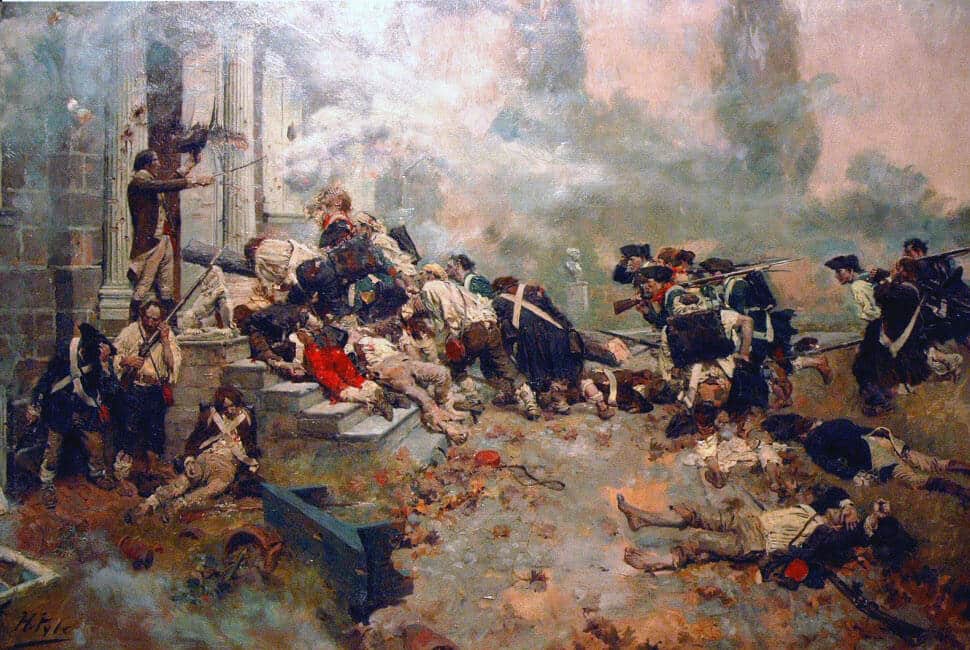 As they retreated, they announced that the British were flanking them. This ended the attack on the British center. Wayne's retreat exposed Conway's left, and his troops also fell back. Sullivan's men followed, leaving behind mortally wounded General Francis Nash, who fell leading his North Caroline brigade near the Chew residence.
Greene continued and met Cornwallis. When he realized that he was fighting the battle alone, he skillfully withdrew his men from the battlefield.
The battle was over. The Americans did not know how close they were to a major victory due to the fog and terrible execution.
Casualties: British: 71 killed, 450 wounded, and 14 captured; American: 152 killed, 521 wounded, and 400 captured.
Results: Despite losing, the Americans believed that they had almost won a battle despite difficult conditions. The loss did not hurt morale, but it did damage Washington's reputation further as his plan was much too complex to execute for men who were not well-trained. He should have known better.
General Howe was master of the region, but it did not matter too long.
General John Burgoyne's army was defeated at Saratoga two weeks later when he surrendered his entire army to Horatio Gates.
A minor result of the battle was the dismissal of General Stephen, who was drunk during the battle. He was replaced by Marquis de Lafayette.
Online Resources: