Nathanael Greene was a Major General in the American Revolutionary War. He was George Washington's most trusted General and served the Patriot cause for the entire eight years of the war.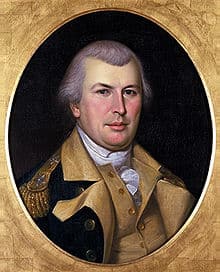 George Washington is on record as saying that if he were to fall in a battle, he wanted Greene to take command of the Continental Army.
Jump to:
Greene is one of the greatest American Generals in History, and very few people know about him or his accomplishments.
Unfortunately, Greene would die suddenly, just a few years after the American Revolutionary War had ended. He fought for the freedom of this country but did not get to enjoy it. In response to his death, George Washington offered to raise his son.
Early Life of Nathanael Greene
Nathanael Greene was born in Warwick, Rhode Island, as a son of a Quaker. Quakers discouraged literary and military accomplishments, but Nathanael Greene would go on to excel in Mathematics, Law, and eventually War.
His upbringing would give him the nickname "The Fighting Quaker."
Quakers were known as pacifists and refused to fight in wars. John Dickinson of Pennsylvania passionately argued against the independence that John Adams, Samuel Adams, Thomas Jefferson, and Benjamin Franklin so aggressively argued for. Greene's decisions would be seen as controversial, and would be expelled from the Quakers in 1773.
Greene moved to Coventry, Rhode Island, shortly after his father's death. Here, he would push for a public school system, be elected to the Rhode Island General Assembly, show sympathies for the patriot cause, and find his wife Catherine Littlefield Greene in 1774.
In August of 1774, Nathanael Greene began to actively study the Art of War. He called for the formation of the local militia and helped organize it even though many believed him to be unable to effectively lead due to a limp that he had.
His militia would become one of the most disciplined and well-organized in the entire war. Their conduct at the Siege of Boston would set them apart from other militias in the field. No doubt Greene's earlier studies of Mathematics and Law aided him during this time.
Early Years of the American Revolutionary War
With the Battles of Lexington and Concord and Bunker Hill, the British found themselves in a tightening noose and trapped against the ocean. Militia from other New England Colonies began to pour in and place the city of Boston, Massachusetts Bay, under siege.
Greene would come as the newly appointed Major General of the Rhode Island Army and distinguish himself. Here, he would be promoted to a brigadier by the Continental Congress.
After Henry Knox dislodged the British from Boston with his artillery from recently captured Fort Ticonderoga, Washington left Greene in charge of the city.
He continued his quick rise through the ranks when he received another promotion. This time, he, along with four others, would be promoted to Major General and placed in command of Continental troops in New York. Greene built fortifications, redoubts, and stiffened defenses.
He learned the terrain of New York and meticulously planned for a defense. Unfortunately, he fell ill and could not participate in the Battle of Long Island. His replacement, Israel Putnam, was overmatched by General William Howe and easily defeated.
Nathanael Greene, along with George Washington, advocated the burning of New York City so that the British could not use it.  They believed this was justified since New York was predominately Tory, but Congress would not allow it, and Washington submitted to them.
He was then placed in command of Fort Washington and told to use his discretion in holding the fort. Sir William Howe launched a masterful assault on the fort and overwhelmed the British.
Much of the blame was placed on Nathanael Greene, although Washington took responsibility for the loss. Even so, Washington's confidence in Greene never wavered.
Greene commanded one of two American columns at the Battle of Trenton. He urged General Washington to attack Princeton but was overruled by a council of war. Greene consistently showed that he was a fighting General and would take the war to the British instead of being overly cautious.
Greene would go on to fight in the battles of Brandywine and Germantown. In Brandywine, he commanded the reserve, and at Germantown, he and his troops distinguished themselves even though he had failed to show up on time.
He reluctantly took the post of Quartermaster General. Here, he served until his frustrations with Congress could not allow him to serve in this position any longer.
While serving, he still retained command of troops and fought in the Battle of Monmouth, the Battle of Rhode Island, and the Battle of Springfield. By the end of August, he resigned as Quartermaster General.
After his service as Quartermaster General, he served as commander of West Point. During this time, Benedict Arnold had been revealed as a British Spy, and the Americans had captured John Andre in civilian clothes. Nathanael Greene was one of the men who presided over Andre's trial and eventually sentenced him to death by hanging.
War in the South
Congress had not taken the advice of Washington when selecting commanders for the Southern Army. The result was devastating. First, they chose Robert Howe, and the result was the capture of Savannah, Georgia.
Secondly, they chose Benjamin Lincoln, and the result was the fall of Charleston, South Carolina.
Finally, after his victory at Saratoga, Congress chose Horatio Gates to be the commander of the Southern Army.
He met General Cornwallis at the Battle of Camden. His army was routed, and Gates fled the field in dishonor. After three failed choices, they allowed General Washington to choose the next commander of the Southern Army.
Without hesitation and only 1 day after receiving the commission, he chose Nathanael Greene. The result would be the surrender of the British at Yorktown.
When Greene took command of the Southern Army, it was shambles. Morale was low, and there was little hope of success. To make matters worse, Greene did not have enough resources to feed his army properly. He decided to split his army into two parts.
He would command one, and Daniel Morgan would command the other. Splitting the army allowed him to move quickly and supply them more easily. In response, the British also divided their forces.
This strategy met early success with the annihilation of British Commander Patrick Ferguson's division at the Battle of Kings Mountain.
The Patriots defeated the British and then responded to the massacre at Waxhaws by killing or capturing every British Loyalist soldier. This depleted Cornwallis of many men and, most importantly, one of his best commanders, Patrick Ferguson.
The victory at Kings Mountain was followed by the Battle of Cowpens. The Patriot commander employed a new strategy to take advantage of the aggressive Banastre Tarleton.
He placed his militia in front and told them to retreat after firing a few rounds. This strategy worked to perfection and devastated the British Forces. Morgan won a total victory over Tarleton.
After the defeat of Tarleton, Greene began a strategic retreat to the Dan River. This retreat was eerily similar to that of the retreat before the Battle of Trenton. Cornwallis, hell-bent on catching Greene and destroying the Southern Army, began burning anything that would slow him down.
This included some of his pieces of artillery. To mask his movements, Greene again split his army and created a new light division. This light division diverted Cornwallis and slowed his progress. He would realize that he was duped, but it would be too late as Greene made it safely across the Dan River.
Greene re-grouped and rebuilt his army with new recruits. He then re-crossed the Dan River and began to pursue Cornwallis. The two would collide on a battlefield that Greene had chosen. The Battle of Guilford Courthouse was a disaster for the British. They took the field but took heavy casualties.
This sent Cornwallis into his own retreat. Greene continued to maneuver his army. Cornwallis retreated into Virginia, which allowed Greene to reconquer the captured cities in North Carolina.
He met defeat at Hobkirk Hills and the Siege of Ninety-Six. Even so, these actions were enough to keep the British retreating to the coast.
Greene again attacked the British at Eutaw Springs. The battle would be considered a draw, but the losses that the British took required them to retreat to Charleston. Greene then pinned them here for the remaining months of the war.
Legacy
Even though Greene never won a battle, he specialized in eluding the enemy and tiring them with long marches. His defeats were costly to the British, and kept forcing them to retreat until he trapped them in Charleston.
Nathanael Greene settled into his estate near Savannah, Georgia, in 1785. He would die suddenly on June 19, 1786, of sunstroke.