Born in Bristol, England, around 1680, little is known about his early life.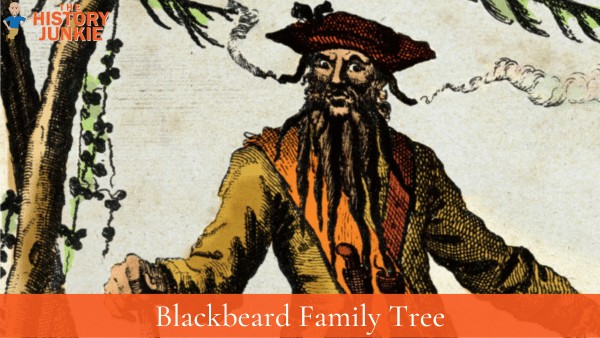 In 1716, he met Benjamin Hornigold, who took him on as his apprentice and taught him the pirating trade.
In late 1717, the English King gave a pardon to all pirates who gave up their trade, and Hornigold retired, leaving Teach on his own.
Also Read: 20 Famous Pirates in History
Jump to:
Teach took a recently captured merchant ship, the Concord, and refitted it as a pirate ship with 40 guns. He renamed it the Queen Anne's Revenge.
Teach's reputation grew when Queen Anne's Revenge defeated a British 30-gun warship, the HMS Scarborough.
Teach believed that a fierce appearance would make ships surrender faster, so he grew his beard and hair long, tied colored ribbons in it, and wore up to six pistols.
In 1718, Teach met another pirate captain, Stede Bonnet. The two agreed to work together as partners. However, Teach eventually took over Bonnet's ship, the Revenge, and made Bonnet his prisoner.
Teach and Bonnet blockaded and attacked merchant ships in Charleston, South Carolina.
In early 1718, Teach accepted the King's Pardon and settled in Bath, North Carolina. However, Teach soon returned to piracy. In November 1718, he was killed in a battle with British naval forces at Ocracoke Island.
Family Overview
Blackbeard has a family that is a bit mysterious. It is believed his father was a Captain, but it is not known if he had a stepmother and a mother or just a mother.
His early life is unknown.
It is known he tried to settle down with his young wife, but that did not last long.
It is possible he had illegitimate children. He was a pirate, and promiscuity was common among that profession.
He died young, which coincides with his lifestyle.
Family Tree Chart
Parents:
Edward Teach Sr. (1656 - 1706) - There is not much known of him, but possibly a captain which would be where Blackbeard acquired his skill.
Linda Jean Elizabeth (1660 - 1699) - The possible mother of Blackbeard. She had one other child, a daughter.
Spouse:
Mary Ormond (1702 - 1759) - She married Edward Teach when she was 16 years old. They had one child together, but soon after their marriage, Blackbeard participated in piracy again, which would cost him his life.
Children:
Elizabeth Teach (??? - 1727) - It is known he had a daughter, and she died young. It is uncertain as to her birthdate.
Siblings:
Elizabeth Teach (1665 - 1719) - She was the only full sibling of Blackbeard. She married and probably had children.
Half Siblings - Some sources list half-siblings to Blackbeard, but it is too difficult to confirm these siblings. Many sources do not list any siblings to him, much less half-siblings.