This is a list of 20 famous pirates that took part in piracy throughout the world.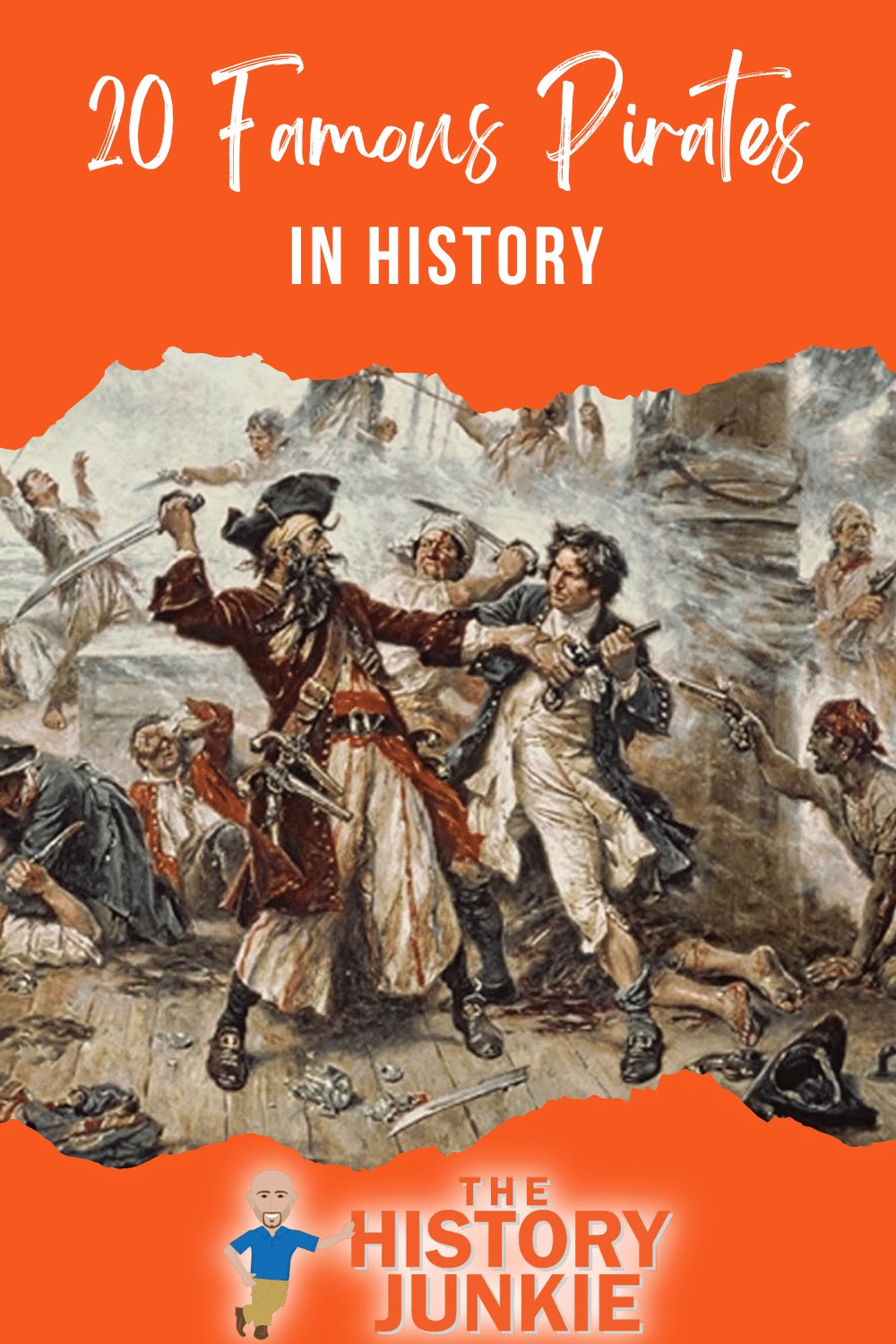 When folks think of pirates, they immediately think of the pirates that sailed in the Caribbean, and while that is where most of the activity took place, pirates were scattered throughout the world.
They often participated for various reasons. Most were cruel, but there were exceptions, and they all were excellent sailors.
Most died young, which one would expect with the lifestyle, but they would all live in infamy.
Jump to:
1. Blackbeard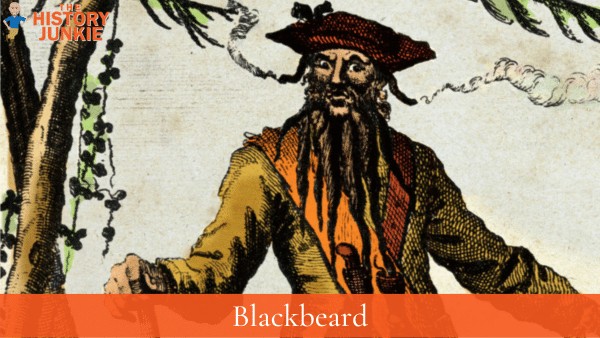 Blackbeard, an English pirate, operated around the West Indies and the eastern coast of Britain's North American colonies. Little is known about his early life, but he may have been a sailor on privateer ships during Queen Anne's War.
After the war, he settled on the Bahamian island of New Providence and joined Captain Benjamin Hornigold's crew around 1716.
Hornigold gave Blackbeard command of a sloop he had captured, and the two engaged in numerous acts of piracy. Their numbers grew when they added two more ships to their fleet, one of which was commanded by Stede Bonnet.
However, Hornigold retired from piracy towards the end of 1717, taking two vessels with him.
He captured a French slave ship called La Concorde. He renamed her Queen Anne's Revenge and equipped her with 40 guns. He also crewed her with over 300 men.
He then grew out his beard to make himself more intimidating.
Blackbeard was known to tie lit fuses under his hat to frighten his enemies. He also formed an alliance of pirates and blockaded the port of Charles Town, South Carolina, demanding a ransom from the inhabitants.
He then ran his ship, Queen Anne's Revenge, aground on a sandbar near Beaufort, North Carolina.
Edward Teach, better known as Blackbeard, parted ways with Stede Bonnet and settled in Bath Town, North Carolina.
He accepted a royal pardon but soon returned to piracy. Governor Alexander Spotswood of Virginia was not pleased.
He dispatched a small force of sailors led by Lieutenant Robert Maynard to capture Blackbeard. In a fierce battle on November 22, 1718, Maynard's men killed Blackbeard and several of his crew.
2. Henry Morgan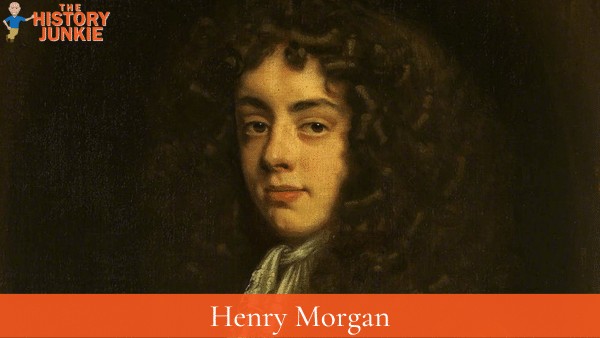 Sir Henry Morgan, a Welsh privateer, plantation owner, and later the Lieutenant Governor of Jamaica, raided settlements and shipping on the Spanish Main from his base in Port Royal, Jamaica.
He became wealthy as a result of these raids and purchased three large sugar plantations on the island.
Much of Henry Morgan's early life is unknown. He was born in Monmouthshire, Wales, and eventually made his way to the West Indies. He became a privateer, raiding Spanish settlements and shipping.
In 1667, he was given a letter of marque by Sir Thomas Modyford, the Governor of Jamaica, to attack Spanish vessels.
Morgan conducted successful raids on Puerto Principe, Porto Bello, Maracaibo, and Gibraltar. In 1671, he attacked Panama City but was arrested and summoned to London in 1672.
He was treated as a hero by the English government and royalty.
In 1674, Sir Henry Morgan was appointed a Knight Bachelor and returned to Jamaica to serve as the colony's Lieutenant Governor.
He served in the Assembly of Jamaica until 1683 and acted as Governor on three occasions.
He died in 1688 and was buried with military honors.
3. Calico Jack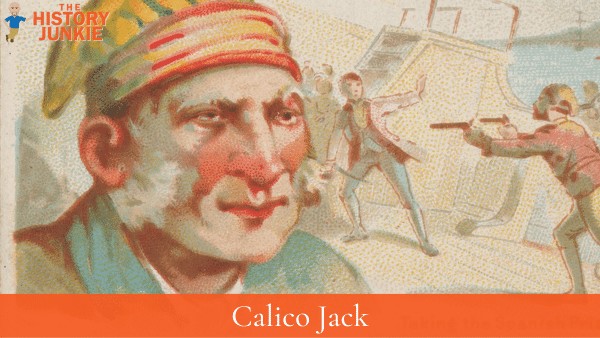 John Rackham, also known as Calico Jack, was an English pirate captain who operated in the Bahamas and Cuba during the early 18th century.
He was known for his colorful clothing, which earned him the nickname "Calico Jack."
Calico Jack was active at the end of the Golden Age of Piracy. He is most famous for having two female crew members: Mary Read and his lover, Anne Bonny.
Rackham began his career as a pirate in 1718 by deposing Charles Vane from his position as captain of the sloop Ranger.
He then cruised the Caribbean Sea, targeting British ships.
In 1719, he accepted the King's Pardon and moved to New Providence, Bahamas.
While in port, Rackham began an affair with Anne Bonny, the wife of sailor James Bonny. James Bonny learned about the relationship and brought Anne to Governor Rogers, who ordered her whipped on charges of adultery.
Rackham offered to buy Anne from her husband, but he refused. This caused Anne to flee Nassau and run away with Rackham. They escaped to sea together, voiding Rackham's pardon, by stealing a sloop belonging to John Ham.
They sailed the Caribbean for two months, taking over other pirate ships. Rackham would often invite the crew of ships that he attacked to join his own.
Rackham and his crew were captured by an English privateer in 1720 and put on trial for piracy.
They were all found guilty and hanged in Port Royal, Jamaica, in November of that year.
4. Anne Bonny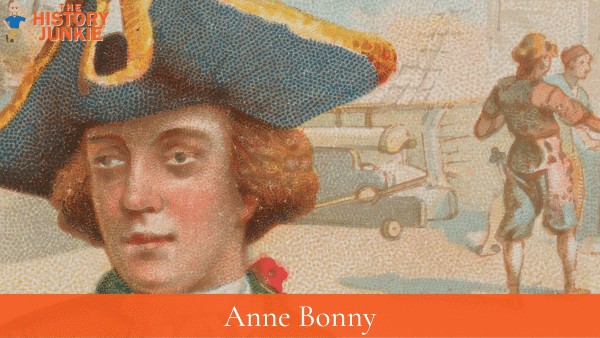 Anne Bonny was an Irish pirate who operated in the Caribbean during the Golden Age of Piracy. She was born around 1700 in Ireland and moved to London and then to the Province of Carolina when she was about 10 years old.
In 1718, she married sailor James Bonny and moved to Nassau in the Bahamas, a sanctuary for pirates.
There, she met Calico Jack Rackham and became his pirate partner and lover.
In October 1720, Calico Jack Rackham and his crew were attacked by a sloop captained by Jonathan Barnet, acting on a commission from the Governor of Jamaica, Nicholas Lawes.
Most of Rackham's pirates were too drunk to fight and were easily captured. They were taken to Jamaica, where they were convicted and sentenced to be hanged.
Anne Bonny was also captured and brought to trial. However, she was not granted leniency because she had abandoned her husband and child. This was considered a serious offense at the time, and Bonny was ultimately sentenced to be hanged.
Mary Read and Anne Bonny both "pleaded their bellies," asking for mercy because they were pregnant. The court granted them a stay of execution until they gave birth.
There is no record of Anne Bonny's release from prison. This has led to speculation about her fate. Some sources say that she was buried in Jamaica on December 29, 1733. However, other sources say that she may have returned to the United States and died in South Carolina in 1782.
5. Charles Vane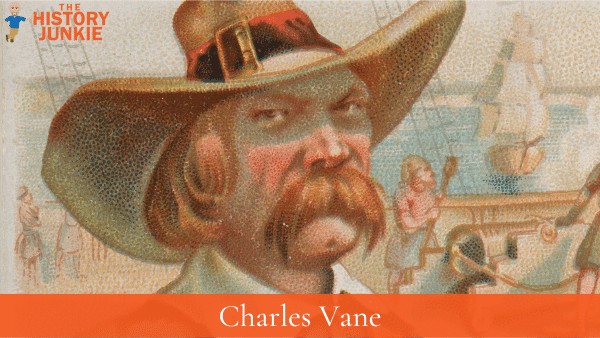 Charles Vane was an English pirate who was born in England around 1680. He started his pirating career under Henry Jennings and was one of the leaders of the Republic of Pirates in Nassau by 1717.
In 1718, Vane was captured but agreed to stop his criminal actions and declared his intention to accept a King's Pardon; however, just months later, he and his men, including Edward England and Jack Rackham, returned to piracy.
Unlike some other notable pirate captains of the age, like Benjamin Hornigold and Samuel Bellamy, Vane was known for his cruelty, often beating, torturing, and killing sailors from ships he captured.
In October, Charles Vane raided Eleuthera, carrying away liquor and livestock. On November 23, Vane spotted a large frigate, but when he hoisted the Jolly Roger, the frigate replied by raising a French naval ensign and opening fire.
Vane's brigantine and sloop were outgunned, and he ordered a retreat. His crew saw this as an act of cowardice, and they voted him out of command in favor of Calico Jack Rackham. Vane and 16 of his supporters were put on a sloop.
Vane sailed to the Bay Islands, capturing sloops along the way. In February 1719, Vane and his crew were caught in a hurricane and separated.
Vane was wrecked on an uninhabited island. When English ships arrived to collect water near the island, Vane tried to join one of the crews under a false name.
He was recognized by an old acquaintance and arrested.
Charles Vane was taken to Spanish Town, Jamaica, and held in prison for some time. On March 22, 1721, he was tried for piracy and found guilty. Vane learned that his first mate, Robert Deal, had already been tried, convicted, and hanged.
Vane was sentenced to death and hanged at Gallows Point in Port Royal on March 29. His body was hung in chains at Gun Cay as a warning to other pirates.
6. Captain William Kidd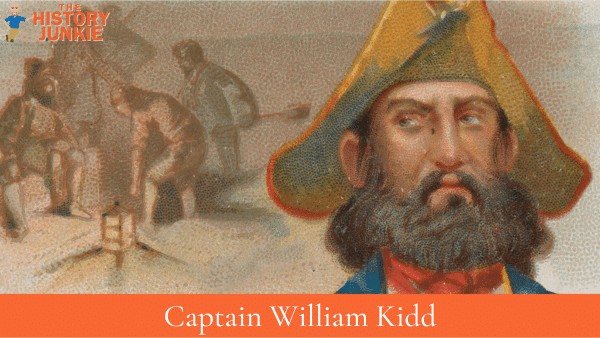 William Kidd was a Scottish privateer who was born in Dundee around 1645. He settled in New York City, where he became a successful privateer, commissioned to protect English interests in North America and the West Indies.
In 1695, William Kidd received a royal commission from the Earl of Bellomont to hunt down pirates and enemy French ships in the Indian Ocean.
He set sail on a new ship, Adventure Galley, the following year. However, he failed to find many targets, lost much of his crew, and faced threats of mutiny.
In 1698, William Kidd captured the Quedagh Merchant, a 400-ton ship hired by Armenian merchants. However, the political climate in England had turned against him, and he was denounced as a pirate.
The conditions of Kidd's imprisonment were extremely harsh and were said to have driven him at least temporarily insane.
By then, trusted friends had turned against Kidd and other pirates, writing that the inhabitants of Long Island were "a lawless and unruly people" protecting pirates who had "settled among them."
Upon his return to Boston, he was arrested by the Earl of Bellomont and sent to London for trial. He was found guilty and hanged in 1701.
The belief that William Kidd had left buried treasure contributed greatly to the growth of his legend.
The 1701 broadside song "Captain Kidd's Farewell to the Seas, or, the Famous Pirate's Lament" mentions that Kidd and his crew seized "Two hundred bars of gold, and rix dollars manifold."
7. Black Bart Roberts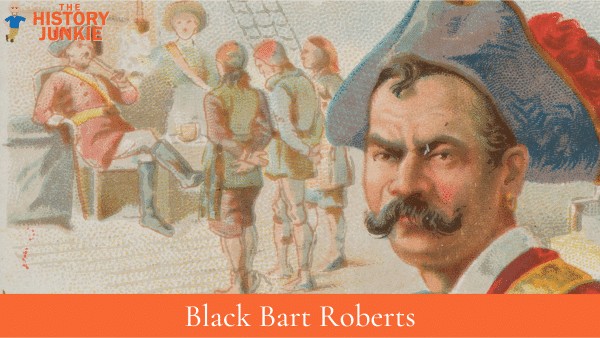 Born John Roberts in Wales, Bartholomew Roberts was the most successful pirate of the Golden Age of Piracy. He captured over 470 ships in just three years, between 1719 and 1722.
After a few weeks of sailing with Captain Howell Davis, the Royal James was damaged by worms and had to be abandoned. The crew boarded the Royal Rover and sailed to the island of Príncipe.
Upon arriving in Príncipe, Captain Davis hoisted the flag of a British man-of-war in order to gain entry to the harbor. Once inside, he invited the Portuguese governor to lunch on his ship, intending to hold him hostage for ransom.
Davis sent boats to collect the governor, but they were intercepted by Portuguese soldiers. The soldiers invited Davis and his men to the fort for a glass of wine, where they ambushed them and killed Davis.
After Captain Davis was killed, the crew elected Roberts as their new captain.
After becoming captain, Roberts avenged Captain Davis's death by leading his crew back to Príncipe. They landed on the island in the darkness of night, killed a large portion of the male population, and stole all items of value that they could carry away.
Soon afterward, they captured a Dutch Guineaman and a British ship called Experiment. After taking on water and provisions at Anamboe, the crew voted to sail to Brazil. Roberts's bravery and success on this voyage cemented most of the crew's loyalty to him.
They concluded that he was "pistol-proof" and that they had much to gain by staying with him.
He would go on to become one of the most successful pirates during this era.
On February 5, 1722, Captain Chaloner Ogle of HMS Swallow found the pirate ships Royal Fortune, Ranger, and Little Ranger careening at Cape Lopez.
To lure the pirates into a false sense of security, Swallow veered away to avoid a shoal, making them think she was a fleeing merchant ship.
Some sources claim Ogle spotted the pirate ships and turned Swallow as a ruse. Ranger departed in pursuit, commanded by James Skyrme. Once Swallow was out of earshot of the other pirates, she opened her gun ports and opened fire.
Ten pirates were killed, including Skyrme, who had his leg taken off by a cannonball. However, Skyrme refused to leave the deck. Eventually, Ranger was forced to strike her colors, and the surviving crew was captured.
On February 10, 1722, Captain Chaloner Ogle of HMS Swallow returned to Cape Lopez and found Royal Fortune still there. Roberts had captured Neptune the previous day, and many of his crew were drunk and unfit for duty.
At first, the pirates thought that the approaching ship was Ranger returning, but a deserter from Swallow recognized her and informed Roberts.
As usual, Roberts dressed himself in his finest clothes before battle. He was wearing a rich crimson damask waistcoat and breeches, a red feather in his hat, a gold chain around his neck with a diamond cross hanging to it, a sword in his hand, and two pairs of pistols slung over his shoulders.
The pirates' plan was to sail past Swallow, which meant exposing themselves to one broadside. Once passed, they would have a good chance of escaping.
However, the helmsman failed to keep Royal Fortune on the right course, and Swallow was able to approach to deliver a second broadside. Captain Roberts was killed by grapeshot, which struck him in the throat while he stood on the deck.
Before his body could be captured by Ogle, Roberts's wish to be buried at sea with all his arms and ornaments on was fulfilled by his crew.
They weighed his body down and threw it overboard after wrapping it in his ship's sail. It was never found.
8. Jean Lafitte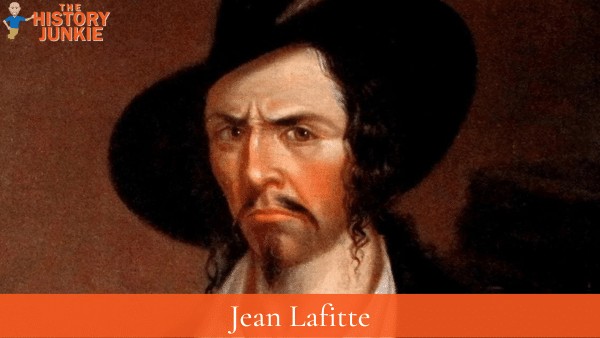 Jean Lafitte, commonly spelled "Lafitte" in English, was a French pirate and privateer who operated in the Gulf of Mexico in the early 19th century.
He and his older brother Pierre spelled their last name Laffite, but English language documents of the time used "Lafitte."
Lafitte's birthplace is uncertain. He is believed to have been born in either Basque-France or the French colony of Saint-Domingue in the Caribbean. Enslaved Africans there gained their independence from France in 1804 and renamed this territory Haiti.
By 1805, Jean Lafitte was operating a warehouse in New Orleans to help distribute the goods smuggled by his brother Pierre Lafitte.
However, when the United States government passed the Embargo Act of 1807, the Laffites moved their operations to an island in Barataria Bay, Louisiana, where they established a successful smuggling operation and eventually began engaging in piracy.
In 1812, the United States and Great Britain went to war. Despite warning the other Baratarians of a possible military attack, a US naval force successfully invaded their base in September 1814 and captured most of Laffite's fleet.
In return for a legal pardon, Laffite and his fleet helped General Andrew Jackson during the Battle of New Orleans in January 1815 to defend the city from British forces, who sought access to the Mississippi River to gain control of the interior of the US.
After securing victory, Jackson paid tribute in despatches to the Lafitte brothers' efforts, as well as those of their fellow privateers.
The Laffites, known as pirates, later spied for the Spanish during the Mexican War of Independence. Jean Lafitte founded a colony on Galveston Island named Campeche in 1817.
At its peak, the colony made millions of dollars annually from stolen or smuggled coins and goods. Very little is known about Lafitte's life and death, and historians continue to speculate about them.
9. Zheng Yi Sao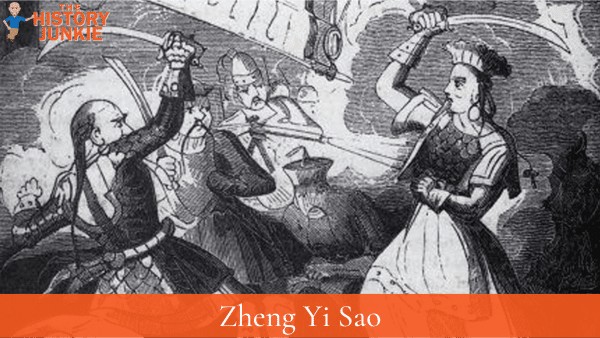 Zheng Yi Sao, also known as Ching Shih, was a Chinese pirate leader who operated in the South China Sea from 1801 to 1810.
Zheng Yi Sao was born in 1775 to humble origins. At age 26, in 1801, she married a pirate named Zheng Yi and was named Zheng Yi Sao by the people of Guangdong.
After her husband's death in 1807, she took control of his pirate confederation with the support of Zheng Yi's adopted son, Zhang Bao.
She was the unofficial commander of the Guangdong Pirate Confederation, and her fleet of 400 junks and 40,000 to 60,000 pirates clashed with major powers such as the East India Company, the Portuguese Empire, and Qing China.
In 1810, Zheng Yi Sao surrendered to the Qing authorities and negotiated a deal that allowed her and Zhang Bao to retain a substantial fleet and avoid prosecution.
At the time of her surrender, she personally commanded 24 ships and over 1,400 pirates. She died in 1844 at the age of about 68, having lived a relatively peaceful and prosperous life after the end of her career in piracy.
Zheng Yi Sao is considered to be one of the most successful pirates in history, both male and female.
10. Black Caesar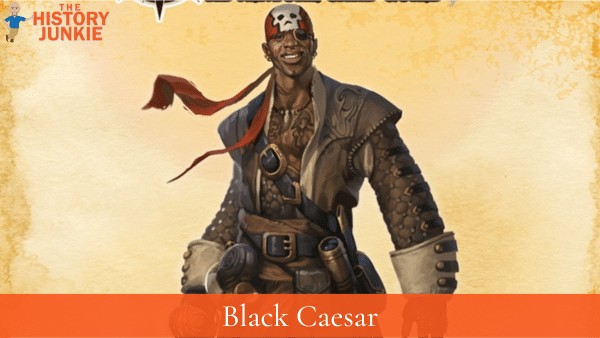 He sailed with Blackbeard and survived the capture of Blackbeard and his crew. He sailed as a pirate after, and what became of him is probably more myth than truth.
Here is the legend:
Black Caesar, a prominent African tribal war chieftain, was known for his huge size, immense strength, and keen intelligence. He evaded capture from many different slave traders until he was tricked onto a ship by a slave trader.
The trader lured Caesar and his twenty warriors onto the ship by showing them a watch and promising to show them more objects that were "too heavy and too numerous to bring on shore."
The trader then enticed them to stay with food, musical instruments, silk scarves, and jewels. However, once the men were on board, the trader raised anchor and slowly sailed away.
Caesar and his men attempted to charge their captors, but they were driven back by the well-armed sailors using swords and pistols.
It took a considerable length of time for Caesar and his warriors to accept their captivity, but eventually, Caesar was befriended by a sailor who was the only man he would accept food and water from.
As the ship approached the Florida coast, a hurricane threatened to destroy it on the Florida Reefs. The sailor recognized the ship's imminent destruction and snuck below decks to free Caesar.
The two men then forced the captain and crew into a corner, most likely at gunpoint, and boarded one of the longboats with ammunition and other supplies. The wind and waves pushed them to shore, where they waited out the storm as the only survivors of the doomed ship.
After the storm, Caesar and the sailor began using the lifeboat to lure passing ships with the promise of assistance.
Once they were close enough, they would bring out their guns and demand supplies and ammunition, threatening to sink the ship if they were refused. They continued this ploy for a number of years and amassed a sizable amount of treasure, which they buried on Elliott Key.
One day, the sailor brought back a young woman from one of the ships they had looted. Caesar and the sailor fought over her, and Caesar killed his longtime friend in a duel. Caesar took the woman for his own and continued to live as a pirate for many years.
As his crew grew, Black Caesar became more confident in his ability to attack ships on the open sea. He and his crew often used Caesar Creek and other inlets between Elliott and Old Rhodes Key to avoid capture.
They would run their boat into the creek, tie it to a metal ring embedded in a rock, and heel it over to hide it in the water. This allowed them to evade patrol ships and other dangers.
They would also sometimes lower the mast and sink their ship in shallow water, later cutting the rope or pumping out the water to raise the boat and continue raiding. It is thought that Black Caesar and his men buried 26 bars of silver on Elliott Key, but no treasure has ever been recovered from the island.
11. Mary Read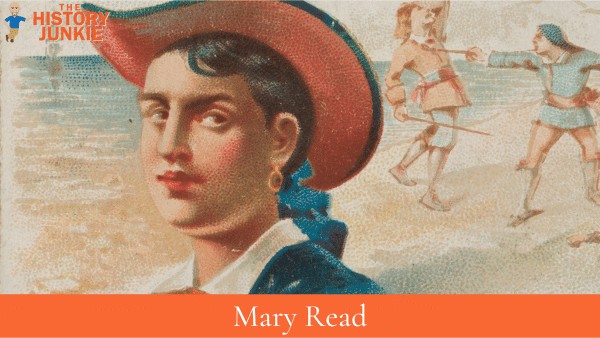 Mary Read, also known as Mark Read, was an English pirate. She was born in England in 1685 and began dressing as a boy at a young age.
Read's ship was taken by pirates, and she willingly joined them. She accepted the King's pardon around 1718–1719, then took a commission to privateer.
However, she joined the crew in mutiny. In 1720, she joined pirate John "Calico Jack" Rackham and his companion, Anne Bonny, who both believed her to be a man.
On 22 August 1720, the three stole an armed sloop named William from the port in Nassau.
She was arrested in November 1720 along with Rackham and Bonny. While Rackham was executed, Read and Bonny both claimed to be pregnant and received delayed sentences. Read died of a fever in April 1721.
On November 15, 1720, pirate hunter Captain Jonathan Barnet surprised Rackham's crew while they were hosting a rum party with another crew of Englishmen at Negril Point off the west coast of the Colony of Jamaica.
After firing a volley of cannons at the pirate ship, Barnet's crew disabled the ship and forced Rackham's crew and their guests to flee to the hold. Only six women and one other crew member remained on deck to fight Barnet's boarding party.
According to some accounts, Read angrily shot into the hold, killing one man and wounding others, when the men refused to come up and fight. Barnet's crew eventually overcame the women and captured them. Rackham surrendered and asked for mercy.
Rackham, his crew, Read, and Bonny were arrested and brought to trial in Spanish Town, Jamaica. They were all sentenced to hang for acts of piracy, but Read and Bonny claimed they were both pregnant and received temporary stays of execution.
Read declared in court that she had never committed adultery or fornication with any man on the ship. She was ultimately tried for her crimes, which included being with Rackham when he took her on as a young man. Read died of a violent fever while in prison on April 28, 1721.
Her burial is recorded in St. Catherine's church in Jamaica, but there is no record of the burial of her baby, suggesting that she may have died while pregnant.
12. Sir Francis Drake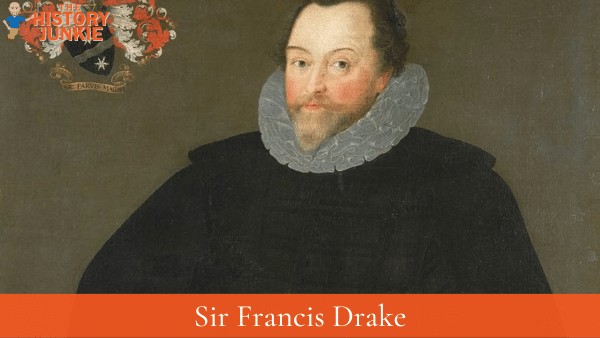 Sir Francis Drake was an English explorer and privateer who circumnavigated the world in a single expedition between 1577 and 1580, becoming the first Englishman to do so.
He also participated in the early English slaving voyages and fought against the Spanish Armada as a vice-admiral.
At an early age, Drake was placed into the household of his relative, William Hawkins, a prominent sea captain in Plymouth. In 1572, he set sail on his first independent mission, privateering along the Spanish Main. His circumnavigation began on December 15, 1577.
He crossed the Pacific Ocean, plundering coastal towns and ships for treasure and supplies as he went. He arrived back in England on September 26, 1580.
Elizabeth I knighted him aboard his galleon, the Golden Hind.
Drake's circumnavigation of the world in 1577-1580 inaugurated an era of conflict with the Spanish. In 1585, the Anglo-Spanish War began, and Drake led an expedition to the Americas to attack Spanish shipping and ports.
When Philip II of Spain sent the Spanish Armada to invade England in 1588, Drake was second-in-command of the English fleet that fought against and repulsed the Spanish fleet.
A year later, he led the English Armada in a failed attempt to destroy the remaining Spanish fleet.
Drake was a Member of Parliament for three constituencies: Camelford in 1581, Bossiney in 1584, and Plymouth in 1593. He was a hero to the English for his exploits, but the Spanish branded him a pirate and called him El Draque.
He died of dysentery after his failed assault on Panama in January 1596.
13. François l'Olonnais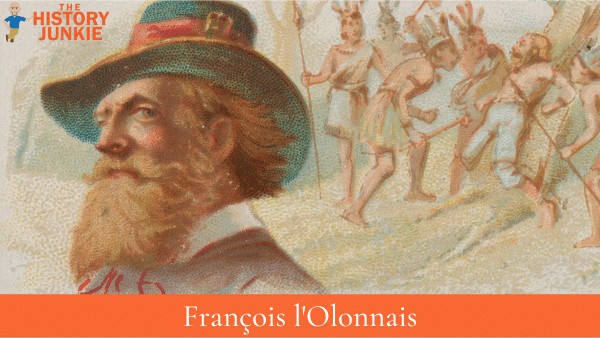 In 1666, l'Olonnais sailed from Tortuga with a fleet of eight ships and a crew of 440 pirates to sack Maracaibo in modern-day Venezuela. Along the way, he captured a Spanish treasure ship carrying cocoa beans, gemstones, and more than 260,000 Spanish dollars.
The entrance to Lake Maracaibo was defended by the San Carlos de la Barra Fortress, which was thought to be impregnable. However, l'Olonnais approached the fortress from its undefended landward side and took it within hours.
He then proceeded to pillage the city, but most of the residents had fled and hidden their gold. l'Olonnais' men tracked down the residents and tortured them until they revealed the location of their possessions.
They also seized the fort's cannon and demolished most of the town's defensive walls to ensure that they could retreat quickly if necessary.
L'Olonnais was an expert torturer, and his techniques were gruesome. He would slice off pieces of flesh with a sword, burn people alive, or tie a knotted rope around their heads until their eyes popped out.
Over the next two months, L'Olonnais and his men tortured, pillaged, and burned much of Maracaibo. They then moved to San Antonio de Gibraltar, where they slaughtered 500 soldiers and held the city for ransom. Despite being paid 20,000 pieces of eight and 500 cattle, L'Olonnais continued to ransack the city, acquiring 260,000 pieces of eight gems, silverware, silks, and slaves.
His reputation for ferocity and cruelty earned him the nickname "The Bane of Spain."
In 1667, L'Olonnais gathered over 700 buccaneers for a raid on the Caribbean. They easily captured the port of Puerto Cabellos and then set their sights on San Pedro. On their way, they were ambushed by the Spanish and nearly killed.
L'Olonnais was furious and took his knife to one of the survivors, ripping out his heart. The other survivors were so scared that they revealed the best way to San Pedro, which the buccaneers easily conquered.
However, both towns were poor and had little treasure. Many of the buccaneers left, and L'Olonnais continued with only his own crew. He believed that he could conquer Nicaragua with just his men.
In early 1668, their ship was wrecked while en route to Nicaragua. The buccaneers decided to go to the Gulf of Darien, but they were eventually caught by the Spanish.
While trying to escape, L'Olonnais was captured by the Indians, who were allies of the Spanish.
He was cut into pieces and burned. Some rumors say that he was eaten by cannibals.
14. Stede Bonnet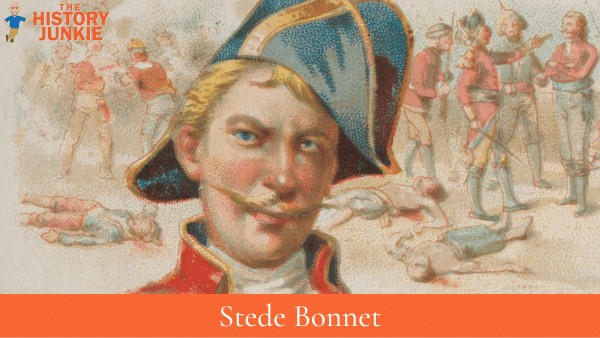 Stede Bonnet (1688-1718) was a Barbadian-born pirate and military officer. He was known as the "Gentleman Pirate" because he was a moderately wealthy landowner before turning to a life of crime.
Bonnet was born into a wealthy English family in Barbados and inherited the family estate after his father's death in 1694. Despite his lack of sailing experience, Bonnet decided to become a pirate in 1716 or 1717.
He bought a sailing vessel, the Revenge, and traveled along the Eastern Seaboard of the United States with his paid crew, capturing other vessels and burning Barbadian ships.
Stede Bonnet set sail for Nassau, Bahamas, in search of the "Republic of Pirates". However, he was seriously wounded during an encounter with a Spanish warship.
After arriving in Nassau, Bonnet met Blackbeard and temporarily ceded his ship's command to him. Before separating in December 1717, Blackbeard and Bonnet plundered and captured merchant ships along the East Coast.
When Bonnet failed to capture the Protestant Caesar, his crew abandoned him to join Blackbeard aboard the Queen Anne's Revenge. However, Bonnet stayed on Blackbeard's ship as a guest until the summer of 1718.
That summer, North Carolina Governor Charles Eden pardoned Bonnet and gave him clearance to undertake privateering against Spanish shipping interests.
However, Bonnet was tempted to resume his piracy and did not want to lose his pardon. He adopted the alias "Captain Thomas" and changed his ship's name to Royal James.
By July 1718, he had returned to piracy.
Stede Bonnet anchored his ship, Royal James, on an estuary of the Cape Fear River in August 1718 to careen and repair it. In late August and September, Colonel William Rhett, with the authorization of South Carolina's governor Robert Johnson, led a naval expedition against pirates on the river.
Rhett's and Bonnet's men engaged in hours of combat, but the outnumbered pirates ultimately surrendered. Rhett arrested the pirates and brought them to Charles Town in early October.
Bonnet escaped on October 24th but was soon recaptured on Sullivan's Island. On November 10th, Bonnet was brought to trial and charged with two acts of piracy. Judge Nicholas Trott sentenced him to death.
Bonnet wrote to Governor Johnson to ask for clemency, but Johnson endorsed the judge's decision, and Bonnet was hanged in Charles Town on December 10, 1718.
15. Edward Low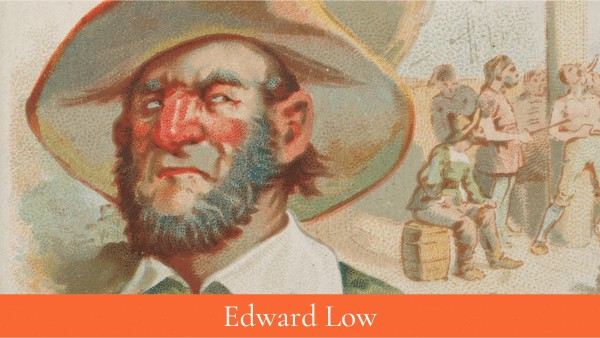 Edward Low was a notorious English pirate who operated in the Caribbean and off the coasts of New England and the Azores during the latter days of the Golden Age of Piracy.
He was born into poverty in Westminster, London, and began his criminal career as a thief. He moved to Boston, Massachusetts, as a young man, where he married and had a child.
His wife died in childbirth in late 1719, and two years later, Low became a pirate.
Low was a brutal and sadistic pirate who was known for torturing his victims before killing them. He captured at least a hundred ships during his short career, burning most of them.
Although he was active for only three years, Low remains one of the most notorious pirates of all time.
In 1723, the Caribbean authorities grew tired of Edward Low's crimes and dispatched a force to defeat him. On June 10, Low's fleet was soundly defeated by English Captain Peter Solgard and his warship HMS Greyhound.
Although most of Low's crew was killed in the battle, he and a skeleton crew from The Fancy managed to escape. Low's treatment of captured ships became even more harsh in the following year, leading to his crew mutinying and marooning him.
Some sources say that Low was later found by the French, who hanged him in Martinique. Other sources claim that he escaped and lived out the rest of his life in Brazil.
16. Henry Every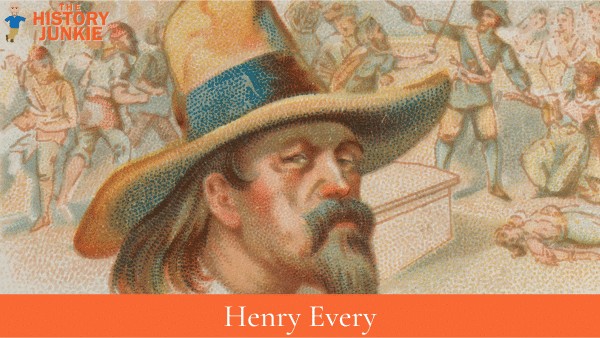 Henry Every, also known as Henry Avery, was an English pirate who operated in the Atlantic and Indian oceans in the mid-1690s. He was known by several aliases, including Benjamin Bridgeman and Long Ben. His crewmen and associates called him Long Ben.
Henry Every was an English pirate who was nicknamed "The Arch Pirate" and "The King of Pirates." He was known for being one of the few pirates who escaped with his loot without being arrested or killed in battle.
His most famous exploit was the capture of the Ganj-i-Sawai, a Mughal Indian merchant ship that was carrying a vast treasure.
Every began his pirate career in 1694 when he mutinied against the captain of his ship, the Charles II. He renamed the ship the Fancy and led his crew on a series of successful raids against Spanish and Portuguese ships.
In 1695, Every captured the Ganj-i-Sawai, which was carrying a treasure worth an estimated £600,000. This was one of the largest pirate prizes ever taken.
On September 7, 1695, Every led a group of pirates in a raid on a 25-ship convoy of Grand Mughal vessels making the annual pilgrimage to Mecca.
The convoy included the treasure-laden Ghanjah dhow Ganj-i-Sawai and its escort, Fateh Muhammed. The pirates captured up to £600,000 in precious metals and jewels, which was equivalent to around £97.1 million in 2023.
The raid caused considerable damage to England's relations with the Mughals, and a combined bounty of £1,000 was offered for Every's capture. This was the first worldwide manhunt in recorded history.
Henry Every eluded capture and vanished from all records in 1696. There are unconfirmed accounts that he may have changed his name and retired, living out the rest of his life in Britain or an unidentified tropical island.
Alternatively, it's also been said that he squandered his riches and died sometime between 1699 and 1714. His treasure has never been recovered.
17. Roc Brasiliano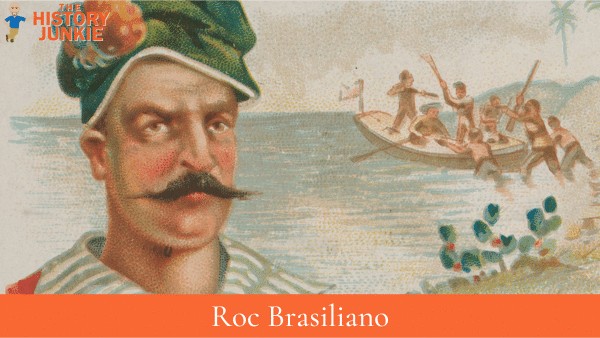 Roche Brasiliano was a notorious buccaneer who operated out of Port Royal, Jamaica. He was born in Bahia, Brazil, where he was a privateer. He moved to Port Royal in 1654 and led a mutiny against his captain.
Brasiliano then adopted the life of a buccaneer and captured a ship of immense value on his first adventure. He was eventually caught and sent to Spain, but he escaped with the help of his followers.
After his escape, Brasiliano purchased a new ship from fellow pirate François l'Olonnais and sailed with Sir Henry Morgan and Joseph Bradley on raids against the Spanish.
His first mate, Yellows, eventually became a captain in his own right, sailing with Brasiliano, Morgan, and others.
He would often get drunk and threaten to shoot anyone who didn't drink with him. He once roasted two Spanish farmers alive on wooden spits because they refused to hand over their pigs.
Brasiliano also treated his Spanish prisoners barbarously, typically cutting off their limbs or roasting them alive over a fire.
He was so feared by the Spanish that mothers would use his name to quiet their children.
After 1671, Roc Brasiliano vanished without a trace. To this day, no one knows what happened to the Dutch buccaneer. Some believe he was lost at sea in a brutal storm, while others think he was secretly captured.
Still, others believe he retired and lived the rest of his life in anonymity.
18. Peter Easton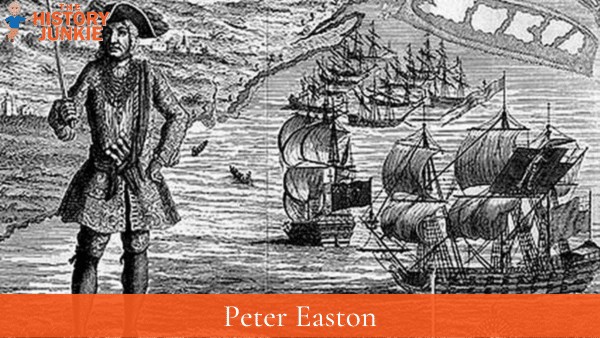 When King James I made peace with Spain in 1604 and canceled all letters of commission to privateers, John Easton continued his attacks on Spanish ships, crossing the line into piracy.
In his flagship, the Happy Adventure, Easton flew the St. George's Cross, attacking Spanish ships in the West Indies and the Mediterranean Sea and demanding and receiving protection money from English ships.
In 1610, he blockaded the Bristol Channel, controlling the shipping entering and leaving the western English ports. He did this at the behest of the powerful Killigrew family of Falmouth, Cornwall, who financed his expeditions and took shares in his profits.
Easton sailed to Newfoundland in 1612 with ten pirate ships, setting up his headquarters at Harbour Grace.
He raided and plundered both English and foreign vessels and the harbors of Newfoundland, pressing fishermen into his service.
On one expedition, John Easton plundered 30 ships in St. John's, Newfoundland, and captured Sir Richard Whitbourne. He released Whitbourne on the condition that Whitbourne would go to England and obtain a pardon for Easton.
The pardon was granted, but by this time, Easton had already moved on to the Barbary Coast to harass the Spanish.
While in Newfoundland, Easton is estimated to have taken as many as 1,500 fishermen for his ships, most of whom volunteered to join him.
Easton continued to protect John Guy's colony at Cuper's Cove, but he refused to allow Guy to establish another colony at Renews.
On one of his raids, Easton headed for the Azores. He stationed his fleet south and west of the islands, planning to intercept the Spanish silver fleet.
The battle that ensued is unknown, but a few days later, Easton arrived in Tunis loaded with treasure and four Spanish ships in tow.
19. Sayyida al Hurra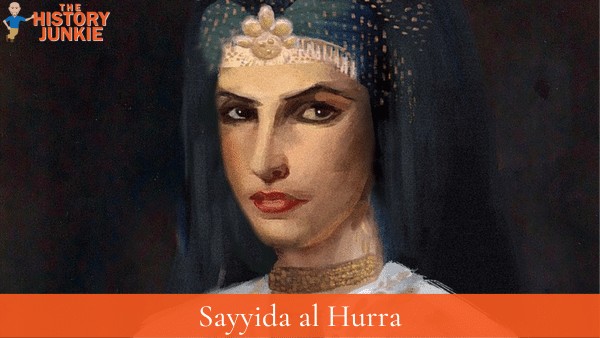 Sayyida al Hurra was an intelligent and capable woman who was well-versed in business affairs. She was her husband's de facto vice-governor, and the people of Tétouan were accustomed to seeing her exercise power.
When her husband died in 1515, the people accepted her as the new governor of Tétouan, giving her the title of al-Hurra.
Spanish and Portuguese sources described her as "their partner in the diplomatic game." Some historians believe that the people's acceptance of al Hurra as a ruler was due to their familiarity with female rulers in Spain, such as Isabella I of Castile.
Others believe that she succeeded as governor because she was the undisputed leader of pirates in the western Mediterranean.
In 1541, she married Ahmed al-Wattasi, the Sultan of the Moroccan Wattasid dynasty. This was the only recorded instance of a Moroccan king marrying outside of his capital.
Al Hurra insisted on being married in Tétouan, so al-Wattasi had to travel to her city for the ceremony. This was a show of her power and determination to continue governing Tétouan even after her marriage.
Sayyida al-Hurra was a skilled and ruthless pirate who never forgot or forgave the humiliation of being forced to flee Granada.
She turned to piracy in order to avenge herself on the Christian enemy and to keep alive the dream of returning to Andalusia.
Piracy provided a quick income, both in terms of booty and ransom for captives. She was also well respected by Christians, who recognized her power over the Mediterranean Sea and her ability to release Portuguese and Spanish captives.
Her son-in-law eventually overthrew her, and she left the public eye and lived peacefully for 20 more years.
20. Howell Davis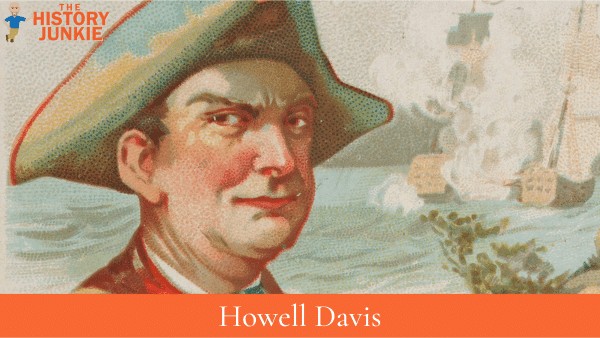 Howell Davis was a Welsh pirate who was born in Milford Haven, Pembrokeshire, Wales, in 1701. He started his career as a pirate in 1718 when the slave ship Cadogan, on which he was serving as a mate, was captured by the pirate Edward England.
Davis decided to join the pirates and was given command of the Cadogan.
However, his crew mutinied and sailed to Barbados instead. Davis was imprisoned on the charge of piracy but was eventually released and sought shelter in the pirate den of New Providence in the Bahamas.
Davis crossed the Atlantic to terrorize shipping in the Cape Verde Islands. He captured a 26-gun ship, the Saint James, which became his new flagship.
He then formed a partnership with two other pirates, La Buse and Thomas Cocklyn. However, the partnership ended after a drunken argument.
Davis transferred to the 32-gun Rover and sailed south to the Gold Coast. He captured several rich prizes, including a ship with a fellow Welshman named Bartholomew Roberts, who would become one of the most famous pirates of all time.
Davis also captured Thomas Sutton, who would sail alongside Roberts for his entire pirate career.
His piratical career lasted just 11 months, from 11 July 1718 to 19 June 1719, when he was ambushed and killed. His ships were the Cadogan, Buck, Saint James, and Rover.