The Boston Tea Party was an influential event that occurred in Boston in response to the Tea Act that was passed on British exports. The protest was led by those who called themselves Sons of Liberty and cost the British millions of pounds when 342 chests of tea were thrown into the Boston Harbor. The British responded with a series of acts that became known as the Intolerable Acts, which included the Boston Port Act. The Boston Port Act was a direct response to the Boston Tea Party.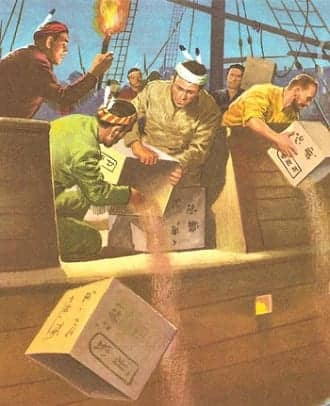 Jump to:
Boston Tea Party Facts:
In 1767, the Tea trade was lucrative, and the company that had a monopoly was the East India Company. To help the East India Company compete with smuggled Dutch tea, Parliament passed the Indemnity Act, which lowered the tax on tea consumed in Great Britain and gave the East India Company a refund of the 25% duty on tea that was re-exported to the 13 original colonies.
The Townshend Acts were repealed in 1770 due to protests and controversy in the colonies
Tea Act of 1773 was passed, and the colonies became infuriated.
Thomas Hutchinson, a friendly governor to the colonists, became the scapegoat. The colonists blamed him for not sending the ships back to Great Britain.
The protest movement that culminated with the Boston Tea Party was not a dispute about high taxes. The price of legally imported tea was actually reduced by the Tea Act of 1773. Protesters were instead concerned with a variety of other issues. The familiar "no taxation without representation" argument, along with the question of the extent of Parliament's authority in the colonies, remained prominent.
Colonists met at the Old South Meeting House on the morning the ships were due in the harbor. They agreed to send a message to the customs house at the harbor saying that the ships would not be paid for the tea.
That evening, a group of 30 to 130 men, some dressed in the Mohawk warrior disguises, boarded the three vessels and, over the course of three hours, dumped all 342 chests of tea into the water. The precise location of the Griffin's Wharf site of the Tea Party has been subject to prolonged uncertainty; a comprehensive study places it near the foot of Hutchinson Street.
Whether or not Samuel Adams helped plan the Tea Party is debatable, but he did defend it.
The reaction in Britain was outrage. Even politicians who were sympathetic to the colonial cause began to shift their opinions to favor Britain.
John Adams and many other Americans considered tea drinking to be unpatriotic following the Boston Tea Party. Tea drinking declined during and after the Revolution, resulting in a shift to coffee as the preferred hot drink.
Online Resources