Butch Cassidy, whose real name was Robert LeRoy Parker, was a famous gunslinger of the Wild West and the leader of the famous outlaw gang known as the Wild Bunch.
Cassidy is one of the more mythical figures of the Old West. His hideout was mysterious, with only a few individuals knowing its whereabouts, and his death has been a story of intrigue as well, with him dying in 1909, 1911, or even living as long as the 1930s.
He is also known to have a famous sidekick known as the Sundance Kid.
Jump to:
Early Life
Butch Cassidy was born on April 13, 1866, in Beaver, Utah Territory, to a Mormon family that had immigrated from England. Cassidy's father, Maximillian Parker, and his mother, Ann Campbell Gillies, were children of families that had converted to the Mormon faith while still living in England and had arrived in Salt Lake City with his parents in 1856 at the age of 12 years old. His parents had just missed the Civil War, as Utah did not see much attention. Cassidy was the oldest of 13 children.
As a teenager, Cassidy ran away from his parents and eventually met a cattle thief named Mike Cassidy. Afterward, he worked on many ranches and ended up going into an apprenticeship as a butcher. The name Butch Cassidy would be formed from these two encounters.
Butch Cassidy's first criminal offense was minor. Around 1880, he journeyed to a clothier's shop in another town but found it closed. He broke into the shop and stole a pair of jeans and some pie, leaving an IOU promising to pay on his next visit. The clothier pressed charges, but Cassidy was acquitted by a jury. He continued to work on ranches until 1884, when he moved to Telluride, Colorado, ostensibly to seek work but perhaps to deliver stolen horses to buyers.
Cassidy led a cowboy's life in Wyoming and Montana before returning to Telluride in 1887, where he met Matt Warner, the owner of a racehorse. Cassidy and Warner raced the horse at various events, dividing the winnings between them.
Cassidy Goes Pro as a Criminal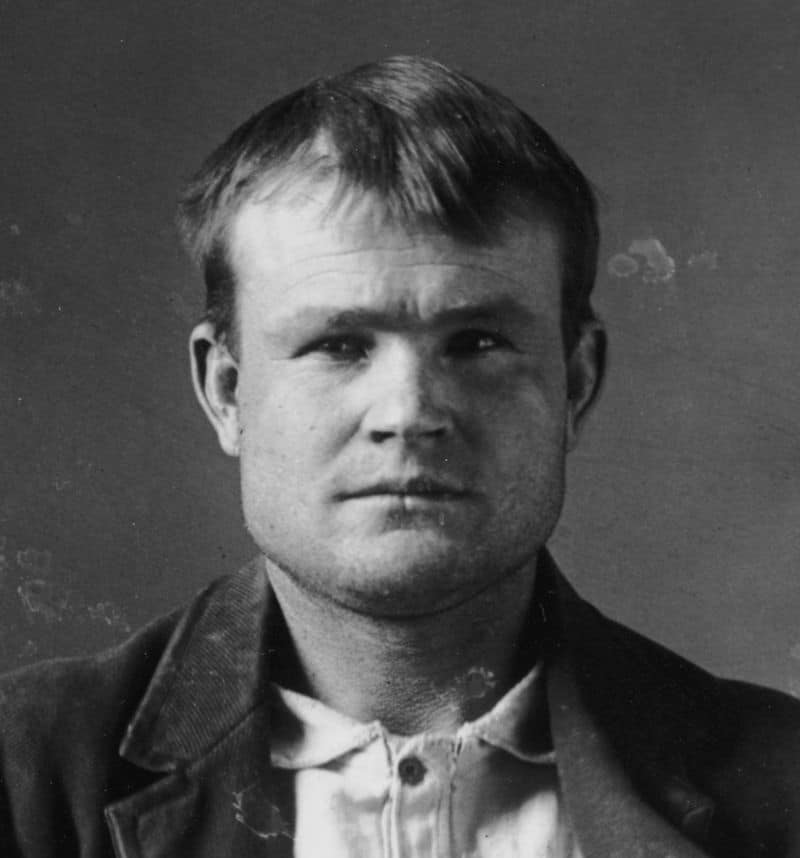 Butch Cassidy robbed his first bank on June 24, 1889, when he was about 23 years old. His racehorse buddy, Matt Warner, and two of the McCarty brothers joined him in the robbery of the San Miguel Valley Bank in Telluride, California.
After the robbery, they fled to Robbers Roost, which was a secret hideout in southeastern Utah. This hideout was kept secret, and only a few people knew about it. The law never found it.
In 1890, Butch Cassidy purchased a ranch on the outskirts of Dubois, Wyoming. This would be located close to the infamous Hole-in-the-Wall, which was a popular hideout for outlaw gangs.
By 1894, he became romantically involved with Ann Bassett. Her father did business with Cassidy, and Ann would be one of the only women to see the secret Robbers Roost. That same year, Cassidy was arrested at Lander, Wyoming, for stealing horses and possibly for running a protection racket among the local ranchers there. He was imprisoned in the Wyoming State Prison in Laramie, where he served 18 months of a 2-year sentence; he was released and pardoned in January 1896 by Governor William Alford Richards.
It did not take long, and Cassidy became involved with Ann's sister, Josie Bassett. The two would not last long, and he would return to Ann.
It was through this time that Cassidy formed close relationships with other outlaws that would lead to the formation of the "Wild Bunch."
The Wild Bunch
Cassidy associated with a wide circle of criminals, most notably his closest friend William Ellsworth "Elzy" Lay, Harvey "Kid Curry" Logan, Ben Kilpatrick, Harry Tracy, Will "News" Carver, Laura Bullion, and George "Flat Nose" Curry, who collectively became the so-called "Wild Bunch". The gang assembled sometime after Cassidy's release from prison in 1896 and took its name from the Doolin–Dalton gang, also known as the "Wild Bunch."
Their first target would be a bank in Montpelier, Idaho, which they robbed successfully and took off with $7,000. Shortly after the robbery, Butch Cassidy recruited Harry Alonzo Longabaugh, who was also known as the "Sundance Kid."
Bassett, Lay, and Lay's girlfriend, Maude Davis all joined Cassidy at Robbers Roost in early 1897. The four hid there until early April when Lay and Cassidy sent the women home so that the men could plan their next robbery.
They ambushed a small group of men carrying the payroll of the Pleasant Valley Coal Company in the mining town of Castle Gate, Utah, on April 22, 1897, stealing a sack containing $7,000 in gold, with which they fled back to the Robbers Roost.
Their third target was a passenger train near Wilcox, Wyoming. They were successful in the robbery, but unlike the banks they robbed, the train gave them a lot of heat and notoriety.
Many notable lawmen took part in the hunt, but they did not find them. Kid Curry and George Curry had a shootout with lawmen following the train robbery, killing Sheriff Joe Hazen. Tom Horn, a killer-for-hire employed by the Pinkerton National Detective Agency, was told by explosives expert Bill Speck about the Hazen shooting.
Pinkerton detective Charlie Siringo was then assigned the task of capturing the outlaws. He became friends with Elfie Landusky, who was using the last name Curry after becoming pregnant by Kid Curry's brother Lonny Logan, and Siringo intended to locate the gang through her.
On July 11, 1899, Lay and others were involved in a Colorado and Southern Railroad train robbery near Folsom, New Mexico, which Cassidy might have planned and personally directed. A shootout ensued with local law enforcement, during which Lay killed Sheriff Edward Farr and Henry Love; Lay was convicted of murder and sentenced to life imprisonment at the New Mexico State Penitentiary.
The Wild Bunch typically separated following a robbery and fled in different directions, later reuniting at a predetermined location such as the Hole-in-the-Wall, Robbers Roost, or Fannie Porter's brothel in San Antonio.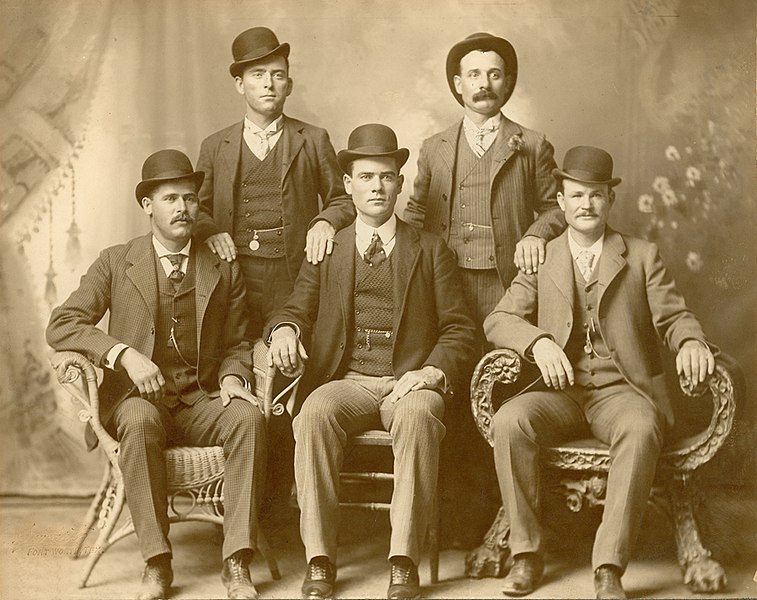 Last Years and Escape
After a failed attempt at Amnesty in 1899, it did not take Butch Cassidy and the Wild Bunch long to get back to work, but this time they were hunted men.
On February 28, 1900, lawmen attempted to arrest Lonny Logan at his aunt's home. Lonny was killed in the shootout that followed, and his cousin Bob Lee was arrested for rustling and sent to prison in Wyoming. On March 28, George Curry and News Carver were pursued by a posse from St. Johns, Apache County, Arizona, after using currency they had stolen in the Wilcox train robbery. The posse engaged them in a shootout, during which Deputies Andrew Gibbons and Frank LeSueur were killed, while Carver and Curry escaped.
On April 17, George Curry was killed in a shootout with Grand County, Utah, Sheriff John Tyler and Deputy Sam Jenkins. On May 26, Kid Curry rode into Moab, Utah, and killed both Tyler and Jenkins in another shootout in retaliation for the deaths of George and Lonny.
In December, Cassidy posed alongside Longabaugh, Logan, Carver, and Ben Kilpatrick in Fort Worth, Texas, for the now-famous "Fort Worth Five" photograph. The Pinkerton Agency obtained a copy of the photograph and began to use it for wanted posters.
The gang would not be easier to identify.
Feeling the heat and his gang falling apart, Butch Cassidy and The Sundance Kid made their way to New York, where they would board a boat to Argentina. On the boat with them was Etta Place, Sundance Kid's longtime girlfriend.
Two English-speaking bandits held up the Banco de Tarapacá y Argentino in Río Gallegos on February 14, 1905, 700 miles (1,100 km) south of Cholila near the Strait of Magellan, and the pair vanished north across the Patagonian grasslands. Cassidy and Longabaugh sold the Cholila ranch on May 1, fearing that law enforcement had located them.
The Pinkerton Agency had known their location for some time, but the snow and the hard winter of Patagonia had prevented their agent, Frank Dimaio, from making an arrest. Governor Julio Lezana issued an arrest warrant, but Sheriff Edward Humphreys, a Welsh-Argentine who was friendly with Cassidy and enamored of Place, tipped them off.
The trio then fled north to San Carlos de Bariloche, where they embarked on the steamer Condor across Nahuel Huapí Lake and into Chile; they returned to Argentina by the end of the year. Cassidy, Longabaugh, Place, and an unknown male associate robbed the Banco de la Nación Argentina branch in Villa Mercedes on December 19, 400 miles (640 km) west of Buenos Aires, taking 12,000 pesos. They fled across the Andes to reach the safety of Chile.
On June 30, 1906, Etta Place decided that she had enough of life on the run, so Longabaugh took her back to San Francisco. Cassidy obtained honest work under the alias James "Santiago" Maxwell at the Concordia Tin Mine in the Santa Vera Cruz range of the central Bolivian Andes, where Longabaugh joined him upon his return.
Their main duties included guarding the company payroll. The two traveled to Santa Cruz in late 1907, a frontier town in Bolivia's eastern savannah, still wanting to settle down as respectable ranchers.
Death
A courier was carrying the payroll for the Aramayo Franke and Cia Silver Mine on November 3, 1908, near the small mining town of San Vicente in southern Bolivia, when he was attacked by two masked American bandits believed to be Cassidy and Longabaugh.
Witnesses saw them three days later in San Vicente, where they lodged in a small boarding house owned by miner Bonifacio Casasola. Casasola became suspicious of them because they had a mule from the Aramayo Mine, identifiable from the company's brand. He notified a nearby telegraph officer, who notified the Abaroa cavalry regiment stationed nearby.
The unit dispatched three soldiers under the command of Captain Justo Concha, and they notified the local authorities.
The soldiers, the police chief, the local mayor, and some of his officials all surrounded the lodging house on the evening of November 6, intending to arrest the Aramayo robbers. As they approached the house, the bandits opened fire, killing one of the soldiers and wounding another and starting a gunfight that lasted for several hours into the evening and the night. At around 2:00 a.m., during a lull in the fighting, the mayor heard a man scream three times inside the house, and then two successive shots were fired from inside the house.
The authorities entered the house the next morning, where they found two bodies with numerous bullet wounds to the arms and legs. The man, assumed to be Longabaugh, had a bullet wound in the forehead, and the man, thought to be Cassidy, had a bullet hole in the temple.
The local police report speculated that judging from the positions of the bodies, Cassidy had probably shot the fatally wounded Longabaugh to put him out of his misery, then killed himself with his final bullet. The Tupiza police identified the bandits as the men who robbed the Aramayo payroll transport, but the Bolivian authorities did not know their real names, nor could they positively identify them.
This would lead to many rumors that said Butch Cassidy and The Sundance Kid survived.