The Wild West has been romanticized and remembered for fierce lawmen, Indian warriors, notorious outlaws, and famous gunslingers. Many of the famous gunslingers were lawmen or outlaws who lived by their pistols.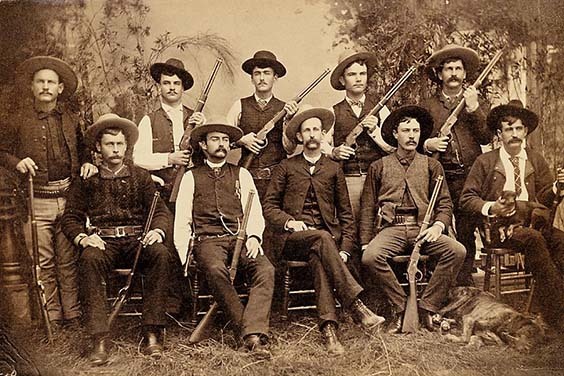 While the life of a famous gunslinger seems to be fascinating, many of these men and women lived short lives because, during their lives, they never lived at peace with anyone. There was always a lawman or another outlaw looking to make a name for themselves by killing a famous gunslinger.
While this list is not exhaustive, it gives most of the names and biographies of famous gunslingers throughout the Old West.
A
B
C
Archie Clement
"Dynamite" Dan Clifton
Frank Coe
George Coe
Chunk Colbert
Shotgun John Collins
George Contant
Scott Cooley
Brack Cornett
Gregorio Cortez
Juan Cortina
"Longhair" Jim Courtright
George "Flatnose" Curry
D
Bob Dalton
Emmett Dalton
Gratton "Grat" Dalton
William Dalton
John Daly
Pancho Daniel
Ben Daniels
Roy Daugherty
Jackson Davis
Jonathan R. Davis
Pat Desmond
Charles "Pony" Diehl
Cornelius Donahue
Mart Duggan
Rose Dunn
William B. Dunn
E
Frank "Pistol Pete" Eaton
Buck English
Chris Evans
Jesse Evans
F
John Fisher
Juan Flores
Charles Wilson Ford
Robert Newton Ford
Jim French
G
Lige Gardner
Pat Garrett - Legendary Lawman who killed Billy the Kid. He would also become one of Theodore Roosevelt's "White House Gunfighters."
John Joel Glanton
Crawford Goldsby
H
John Wesley Hardin
Pearl Hart
The Apache Kid
Marion Hedgepeth
Boone Helm
Wild Bill Hickok
John "Pink" Higgins
Robert Woodson Hite
Thomas J. Hodges
Doc Holliday
Tom Horn
I
Rufus Henry Ingram
John "Red" Irving
J
K
Thomas "Black Jack" Ketchum
Ben Kilpatrick
Jeff Kidder
Sandy King
John Kinney
L
Elzy Lay
Buckskin Frank Leslie
James Andrew "Dick" Liddil
Harvey "Kid Curry" Logan
Steve Long
Sundance Kid
"Wild Bill" Longley
Frank Loving
M
Chris Madsen
George Manuse
Charles Marlow
George Marlow
John Mason
Dave Mather
Benjamin Mayfield
Tom McCauley
Sherman McMaster
Frank McNab
William McWaters
Bob Meeks
John Middleton
Jim "Killer" Miller
Jeff Davis Milton
Bill Miner
Sylvestro "Pedro" Morales
Joaquin Murrieta
L. H. Musgrove
N
George "Bittercreek" Newcomb
O
Tom O'Folliard
Edward Capehart O'Kelley
Michael O'Rourke
Commodore Perry Owens
P
Tom Pickett
Salomon Pico
Charley Pierce
Thomas Bell Poole
Jack Powers
Procopio
Q
R
Nathaniel "Texas Jack" Reed
James Riley
Porter Rockwell
Dave Rudabaugh
S
Ygino Salazar
Ab Saunders
George Scarborough
John Selman
Luke Short
Cyrus Skinner
Jack Slade
Jefferson Randolph Smith
John Sontag
"Little Bill" Standifer
Henry Starr
Tom Starr
"Dirty Steve" Stephens
Frank Stilwell
Charlie Storms
Dallas Stoudenmire
T
William Tattenbaum
Jack Taylor
Heck Thomas
Ben Thompson
Billy Thompson
Tom Threepersons
Bill Tilghman
Harry Tracy
Dangerous Dan Tucker
V
Tiburcio Vasquez
Henry Clay Vaughan
"Texas" Jack Vermillion
Jose Doroteo "Pancho Villa"
W
Fred Waite
William "Bronco Bill" Walters
John Joshua Webb
Richard "Little Dick" West
Henry Clay White
Y
Milt Yarberry
Bob Younger