Butch Cassidy was a famous gunslinger, gang leader, and train and bank robber in the Wild West. He was born on April 13, 1866, in Beaver, Utah, and died in Bolivia in 1908.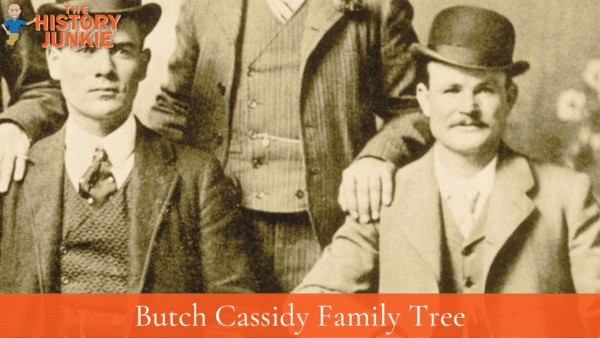 Cassidy began his criminal career as a teenager when he was arrested for horse theft. He was sentenced to two years in prison, but he was released after serving only one year.
Jump to:
After his release, Cassidy joined the Wild Bunch, a gang of outlaws led by Harry Longabaugh, better known as the Sundance Kid.
The Wild Bunch was one of the most successful outlaw gangs in the Old West. They robbed banks and trains across the western United States, and they became famous for their daring escapes.
In 1901, the Wild Bunch fled to South America to escape the law. They continued their criminal activities in South America, but they were eventually killed in a shootout in Bolivia in 1908.
Cassidy's life and career have been the subject of many books, movies, and television shows. He is often portrayed as a romantic figure, a Robin Hood-like outlaw who robbed the rich and gave to the poor. However, Cassidy was also a violent criminal who killed several people during his career.
There were many rumors that said he lived out his life as an old man and that he came back to Utah often and saw his family. These rumors have never been proven.
Family Overview
Butch Cassidy was born Robert Leroy Parker, but when he entered into the criminal life, he changed his name so as not to dishonor his family name.
He was raised as a Mormon, and his father had migrated to Utah, where he would find work as a rancher.
He would not marry or have any known children. He did have relations with many women, but there is no record of offspring.
He came from a large family with 13 other siblings. His sibling's behavior ranged from pious to criminal. Some lived for many years, and some died young. Some were also military veterans.
Family Tree Chart
Parents:
Maximillian Parker (1844 - 1938) - He was the father of Butch Cassidy and a Mormon immigrant. He lived a successful life and had 13 children with his wife.
Ann Campbell Gillies (1847 - 1905) - She married her husband and eventually traveled to Utah, where the two would have 13 children. They were a Mormon family and some of the first migrants to Utah.
Spouse: None - Butch lived the life of an outlaw and never married but had many relations with other women.
Children: None - There are no known children of Butch Cassidy.
Siblings:
Lydia M. Parker (1862 - unknown) - Possibly an infant death.
Daniel Sinclair Parker (1867 - 1942) - He was not a stranger to breaking the law. He aided his brother in his first robbery. On 29 Dec 1889, he held up a stagecoach at Muddy Gap, near Rawlins, Wyoming. He was going by Kid Ricketts at that time. He was arrested in Sep 1890 at Moab, Utah. He went to Territorial Prison on 19 Oct. 1890. He went to trial at the US District Court in Cheyenne, Wyoming. He was sentenced to the Detroit House of Correction until 1894, when the Gov. of Wyoming pardoned him. He married and had 10 children.
Arthur H. Parker (1869 - 1890) - He was the third oldest son. He died of injuries incurred while horse racing on the 4th of July. His horse stumbled and rolled on him, and he died three days later, on 7 Jul 1890, at the age of 20.
Jean Ann Parker (1871 - 1960) - She was the younger sister of Butch Cassidy that lived until she was 88 years of age. She married and had two children. She was probably involved with Butch at some point but never seems to have been a criminal. She died in Montana and was buried in Utah.
William Moroni Parker (1874- 1952) - He was part of a large family and then proceeded to have a large family. He was the brother of Butch but nothing more. He had his own legacy as a family man.
Susan Knell Parker (1876 - 1964) - She had eight children and continued the Parker name through her maternity. The only connection to Butch Cassidy was as a sibling.
Ebenezer Maximilian Parker (1879 - 1957) - He never married, and there is no suggestion he helped his brother out during the outlaw days. He died of a heart attack.
Blanche Alice Parker (1881 - 1967) - She was married with three children. She died in California, unlike many of her siblings.
Lula Christene Parker (1884 - 1980) - She lived many years and had many kids within her marriage. She was born in the state of Utah and would eventually die in the state of Utah.
Mark D'Lafiet Parker (1886 - 1932) - He was a veteran of World War 1 and the younger brother of the infamous criminal.
Nina Grace Parker (1889 - 1923) - She was the younger sister of Butch. She married but died young, at the age of 33.
Leona Hartley Parker (1893 - 1937) - She was the youngest in the family. She married and had one daughter. She, like her sister Nina, died at a young age.