Captain John Parker was one of the heroes who fought at the Battles of Lexington and Concord.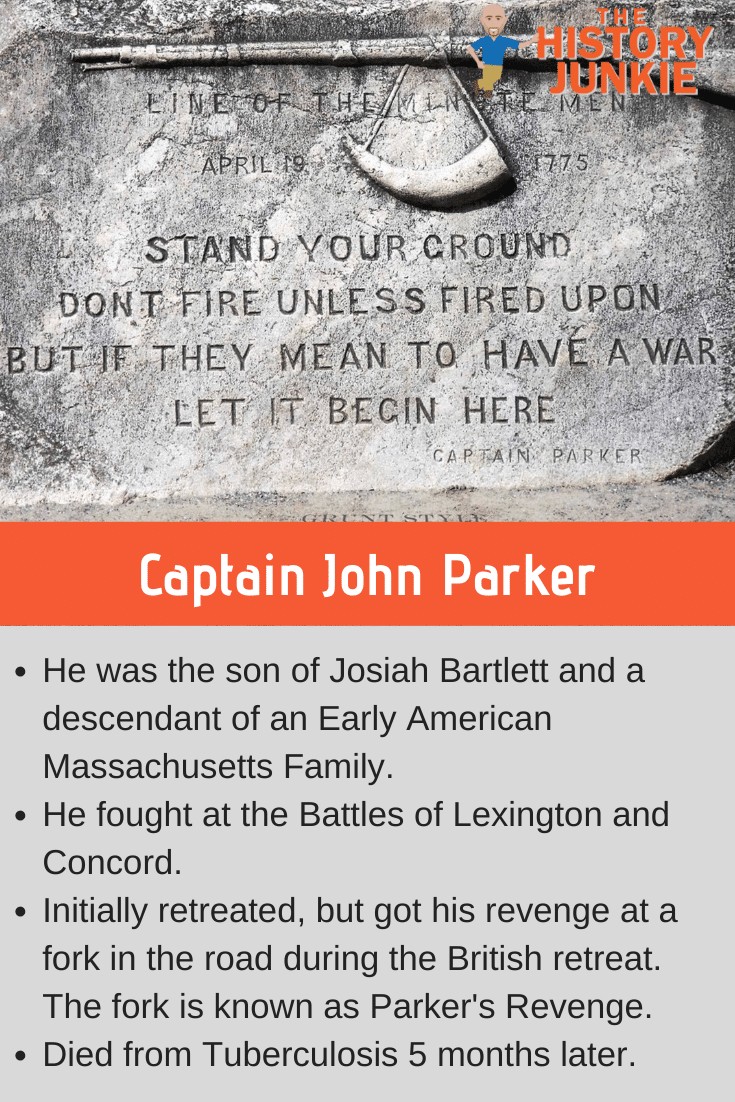 While his men were routed at the beginning of the day when the British marched into Lexington, they would go on to have much success during the British retreat from Concord. There is even a portion of the battlefield that is named in his honor, Parker's Revenge.
Jump to:
Parker seemed strong the morning of April 19, 1775, when he fought with his fellow minutemen but would be dead by September 17, 1775, due to tuberculosis.
His heroics would outlive him, and his accomplishments and his contributions to American History are still remembered today.
Family Overview
Captain John Parker was not a stranger to the military. He was raised by his father, Josiah, who was a Lieutenant in the local militia.
The Parkers were a well-known Massachusetts Family that could trace their surname back to the first settlers of Massachusetts.
John went on to have seven children, with all but one surviving til adulthood. His daughter Rebecca died at 15 years old, but he had already been dead for 8 years.
He had three sons who lived into the 19th century and carried his name forward.
His wife of 20 years never remarried after his death and raised their seven children.
Family Tree Chart
Parents:
Lieutenant Josiah Parker (1694 - 1756)
Anna Stone (1694 - 1760)
Spouse:
Lydia Pierce (1731 - 1822) - Married John Parker on May 22, 1755.
Children:
Lydia Parker (1756 - 1810)
Anna Parker (1759 - 1780)
John Parker (1761 - 1835)
Isaac Parker (1763 - 1828)
Ruth Parker (1765 - 1838)
Rebecca Parker (1768 - 1783)
Robert Parker (1771 - 1840)
Siblings:
Anna Parker (1719 - 1775)
Deliverance Parker (1721 - 1799)
May Parker (1723 - Unknown)
Josiah Parker Jr. (1725 - 1774)
Lois Parker (1727 - 1735)
Thaddeus Parker (1731 - 1789)
Joseph Parker (1733 - 1787)