So you want to learn interesting Captain John Smith Facts?
Perhaps the most notorious Colonial American was Captain John Smith. By the time he helped found Jamestown, Captain John Smith had an impressive resume. He was an Explorer, Admiral, Soldier, and Knight, and eventually became an Author. The maps he made while exploring the New World were used by the Pilgrims of Plymouth Colony and the Puritans of Massachusetts Bay Colony. His experience in the New World was cut short when he suffered severe burns due to a gunpowder accident.
Captain John Smith Facts: Early Life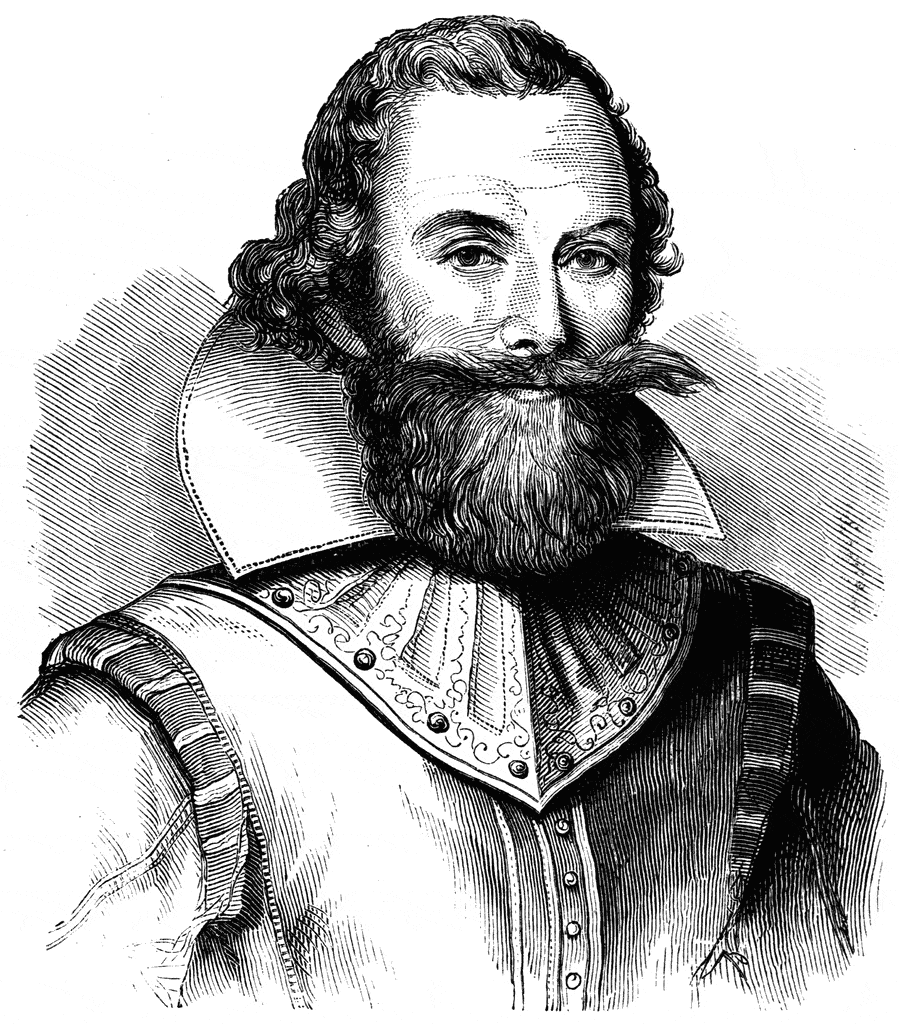 John Smith was baptized on 6 January 1580 at Willoughby near Alford, Lincolnshire, where his parents rented a farm from Lord Willoughby. He claimed descent from the ancient Smith family of Cuerdley, Lancashire, and was educated at King Edward VI Grammar School, Louth, from 1592–1595.
After his father died, Smith left home at the age of sixteen and set off to sea. He served as a mercenary in the army of Henry IV of France against the Spaniards, fighting for Dutch independence from Spanish King Phillip II.
He then set off for the Mediterranean. There, he engaged in both trade and piracy and later fought against the Ottoman Turks in the Long Turkish War. Smith was promoted to cavalry captain while fighting for the Austrian Habsburgs in Hungary in the campaign of Michael the Brave in 1600 and 1601.
After the death of Michael the Brave, he fought for Radu Șerban in Wallachia against Ottoman vassal Ieremia Movilă.
Smith is reputed to have killed and beheaded three Turkish opponents in single combat duels, for which he was knighted by the Prince of Transylvania and given a horse and a coat of arms showing three Turks' heads. However, in 1602, he was wounded in a skirmish with the Tartars, captured, and sold as a slave.
As Smith describes it: "we all sold for slaves, like beasts in a market." Smith claimed that his master, a Turkish nobleman, sent him as a gift to his Greek mistress in Constantinople, who fell in love with Smith. He then was taken to the Crimea, where he escaped from the Ottoman lands into Muscovy, then on to the Polish–Lithuanian Commonwealth before traveling through Europe and Northern Africa, returning to England in 1604.
Captain John Smith Facts: Founding of Jamestown
In 1606, Smith became involved with the Virginia Company of London's plan to colonize Virginia for profit; it had been granted a charter by King James. The expedition set sail in three small ships, the Discovery, the Susan Constant, and the Godspeed, on 20 December 1606. His page was a 12-year-old boy named Samuel Collier.
During the voyage, Smith was charged with mutiny, and Captain Christopher Newport had planned to execute him. Fortunately for Smith, upon first landing at what is now Cape Henry on 26 April 1607, unsealed orders from the Virginia Company designated Smith to be one of the leaders of the new colony, thus, perhaps, sparing Smith from the gallows.
The English arrived at Jamestown in April 1607, and by the summer of that year, the settlers were still living in temporary housing. The search for a suitable site ended on 14 May 1607 when Captain Edward Maria Wingfield, president of the council, chose the Jamestown site as the location for the colony. After the four-month ocean trip, their food stores were sufficient only for each to have a cup or two of grain meal per day.
Due to swampy conditions and widespread disease, someone died almost every day. By September, more than 60 of the 104 brought by Newport were dead.
In early January 1608, nearly 100 new settlers arrived with Captain Newport on the First Supply, and through carelessness, the village was set on fire. That winter, the James River froze over, and the settlers were forced to live in the burnt ruins.
During this time, they wasted much of the three months that Newport and his crew were in port, loading their ships with iron pyrite (fool's gold). Food supplies ran low, although the Native Americans brought some food, and Smith wrote that "more than half of us died." Later, in 1608, Smith spent that summer exploring Chesapeake Bay waterways and produced a map that was of great value to Virginia explorers for more than a century.
In October 1608, Newport brought the second shipment of supplies along with 70 new settlers, including the first women. Some German, Polish, and Slovak craftsmen also arrived, but they brought no food supplies. Newport brought with him a list of counterfeit Virginia Company orders, which angered John Smith greatly.
He wrote an angry letter in response. One of the orders was to crown the Powhatan emperor and give him a fancy bedstead. The Company wanted Smith to pay for Newport's voyage with such as the colony could produce in the form of pitch, tar, sawed boards, soap ashes, and glass.
After that, Smith tried to get food from the Native Americans, and it took threats of military force for them to comply. Powhatan was alarmed at the great number of white men coming and was trying to starve them out.
Smith found that there were those among both the settlers and Native Americans who were planning to take his life, and it is written that he was warned about the plan by Pocahontas. He called a meeting and threatened those who were spoiled and not working: "that he that will not work shall not eat." After that, the situation improved, and the settlers worked with more industry, albeit with some punishments as needed.
In February, March, and April 1609, all was well at Jamestown, with many dwellings built, acres of land cleared, and much other work done. Then, in April, an infestation of rats was discovered, along with dampness, which destroyed all their stored corn. They needed food badly, and Smith sent a large group of settlers to fish and others to gather shellfish downriver.
They came back without food and were willing enough to take the meager rations offered them. This angered Smith, and he ordered them to trade their guns and tools for fruit from the Native Americans and ordered everyone to work or be banished from the fort.
Captain John Smith was able to stable the colony, and in 1609, he was surprised to see more settlers arrived in Jamestown. The arrival of these settlers caused problems because they were not properly supported, and the Virginia Company did not seem to plan well for their arrival. Their arrival caused problems because it quickly depleted their resources.
John Smith installed many reforms and was the main reason for the colony's survival, but in 1609, he suffered severe injuries from a gunpowder accident, and his journey in the New World was over. He returned to England to receive treatment, and although his injuries did heal, he never returned to Jamestown but did return to the New World.
Captain John Smith Facts: Pocahontas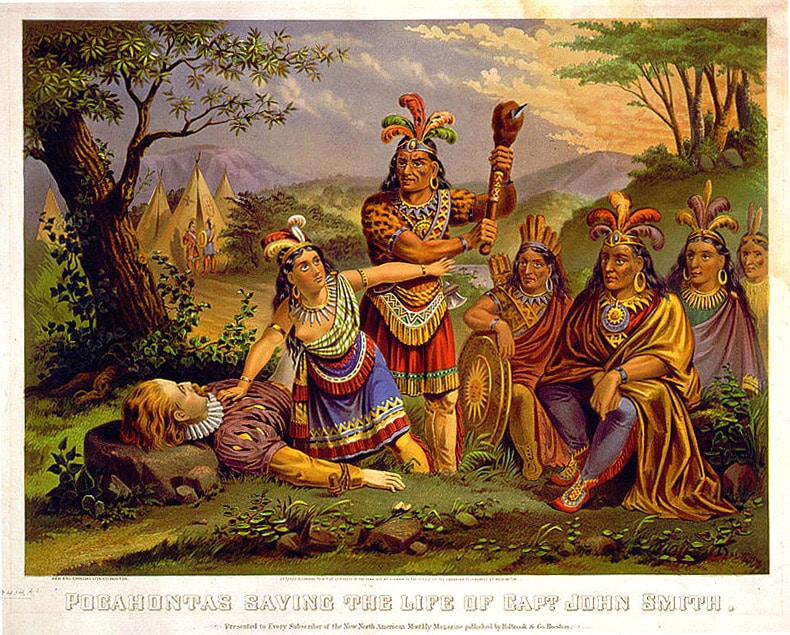 In December 1607, while seeking food along the Chickahominy River, Smith was captured and taken to meet the chief of the Powhatans at Werowocomoco, the main village of the Powhatan Confederacy. The village was on the north shore of the York River, about 15 miles due north of Jamestown and 25 miles downstream from where the river forms from the Pamunkey River and the Mattaponi River at West Point, Virginia.
Smith feared for his life, but he was eventually released without harm and later attributed this in part to the chief's daughter Pocahontas, who, according to Smith, threw herself across his body: "At the minute of my execution, she hazarded the beating out of her own brains to save mine; and not only that but so prevailed with her father, that I was safely conducted to Jamestown."
In 1608, Pocahontas is said to have saved Smith a second time. Smith and some other colonists were invited to Werowocomoco by Chief Powhatan on friendly terms, but Pocahontas came to the hut where the English were staying and warned them that Powhatan was planning to kill them.
Due to this warning, the English stayed on their guard, and the attack never came. Also, in 1608, Polish craftsmen were brought to the colony to help it develop. Smith wrote that two Poles rescued him when he was attacked by a Native American.
Pocahontas went on to marry John Rolfe and give birth to Thomas Rolfe.
Captain John Smith Facts: New England
In 1614, Smith returned to the Americas on a voyage to the coasts of Maine and Massachusetts Bay. He named the region "New England". The resulting map, published in 1616, was the first that bore the term "New England," though the native place names were replaced by the names of English cities at the request of Prince Charles.
The settlers of Plymouth Colony adopted the name that Smith gave to that area, and other place names on the map survived to modern times, such as the Charles River and Cape Ann.
He made two attempts in 1614 and 1615 to return to the same coast. On the first trip, a storm dismasted his ship. In the second attempt, he was captured by French pirates off the coast of the Azores. Smith escaped after weeks of captivity and made his way back to England, where he published an account of his two voyages as A Description of New England. He remained in England for the rest of his life.
Captain John Smith Facts: Death and Burial
John Smith died June 21, 1631. He was buried in 1633 in the south aisle of Saint Sepulchre-without-Newgate Church, Holborn Viaduct, London.
The church is the largest parish church in the City of London, dating from 1137. Captain Smith is commemorated in the south wall of the church by a stained glass window.
Captain John Smith Facts: Online Resources