Edward Doty was one of the original Mayflower passengers and came over as an indentured servant to Stephen Hopkins. Hopkins had another servant, Edward Leister, who also came over on the ship.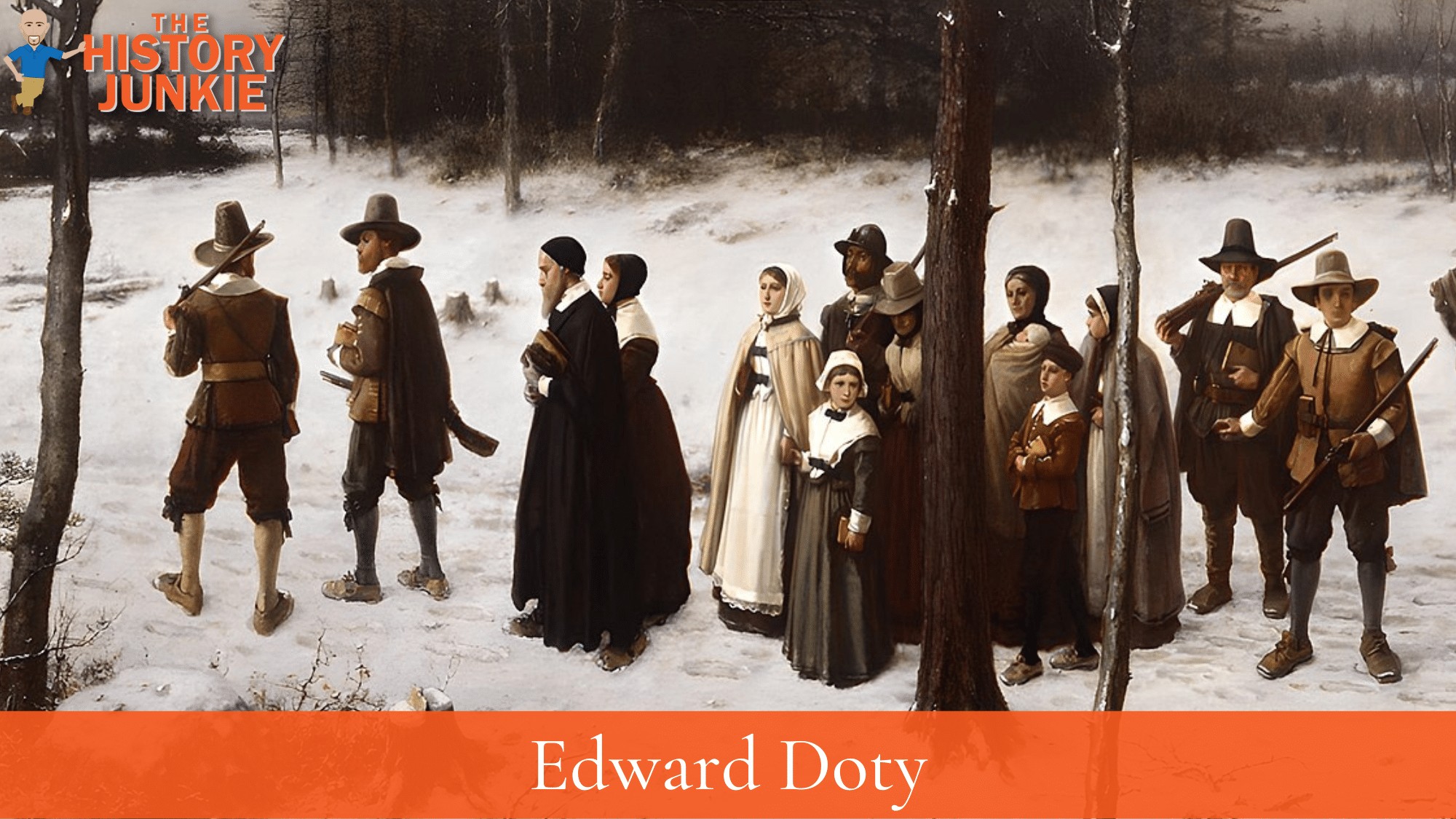 Although there is little known of his English beginnings, he would grow up and become the head of a well-known line of Mayflower descendants. He would be one of the signers of the Mayflower Compact.
Jump to:
Edward Doty and Edward Leister took part in the first recorded duel of Plymouth Colony. The records come from William Bradford's lost register:
the first duel fought in New England, upon a challenge at single combat with sword and dagger, between Edward Doty and Edward Leister, servants of Mr. Hopkins. Both being wounded, the one in the hand, the other in the thigh, they are adjudged by the whole company to have their head and feet tied together, and so to lie for twenty-four hours, without meat or drink, which is begun to be inflicted, but within an hour, because of their great pains, at their own and their master's humble request, upon promise of better carriage, they are released by the governor
This would begin to establish Doty's reputation as a quick-tempered person. Throughout his life, Doty frequently appeared in court as a plaintiff or defendant.
Most of the lawsuits were civil disputes, but some were complaints against him for trespassing (unfenced cows and pigs), assault and battery, and breaking the peace. He was on the losing side in the majority of these cases.
Despite his quick temper, he would achieve better-than-average wealth. However, that temper would stay with him for the rest of his life. He would find himself in multiple court battles and be cited for slander on one occasion.
He died in 1655 when he was around 56 years old.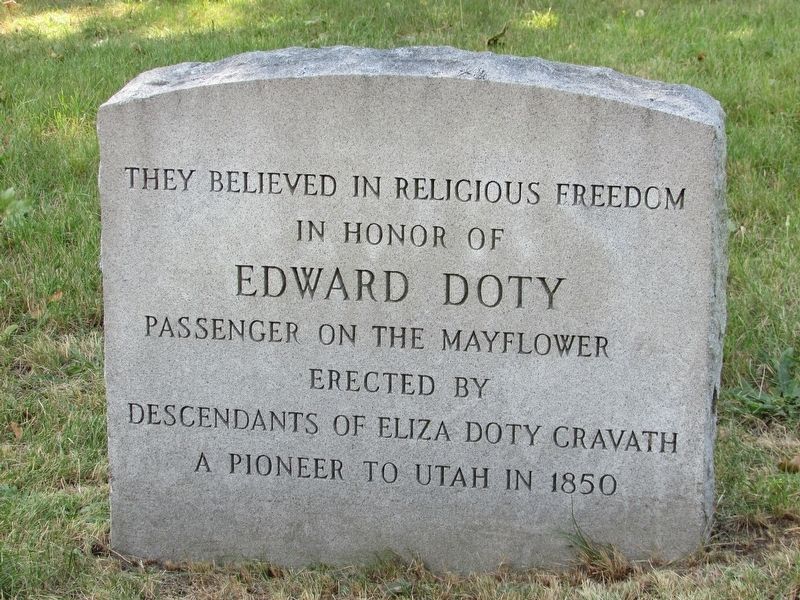 Family Overview
His English roots are not known. There is no record of his parents or siblings. He was an indentured servant, which implies he did not have any money to pay for passage, and he seemed to have a great work ethic.
When he arrived in Plymouth, he would take a first wife, but there was no record of her, and they did not have any known children.
He would marry Faith Clark, and the two would have nine children together.
His children would carry on and have many descendants. Some of his younger children would gain a reputation as a bit of a troublemaker, but nothing was too serious.
Family Tree Chart
Parents: Unknown
Spouse:
The First Wife is Unknown
Faith Clark (1618 - 1675) - The second wife of Edward. The two would marry in 1635 and have nine children together.
Children:
Edward Doty - The firstborn son and eldest child of Edward. He would have eleven children, with many of his daughters having children. His son Benjamin would have the most Doty children to carry on his line.
John Doty (1640 - 1701) - He married twice and had many children. He was appointed Constable in 1680 for Plymouth. He died from what seems like a disease in 1701.
Thomas Doty (1640 - 1678) - His wife seems to be a bit of a mystery. It seems as though he married Mary Churchill, and the two were found guilty of fornicating prior to marriage. He died young and left everything he had to his wife.
Samuel Doty Sr. (1644 - 1715) - He would become an influential character in Colonial America and be a founding member of the New Jersey Colony.
Desire Doty (1645 - 1731) - She married three times and had children with each of her husbands. She was the second wife of Alexander Standish, the son of Myles Standish.
Elizabeth Doty (1646 - 1742) - She would marry twice and had one son. Despite her living a decent amount of time during that period, there is not much known about her life.
Isaac Doty Sr. (1648 - 1728) - His father died when he was six years old. He would grow up and have many children to continue the Doty line.
Joseph Doty Sr. (1651 - 1732) - He was only four years old when his father died. He was married twice and fathered an illegitimate son.
Mary Doty (1653 - 1728) - The last child of Edward who would grow up and marry Samuel Hatch. The two would have nine children together.
Siblings: Unknown
Last Will and Testament
In the Name of God, Amen
Know all men to whom It may concerne that I Edward Dotten senir: of the Towne of New Plymouth in New England being sicke and yett by the mercye of God in prfect memory and upon matture Consideration Doe by this my last will and Testament leave and bequeath my purchase land lying att Coaksett unto my sons; my son Edward I give a Double portion and to the rest of my sonnes equall alike if they live to the age of one and twenty if they Die before then to bee prted among the rest onely to my wife I leave a third During her life and then after to returne to my sonnes, And unto my loveing wife I give and bequeath my house and lands and meddows within the precincts of New Plymouth together with all Chattles and moveables that are my proper goods onely Debts and engagements to bee paied; As for my Share of land att Punckquetest if it come to anything Igive it unto my son Edward; This being my last will and Testament; I Edward Dotten Doe owne it for my Act and Deed before these my loveing frinds whoe are Witnesses; and Doe sett my hand to the same; the Day and yeare above written
Witness
John Howland Edward Dotten
James Hurst his Marke
John Cooke
William Hoskins Ther being many names besides
Coaksett, I mean all my purchase
land According to the Deed
At the general court held the fift of March 1655, faith the wife of Edward Dotten Deceased Did give up and makeover all her right and interest she had in the land of Edward Dotten Att Coaksett or places adjacent unto her Children this shee Did in the presence of the said Court; held att Plymouth yt Day and year above expressed;
The above written Will and Testament of Edward Dotten Deceased were exhibited to the Court held at Plymouth on the fift of March 1655 on the oaths of Mr. John Howland, James Hurst, John Cooke, and William Hoskins.