The Gadsden Purchase occurred after the Mexican-American War and assigned 30,000 miles of northern Mexican land to the United States. The purchase would expand the land of future states, New Mexico and Arizona.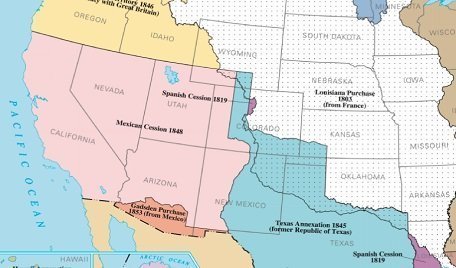 Jump to:
Gadsden Purchase Facts
In 1853, Mexico was in need of money. President Franklin Pierce sent his minister to Mexico for the sale of their northern territory.
The purchase was negotiated by James Gadsden, the United States minister to Mexico. It was sold for $10 million.
Occurred in 1848 and sold 30,000 square miles of land to the United States by Mexico.
In Mexican History, the sale is known as the sale of the Mesilla Valley.
Expanded the land of what became Arizona and New Mexico
Small compared to the Louisiana Purchase but significant from a railroad perspective.
Lobbied in Congress by railroad interest groups. Its purchase would allow for a southern Transcontinental Railroad.
Residents of the area were to be given the same protection as the Treaty of Guadalupe Hidalgo gave them.
The residents of the area gained full US citizenship and slowly assimilated into American life over the next half-century.
When the Civil War broke out, the Confederate States of America formed the Confederate Territory of Arizona, which occupied much of the lands of the Gadsden Purchase.
In 1863, using a north-to-south dividing line, the Union created its own Arizona Territory out of the western half of the New Mexico Territory.
These territories would be admitted to the Union in 1912. They did not play a significant role in the Civil War.
Related Pages