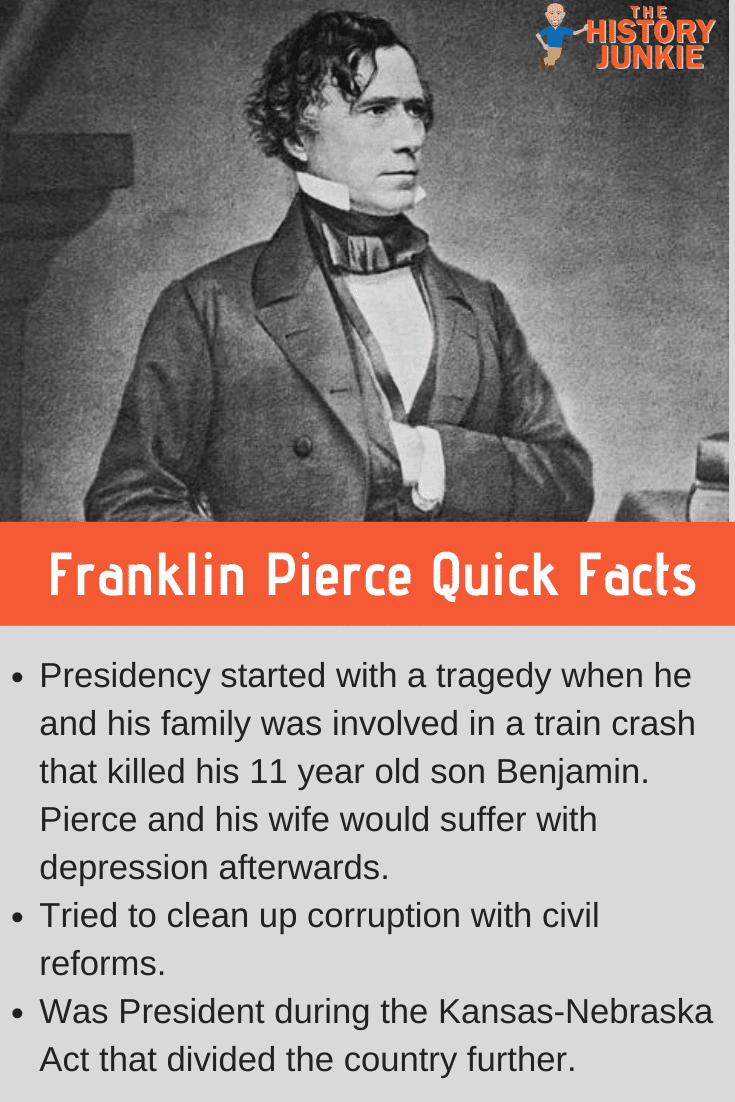 President Franklin Pierce was the 14th president of the United States of America and is known as one of the worst presidents in history.
Ironically, Pierce was well-liked by both the North and the South and during his campaign was believed to be able to get along with both sides.
His likability did not last and his inability to lead rather than be bullied would cost him.
His presidency would be defined by the passing of the Kansas-Nebraska Act which would lead to the formation of the Republican Party.
President Franklin Pierce's Term 1853 – 1857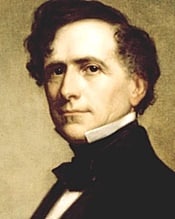 March 4, 1853: Franklin Pierce was Inaugurated: Franklin Pierce was elected as the 14th president of the United States.
December 30, 1853: Gadsden Purchase Signed: The Gadsden Purchase was purchased from Mexico and added an additional 30,000 square miles to southern New Mexico and Arizona to provide a route to the Transcontinental Railroad.
January 23 – May 30, 1854: Kansas – Nebraska Act: The defining legislation of Pierce's presidency, the Kansas-Nebraska act was passed and allowed for Kansas and Nebraska to decide for themselves on the issue of slavery. This eliminated the Missouri Compromise by ending geographical limits on slavery's expansion.
March 31, 1854: Treaty of Kanagawa: Commodore Matthew Perry successfully negotiates the opening of Japan to trade with the United States. Japan allows the United States to place a consulate on the island-nation.
June 5, 1854: Reciprocity Treaty: Allowed US fisherman to fish along the Canadian coast, New Brunswick, Nova Scotia, Prince Edward Island, and several other islands that were not yet united with Canada.
October 18, 1854: Ostend Manifesto: The United States unsuccessfully attempt to purchase Cuba from Spain. Also within the attempt was a veiled threat to take Cuba from Spain by force if necessary. the U.S. Secretary of State rejected the Manifesto and the offer was never given to Spain.
November 29, 1854: Border Ruffians: John W. Whitfield is elected territorial delegate from Kansas. The election was marked with violence from pro-slavery mobs.
February 10, 1855: Immigration Reforms: Nationality laws are reformed to guarantee U.S. citizenship to the alien wives of U.S. citizens and any children born to them overseas.
March 30, 1855: Kansas Disputes: With help from armed Border Ruffians, a pro-slavery territorial legislature is elected in Kansas, to pass laws banning public protests.
June – October 1855: William Walker: Initially backed by American business interests seeking a canal through Nicaragua, American filibuster William Walker takes advantage of a civil war to install himself as the dictator of Nicaragua. He rules as the country's president until May 1857.
September – November 1855: Topeka Constitution: Settlers in Kansas, opposed to opening the territory to slavery, hold their own conventions. They agree to prohibit slavery but also exclude free blacks from settling in the territory.
November 26, 1855: Wakarusa War: 1,500 Border Ruffians attack Lawrence, Kansas, where they clash with Free State.
February 22, 1856: Millard Fillmore Nominated as Presidential Candidate: Former President Millard Fillmore was nominated by the know-nothing party for President.
June 2 – 5, 1856: James Buchanan: Franklin Pierce is bypassed for re-election by the Democrats and James Buchanan was nominated for President.
June 17 – 19, 1856: Republicans nominated John C. Fremont for President.
The First Lady: Jane Means Appleton Pierce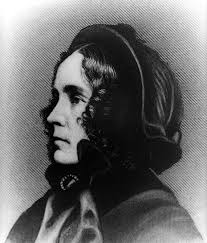 Jane Appleton Pierce was te shy and sensitive daughter of Reverend Jesse Appleton, the former president of Bowdoin College.
Initially, she supported her husband's interest in politics, but her dislike of Washington and the successive deaths of her sons affected her ability to function well as First Lady.
Their third son, Benjamin, was killed a train accident at age 11 just a few months before Pierce's inauguration.
Although Mrs. Pierce did not attend the simple inauguration ceremony on March 4, 1853, she joined her husband later. She believed that her family's misfortunes were caused by her husband's involvement in "dirty" politics.
President Franklin Pierce: Conclusion
It is said that Pierce suffered from bad timing and a lack of conviction. The once-popular candidate Pierce became the first sitting President bypassed for re-election by his own party.
Ultimately it was his decision to be bullied by Stephen Douglas and signing the Kansas-Nebraska act that would be his downfall.
Franklin Pierce's life would spiral out of control after his presidency. He fell back into alcoholism and died in 1869.
President Franklin Pierce: Online Resources