Hernando de Soto was a Spanish Conquistador that explored deep into the United States. He would be the first to explore modern-day Georgia, Florida, Alabama, and Arkansas, and he would be the first Conquistador to cross the Mississippi River.
He, like his predecessors, believed there was a passage through this continent to China.
His expeditions allowed for further discoveries and paved the way for other famous explorers to push further into the New World.
Jump to:
Hernando de Soto Facts: Early Life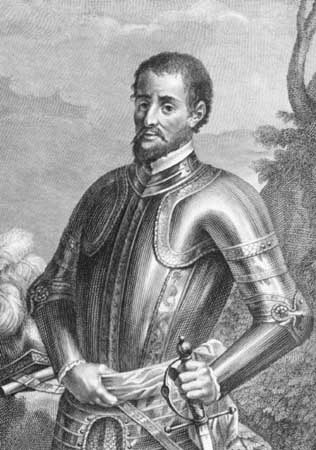 Hernando de Soto was born in poverty and on the heels of the Spanish reconquest of the Iberian Peninsula.
These two factors in Soto's life would determine his future.
Being born in poverty during the late 15th century meant that it was not easy to rise from the ashes; however, the reconquest of the Iberian Peninsula and Christopher Columbus's discovery of the New World it allowed for more opportunities if the individual was willing to risk their life on the ocean.
These facts remained true for many young men in Portugal and Spain and would lead to some of the greatest European accomplishments during the 16th century.
Spain and Portugal would begin to colonize many of these discoveries in the New World, and both would rise to prominence.
De Soto sailed to the New World with the first Governor of Panama, Pedrarias Dávila. In 1520, he participated in Gaspar de Espinosa's expedition to Veragua, and in 1524, he participated in the conquest of Nicaragua under Francisco Hernandez de Cordoba.
There, he acquired an encomienda and a public office in Leon, Nicaragua. Here, he gained a reputation for his bravery and ability to use European tactics on the natives.
Hernando de Soto Facts: Conquest of Peru with Francisco Pizarro
After gaining a reputation as a competent leader and brutal fighter, de Soto was given the opportunity to embark on a mission to conquer Peru under the powerful Conquistador, Francisco Pizarro.
Hernando de Soto served Pizarro well by succeeding in various scouting missions, battles, and raids. His actions led to the fall of the Inca civilization and granted him more influence.
During the capture of Cuzco, Hernando de Soto distinguished himself as an excellent tactician by defeating the natives before the arrival of Francisco Pizarro.
The capture of Cuzco grave the spaniards much wealth and power in the New World. With this newly acquired wealth and influence, Hernando de Soto set sail for Spain, arrived with much wealth, and was admitted into the prestigious Order of Santiago.
Hernando de Soto Facts: Governorship of Cuba and Southern America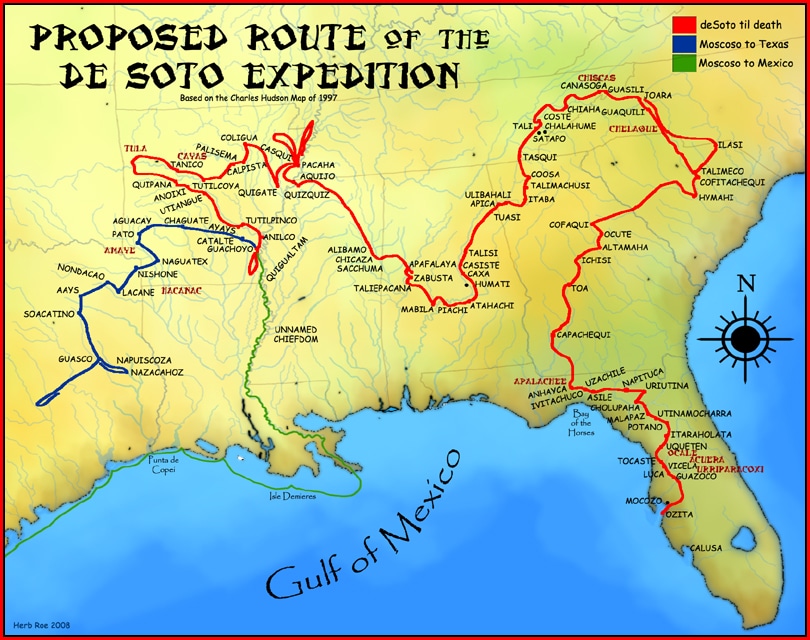 One of the more interesting Hernando de Soto facts of his life was when he returned to Spain and requested the Governorship of Guatemala.
He was denied the governorship and instead given the Governorship of Cuba and commanded to colonize North America.
With this commission, he recruited over 600 young men from Spain, Portugal, and even the continent of Africa to help with his colonization efforts.
Before his departure, de Soto had come across the testimony of another Conquistador, Cabeza de Vaca, who had become a castaway in North America after traveling with Panfilo de Narvaez and met many of the natives in the present-day United States.
De Vaca's stories piqued the interest of de Soto, and when he set sail for Cuba, he made plans to colonize the southern portion of the new continent.
Hernando de Soto arrived on the west coast of Florida in 1539. His landing was just south of modern Tampa Bay, Florida.
Here, he and his 600 men landed and came across an old Spaniard named Juan Ortiz. Ortiz had been captured by the Mocoso people while searching for the lost Narvaez Expedition.
While in captivity, he learned the native language and helped serve as an interpreter to de Soto and his men.
Hernando de Soto then set up a network to help with communication between the native tribes. He acquired one person from each of the neighboring tribes and communicated with them through an interpreter.
They then spoke to their tribes and communicated with them. He recruited a young boy named Perico, who communicated with many of the Indian tribes in Georgia and could also communicate with Ortiz.
This allowed de Soto to move quickly across Florida and Georgia.
Along his way through Florida, de Soto did encounter hostile tribes and dealt with a few ambushes from the Apalachee tribe.
After his winter encampments, de Soto and his men pressed further north and explored the modern states of South Carolina, North Carolina, Tennessee, and Alabama.
In Alabama, de Soto would meet fierce opposition from the Monilian tribe under Chief Tuskaloosa. They ambushed de Soto and his men, inflicting over 200 casualties and taking anywhere from 2,000 - 6,000 casualties. While the natives lost many more men, de Soto lost a higher percentage and would never recover.
He and his men continued west and became one of the first to see the Mississippi River. Obviously, de Soto had no idea of the importance of the Mississippi River and the role it would play in history. To him, he viewed it as another obstacle to overcome in his expedition.
Hernando de Soto Facts: Death
Hernando de Soto died on May 21, 1542, from a fever. Before his death, he handed over the command of the expedition to Luis de Moscoso Alvarado.
Alvarado took the expedition a little further west and then returned to Mexico City. De Soto's expedition would be considered a failure for not acquiring any wealth or establishing a colony.
However, it did provide more information of the landscape and the natives that lived in the area.
De Soto's expeditions contributed these four things:
Increased hostility between the Europeans and Native Americans, with the Europeans being the instigators.
Gave more information to the vast landscape of North America
Exposed the natives to European diseases to which they had no immunity and would devastate the native population. European disease is more responsible for the conquest of the New World than any Conquistador.
Spain began to pull out of the lands north of Mexico and focus their efforts on colonizing the coasts of Florida.
Hernando de Soto Facts: Online Resources