James Chilton was the oldest passenger on the Mayflower and would never step foot on Plymouth Colony soil because he died after signing the Mayflower Compact.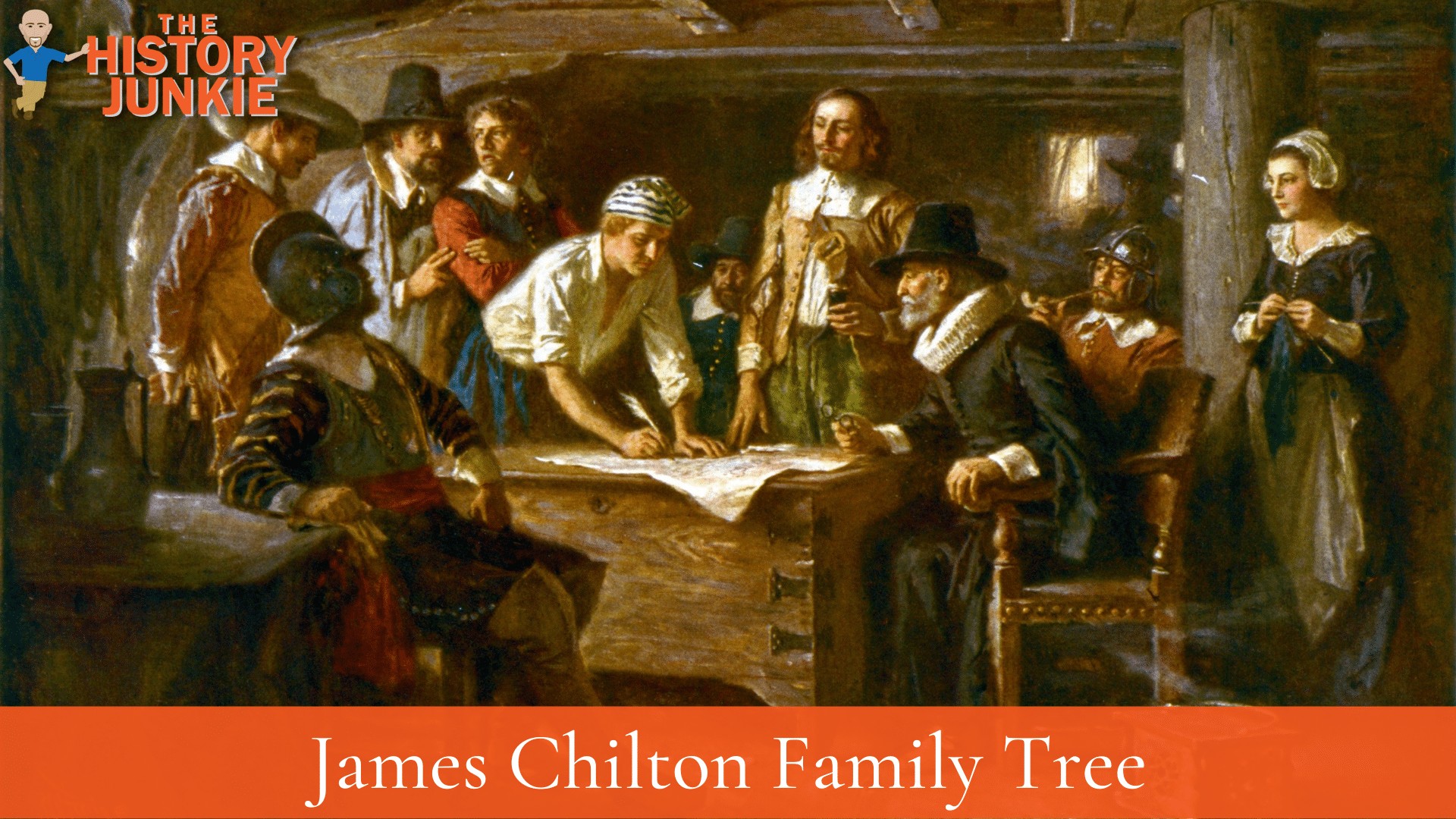 He was probably born about 1555 in Kent, England, to Lyonell Chilton (1530-1582) and probably Edith.
He became a tailor and was made a freeman of Canterbury in 1583.
Jump to:
Around 1600, he moved to Sandwich, Kent. By 1615, he was in Leyden with some of his children. On April 28, 1619, James and his daughter, Isabel, was caught in an anti-Arminian riot, and James was hit in the head with a large stone and required the services of the town surgeon, Jacob Hey.
On September 6, 1620, the Mayflower left Plymouth, England. On board were James, his wife, and their daughter Mary, 13. James Chilton signed the Mayflower Compact on November 11, 1620. Both James and his wife died on the ship before the winter was out.
Mary is traditionally said to have been the first female to step ashore at Plymouth and is assumed to have joined the Myles Standish household.
She later married John Winslow, who arrived on the "Fortune".
Chilton Children
James and his wife dealt with terrible losses when it came to their children. Death in children was certainly more common in the 16th and 17th centuries than in modern times, but they dealt with many consecutive losses that it not seen often, even during their time.
After their firstborn, Isabella, the couple endured the loss of five consecutive children while in Europe. They brought their youngest daughter, Mary, with them when coming to Plymouth but left behind other children who did survive until adulthood but never saw again.
When studying early Colonial America, it is important to understand what they were dealing with. They certainly understood what most of us do not, and that is that life is precious and it is important not to waste a single day.
Despite their losses, they did sail for Plymouth, and even though they did not survive to see the colony founded, they did bring over their youngest daughter and saw their oldest child migrate to the new world. These two would have descendants that would be able to link themselves to James and his wife.
Family Chart
Parents:
Lyonell Chilton (1530 - 1583)
Edith Chilton (1535 - 1579) - maiden name is unknown. Sometimes named Isabell.
Siblings:
John Chilton (1562)
Alice Chilton (1564)
Anne Chilton (1566)
Margaret Chilton (1568)
James' siblings are sometimes labeled as half-siblings. This is due to Edith's middle name being Isabell. The name Isabell will show up as their mother when it is actually the same mother.
Spouse:
Unknown - Chilton's wife was never named, and she died while on board the Mayflower. There have been some theories that her name was Susanna Furner, but that has been discredited.
Children:
Isabella Chilton (1587 - 1646) - Came over on the Mayflower with her husband Roger Chandler.
Jane Chilton (1589 - 1593)
Mary Chilton (1591 - 1593)
Joel Chilton (1592 - 1593)
Elizabeth Chilton (1594)
James Chilton (1596 - 1600?)
Ingle Chilton (1599 - unknown)
Christian Chilton (1601 - unknown)
James Chilton (1603 - unknown)
Mary Chilton (1607 - 1679) - Married James Winslow from Plymouth.