The Kickapoo tribe is another Algonquian-speaking tribe that was located around modern-day Indiana. The tribe's first contact with the Europeans was through the explorer Robert de La Salle during the La Salle expeditions. Today, there are three nationally recognized Kickapoo tribes:
Kickapoo Tribe of Indians of the Kickapoo Reservation in Kansas
Kickapoo Tribe of Oklahoma
Kickapoo Tribe of Texas
Jump to:
Kickapoo Tribe Facts: Overview and History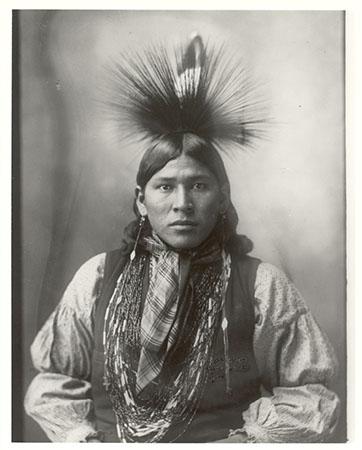 The Kickapoo were an Algonquian-language people who likely migrated to or developed as a people in a large territory along the Wabash River in the area of modern Terre Haute, Indiana. They were confederated with the larger Wabash Confederacy, which included the Piankeshaw to their south, the Wea to their north, and the powerful Miami Tribe to their east. A subgroup occupied the Upper Iowa River region in what was later known as northeast Iowa and the Root River region in southeast Minnesota in the late 1600s and early 1700s.
The Kickapoo tribe first came into contact with the Europeans during the La Salle Expeditions and established a successful fur trade with the French. During the years of trading with the French, the Kickapoo largely stayed out of conflict with other tribes and the European alliances. While they dealt mainly with the French, they also maintained good relations with the British after the French and Indian War.
After the American Revolutionary War, the United States acquired the land that was held by the British and also negotiated the Louisiana Purchase. White settlers began to push west on the frontier, and the Kickapoo, along with other native tribes, began to see their land encroached on. Everything came to a head during the War of 1812.
Kickapoo Tribe Facts: Tecumsah's War and War of 1812
With the continued push west, the natives grew increasingly frustrated. In 1811, Tecumsah's War broke out, and the Kickapoo joined the war on the side of their trusted ally, Tecumsah. Many of the Kickapoo Tribe fought at the Battle of Tippecanoe, which resulted in an American victory. The Battle of Tippecanoe was a precursor to the War of 1812, in which many of the same tribes would join the British in the fight against the United States.
The War of 1812 is often overlooked because neither England or America got much in return for the shedding of their blood. However, the loser of the war was neither the British or the Americans but the Native Americans. They spilled blood, and many of their villages were devastated. With the end of the War of 1812, the British resumed taking care of their vast empire while the natives were left to fend for themselves. They were a conquered people and were pushed further west or even north. The Kickapoo were pushed further west and would never regain their height.
Kickapoo Tribe Facts: Online Resources