Kit Carson was a famous gunslinger born in Kentucky in 1809 and grew up in Missouri. At the age of 15, he ran away from home to join a wagon train to Santa Fe.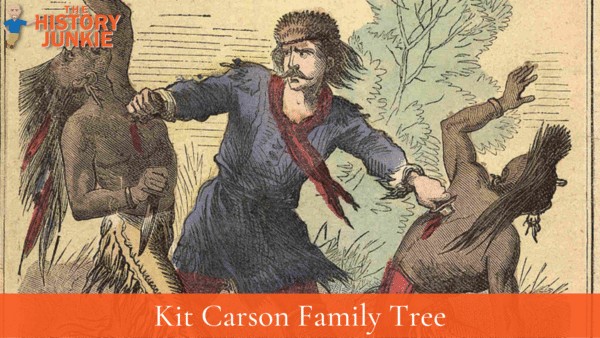 His sister Mary spoke of Kit during his early years. She had this to say about him:
When I was a child, I never got into bed without the feeling that an Indian would grab me, and we always pulled the covers over our heads. But Kit was never afraid, and at the least noise, his little brown head would bob up to listen. Even when he was just a little fellow, he would take his turn watching with the older men. I was never afraid when he was on guard.
Jump to:
He spent the next few years as a fur trapper and explorer, traveling throughout the Wild West.
In 1842, he met explorer John C. Frémont and became his guide on several expeditions. Carson's knowledge of the West was invaluable to Frémont, and he helped to map much of the region.
During the Mexican-American War, Carson served as a scout and courier. He was instrumental in leading General Stephen Kearny's army from New Mexico to California.
After the war, Carson served as an Indian agent in the New Mexico Territory. He also served in the Union Army during the Civil War.
Carson was a skilled frontiersman and an expert in Indian affairs. He was also a gifted storyteller, and his exploits were often exaggerated in dime novels. He died in 1868 at the age of 58.
Family Overview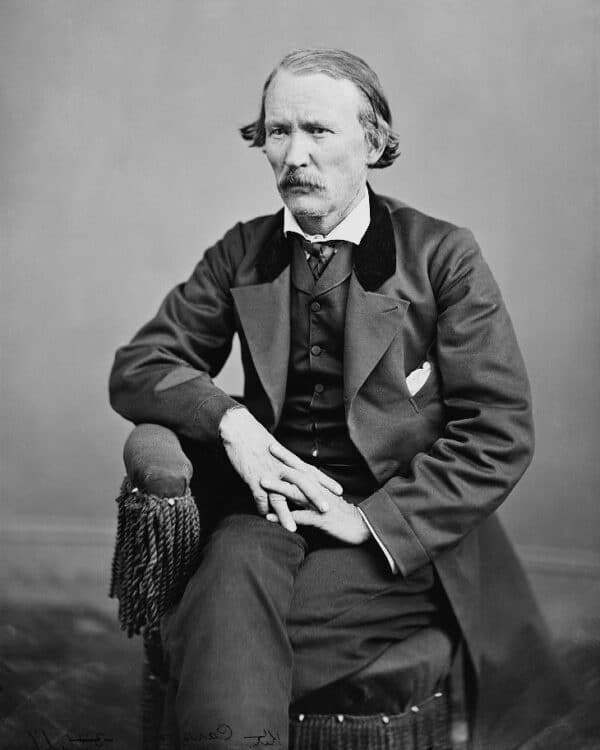 Kit Carson came from a Patriot family with Irish roots. His father had fought in the American Revolution in the South, and he had brothers that fought in the War of 1812.
His grandfather was an older resident of North Carolina and had much land, but his father had the spirit of a frontiersman and began moving his family west after the death of his first wife.
Much of his family lived in Missouri, which was the edge of the frontier at the time.
Kit had many siblings, with some serving in multiple wars and one dying in the Civil War despite not serving.
He married three times, with the first two being Native American. His third was from Old Mexico.
He had many children with many descendants. Unfortunately, I can only document three children at this point. However, his third wife died while giving birth to their eighth child.
Family Tree Chart
Parents:
Lindsey Carson (1754 - 1818) - He was a Revolutionary War veteran who moved to South Carolina after the war. There, he married and had many children. He eventually followed Daniel Boone West.
Rebecca Robinson (1778 - 1840) - She was the second wife of Lindsey and the mother of Kit Carson. She outlived her husband by 22 years.
Spouse:
Maria Josefa Jaramillo (1828 - 1868) - She married Kit in 1843 when he was in Mexico. The two had three children together.
Children:
Adeline Carson (1838 - 1859) - Her mother is unknown, and it is unknown if she married or had any children. However, she died young, so it is doubtful.
Charles Bent Carson (1849 - 1851) - He died as a young boy.
Christopher Charles Carson (1858 - 1929) - He had many children who would carry on the Carson name. He was a young boy during the Civil War but would witness the settlement of the West, the Spanish-American War, World War 1, and the Roaring 20s.
Siblings:
William Carson (1786 - 1853) - He was born in North Carolina and married twice. Unlike much of his family that lived in Missouri, William settled in Kentucky, where he would have six children.
Sarah Carson (1788 - 1871) - She was probably the oldest daughter born to the Carson family. She married and had five children. She migrated to Missouri with her family, unlike her oldest brother.
Andrew Carson (1790 - 1851) - Born in North Carolina like all his siblings from his father's first marriage. He married and had at least one son.
Moses Carson (1792 - 1868) - He was born to Lindsey's first wife and would serve in the War of 1812 under Captain Daniel Morgan Boone's Missouri Mounted Rangers Company. Captain Boone was the son of Daniel Boone.
Elizabeth Carson (1797 - 1858) - She was the daughter of Lindsey's second wife. She married, but it is unknown if she had children and where she was buried. She died in Tennessee.
Robert Carson (1803-1873) - Known as Bob Carson. He was a frontiersman and known for his tracking ability. According to his obituary, he was known for his stories of escaping Native Americans and the mountain storms he endured.
Matilda Carson (1805 - 1849) - Similar to her older sister, it is known that she married, and it is also known that she had four children, but it is unknown where she is buried. She died at a young age, about 4 years after her last child was born.
Hamilton Carson (1808 - 1887) - He was slightly older than his brother Kit Carson and did not have the notoriety. However, he and his wife Rachel had a large family that would lead to many descendants.
Mary Ann Carson (1815 - 1899) - It was said she was similar in physique to her brother Kit but had a different disposition. She provided insight into his personality in an 1895 interview. She would marry, and it is unknown if she had any children.
Sarshall C Carson (1816 - 1864) - He was killed by Bushwhackers in the Civil War. Missouri saw terrible guerilla warfare that often hurt families that were not participating in the war. He was shot and killed in front of his wife and 12-year-old son.
Lindsay Carson Jr (1818-1886) - He was a well-respected man who married and had many children. He moved from Missouri and traveled to Texas, where he would eventually die. In his obituary, Kit Carson is mentioned as his brother.
*There are some siblings missing that I did not feel comfortable listing, as their records were incomplete or questionable. They were the following: Elizabeth Carson, Sophia Carson, Nancy Carson, and Hampston Carson.