The Maliseet Tribe was an Algonquian-speaking First Nation of the Wabanaki Confederacy. They are the Indigenous people of the Saint John River valley and its tributaries, and their territory extends across the current borders of New Brunswick and Quebec in Canada and parts of Maine in the United States.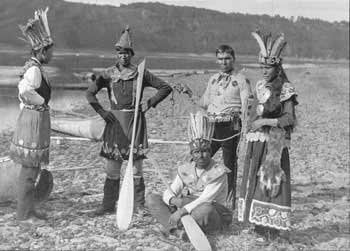 Jump to:
History
When Europeans began to arrive in the New World, the Maliseet tribe were living in walled villages and growing crops such as corn, beans, squash, and tobacco. The people of the tribe had defined roles.
The women tended to process the food, and the men would usually do the hunting. When the French began to build a fur trading industry in the area, they established good relations with the Maliseet Tribe.
It was a natural relationship since each side had something the other one wanted. The Europeans wanted the fur, while the Maliseet tribe wanted to use European tools for their own industry.
The Maliseet often clashed with the Iroquois Nation and the Montagnais, but like many native tribes, it was the disease that dwindled their numbers significantly. The Maliseet did not have the antibodies to ward off European disease, and much of their population suffered because of it.
Colonial Wars: The fur trade proved to be lucrative for the French and the English, which caused the old rivals from Europe to clash often in the New World. The two fought for control of different territories, which eventually culminated in the French and Indian War. In this period, Maliseet women took over a larger share of the economic burden and began to farm, raising crops that previously had been grown only south of Maliseet territory. Men continued to hunt, though with limited success. They became useful allies to the French as support against the English. For a short period during the late 17th and early 18th centuries, Maliseet warriors were engaged frequently in armed conflict, becoming virtually a military organization.
18th - 19th Century: When the hostilities diminished, the Maliseet people tried to go back to their old way of life but found that it was impossible. The fur trade had declined, as did the beaver population. Their style of seasonal, shifting agriculture on the river was curtailed by the encroachment of European settlers. The land also began to be settled by many wealthy Europeans who took advantage of the rich hunting grounds and freshwater fish population.
The Europeans developed potato farming in Maine and New Brunswick, which created a new market and demand for Maliseet baskets and containers. Other Maliseet worked in pulp mills, construction, nursing, teaching, and business.
Online Resources: