The Miccosukee tribe was and is still located in the State of Florida. They are a Southeast Indian Tribe that was displaced during the Seminole Wars in the 19th century.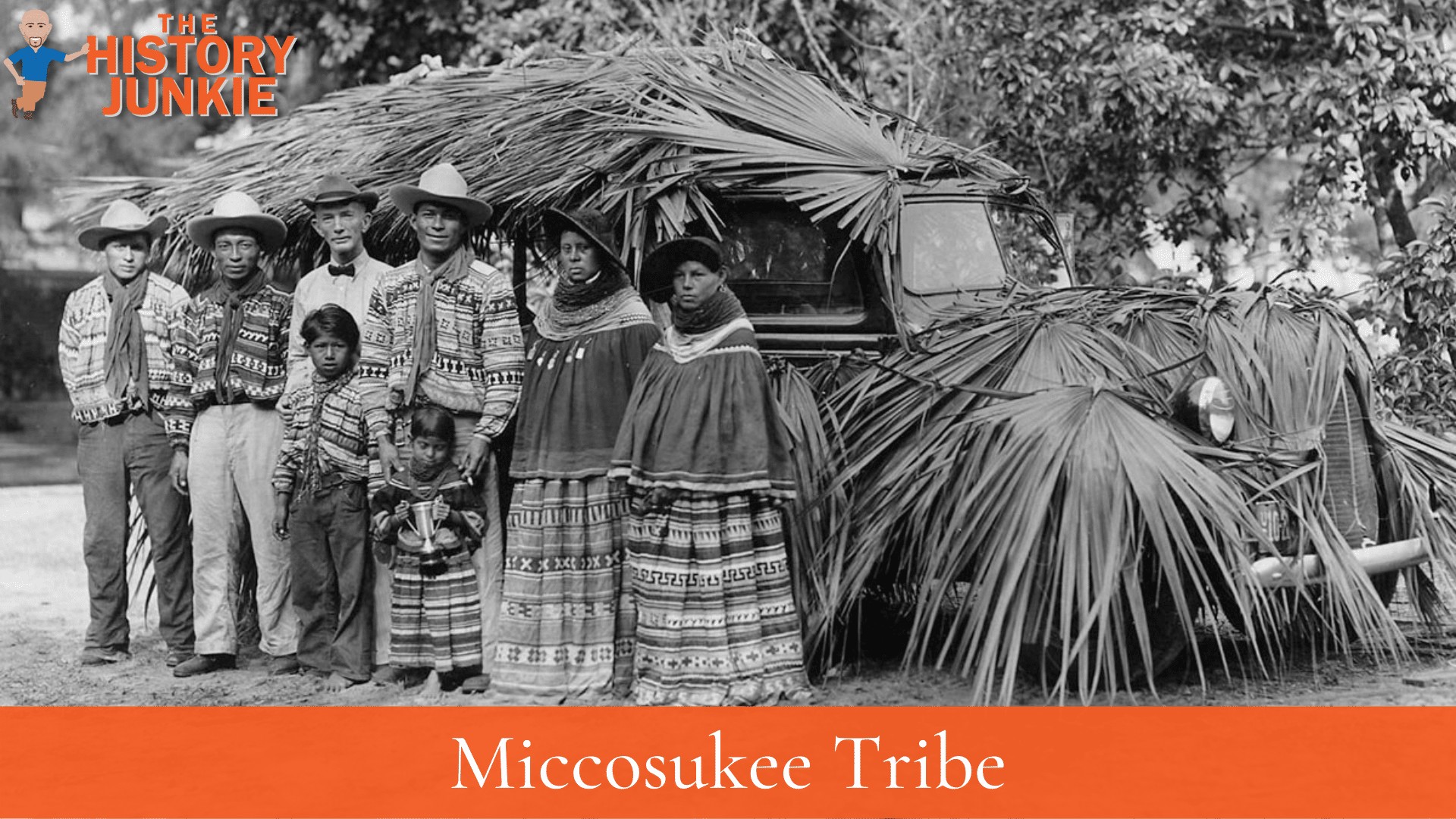 They were once part of the Creek Confederacy and lived in present-day Georgia until migrating south into Florida in the early 18th century.
Jump to:
History
The Miccosukee historically inhabited the upper Tennessee Valley in present-day Georgia, where they were originally part of the Upper Chiaha.
Later, they split: the Miccosukee (Lower Chiaha) migrated northeast to the Carolinas, and the Upper Chiaha, also known as Muscogee, migrated west to northern Alabama.
Under continuing American expansion, many migrated to northern Florida during the 18th and 19th centuries.
The Lower Chiaha comprised the major part of the Seminole tribe, which formed in the eighteenth century in Florida through a process of ethnogenesis.
They numbered about 6,000 by the early 19th century. About 2,000 Upper Creek, who were Creek speakers, joined them after defeat in the Creek War of 1813-1814.
Although East and West Florida were under Spanish control, United States forces invaded in 1818 in the First Seminole War in retaliation for Indian raids against settlers in Georgia.
In 1821, the United States (US) acquired Florida from Spain, and it increased pressure for the removal of the Seminole/Creek from Florida.
It relocated several thousand Seminoles and hundreds of Black Seminoles, who lived in close association as allies, to the Indian Territory. They were originally given land under the Creek administration and later given a separate reservation.
Those who remained in Florida fought against US forces during the second and third Seminole Wars. They had moved into central Florida and the Everglades to try to evade American settlement pressure.
During this period, the Miccosukee mixed with the Creek-speaking Seminole, but many maintained their Mikasuki language and identity.
Conclusion
The Miccosukee tribe still exists in Florida today; however, their influence took much of a hit in the 19th century due to their participation in the Seminole War.
The tribe also lost much of its population from diseases that they did not have an immunity to. It was common for Native Americans to lose anywhere from 30 - 70% of their population to these diseases. Some tribes lost close to 90%.
The tribe today occupies several reservations in southern Florida, collectively known as the Miccosukee Indian Reservation. The largest land section is a 333-acre reservation on the northern border of Everglades National Park, about 45 miles west of Miami.