Nathaniel Saltonstall was one of the judges who were appointed to the Court of Oyer and Terminer, which was established by Governor William Phips. This court will be forever remembered as the court that tried the Salem Witch Trials that resulted in over 20 people dying due to execution, torture, or being sick in jail. 
Saltonstall is remembered as the judge who resigned from the court in protest of the proceedings, and although much is not known about him, he is considered one of the more reasonable men during a time of hysteria.
Jump to:
Early Years
Nathaniel Saltonstall was born in Ipswich, Massachusetts Bay Colony, around 1639. He came from a well-known family that had been in Massachusetts since its earliest days.
His father was named Richard Saltonstall and married Muriel Gordon. His grandfather was named Sir Richard Saltonstall and had played a primary role in the founding of Watertown. His grandfather was a nephew of Richard Saltonstall, the Lord Mayor of London.
Nathaniel's family had been influential in England and then remained influential in the 13 colonies.
When he was of age, he would attend and graduate from Harvard University.
On December 29, 1663, he wed Elizabeth Ward (1647–1714), who was 18 years old and acquired from her father, John Ward, the estate later known as the Saltonstall Seat. Among their children were:
Gurdon Saltonstall (1666–1724) was later the governor of Connecticut.
Elizabeth Saltonstall (1668–1726), who married Rev. Roland Cotton.
Col. Richard Saltonstall (1672–1714), who married Mehitabel Wainwright.
Nathaniel Saltonstall (1674–1739), who married Dorothy Frizel.
Career and Salem Witch Trials
After graduating from Harvard, Nathaniel began his career as a town clerk in 1668. He would gain a reputation as firm and effective in law enforcement but still had a discerning spirit that allowed him to be humane and flexible.
His involvement in judicial affairs and apparent good reputation made him eligible to serve in the Salem Witch Trials, and he was appointed a judge along with six other men on May 27, 1692.
There is no evidence, however, of his attendance at any of the examinations. Indeed, he resigned from the Court of Oyer and Terminer around June 8, 1692, the same time as Bridget Bishop's trial and sentence for witchcraft.
He was "displeased with the handling of the Bishop case" and for some time afterward remained "very much dissatisfied with the proceedings." This dissatisfaction was most likely due to the use of spectral evidence and how harsh some of the magistrates were towards those who were accused.
After his resignation, the governor would assign Jonathan Corwin as his replacement.
Nathaniel would remain a critic of the Salem Witch Trials until it ended.
Considering how the afflicted girls seemed to choose their victims, it is surprising that Nathaniel did not end up accused. Men such as John Proctor, who questioned the integrity of the accusers, were immediately accused after they spoke of that skepticism. 
Unfortunately, much of Nathaniel's story is lost to history. It is clear that he was a well-respected man and that he stood firm in his convictions and reason at a time of hysteria. He died May 21, 1707, and was given one of the larger headstones in the cemetery.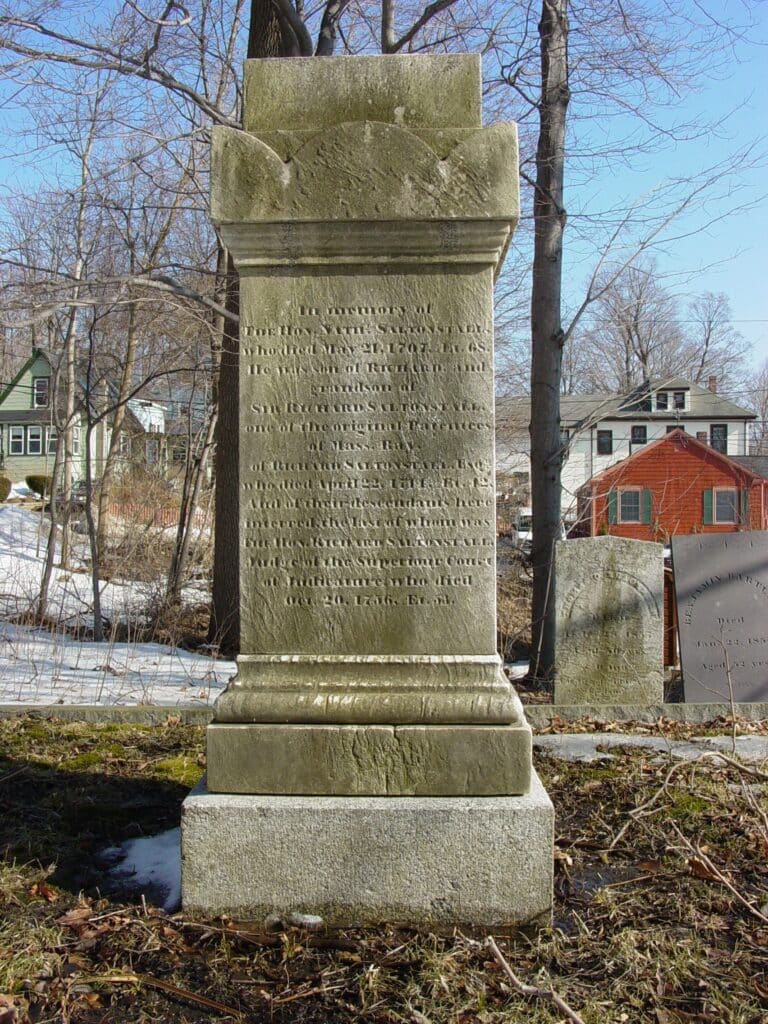 The inscription reads as follows:
In memory of
THE HON. NATH. SALTONSTALL
who died May 21,1707 AEt. 68.
He was the son of Richard and
grandson of
SIR RICHARD SALTONSTALL
one of the original Patentees
of Mass. Bay.
of RICHARD SALTONSTALL, ESQ
who died Apr. 22, 1714. AEt. 42.
And of their descendants here
interred the last of whom was
THE HON. RICHARD SALTONSTALL
Judge of the Superiour Court
of Judicature who died
Oct. 20, 1756. AEt. 53.