Pat Garrett was a famous gunslinger, lawman, bartender, and customs agent known for killing Billy the Kid. He was the sheriff of Lincoln County, New Mexico, as well as Doña Ana County, New Mexico. He is one of the men that helped tame the Wild West.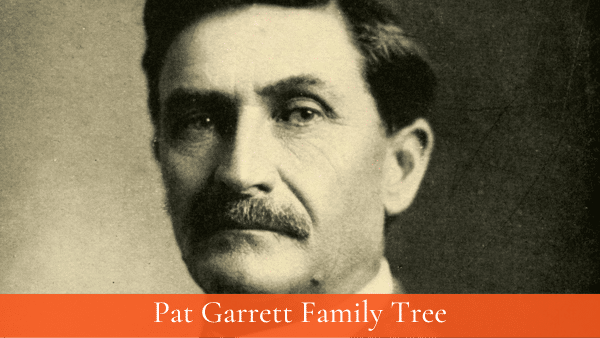 Later in life, he was also a friend of Theodore Roosevelt.
Garrett was born in Chambers County, Alabama, on June 5, 1850. He moved to Texas with his family in 1869 and worked as a cowboy and buffalo hunter.
Jump to:
In 1879, he married and settled in Lincoln County, New Mexico. He became a deputy sheriff in 1880 and was elected sheriff in November of that year.
As sheriff, Garrett pursued Billy the Kid, a notorious outlaw who had been involved in a range of crimes in Lincoln County. Garrett finally tracked down Billy the Kid in Fort Sumner, New Mexico, on July 14, 1881, and shot him dead.
After killing Billy the Kid, Garrett continued to work as a lawman in New Mexico. He served as sheriff of Doña Ana County from 1896 to 1902 and as collector of customs in El Paso, Texas, from 1902 to 1906.
Dudley Poe Garrett, son of Pat Garrett, leased his Bear Canyon Ranch to Jesse Wayne Brazel for five years. However, Garrett and his son objected when Brazel began bringing in large herds of goats, which were not welcome by cattlemen like Garrett.
Garrett tried to break the lease when he learned that the money for Brazel's operation had been put up by his neighbor, W. W. "Bill" Cox. He was further angered when he learned that Archie Prentice "Print" Rhode was Brazel's partner in the huge goat herd.
When Brazel refused to cancel the lease, the matter went to court. At this point, James B. Miller met with Garrett to try to resolve the problem. Miller met with Brazel, who agreed to cancel the lease if a buyer could be found for his herd of 1,200 goats.
Carl Adamson, who was related to Miller by marriage, agreed to buy the 1,200 goats. However, just when the matter seemed resolved, Brazel claimed that he had "miscounted" his goat herd, claiming there were actually 1,800 goats rather than his previous estimate of 1,200.
Adamson refused to buy that many goats but agreed to meet with Garrett and Brazel to see if they could reach some sort of agreement.
Pat Garrett and Carl Adamson were riding together in Adamson's wagon, heading from Las Cruces, New Mexico. Jesse Wayne Brazel appeared on horseback along the way. Garrett was shot and killed, but the identity of the shooter remains a mystery.
Brazel and Adamson left Garrett's body by the side of the road and returned to Las Cruces. Brazel surrendered to Deputy Sheriff Felipe Lucero and claimed that he had shot Garrett in self-defense.
Adamson, the only eyewitness to the murder, never appeared at Brazel's trial, which lasted only one day and ended with an acquittal.
Family Overview
Pat Garrett comes from a large family.
His parents had many children, and so did his siblings. Pat also had many children, and the Garrett name continues to this day.
Pat Garrett made his life in New Mexico. However, his family lived in Louisiana, and there is still a large concentration of Garrett's there today.
He began his married life with a tragedy when his young bride died just 15 days after their marriage. The cause of death is uncertain, and she was memorialized recently.
His second wife is who he made the rest of his life and who gave him all of his children.
Family Tree Chart
Parents:
John Lumpkin Garrett (1822 - 1868) - He was the father of eight children, which included Pat Garrett. He was born in Georgia and moved west to Louisiana, where he would die.
Elizabeth Ann Jarvis (1829 - 1857) - She was the mother of eight children and perhaps died while giving birth to her last child.
Spouse:
Juanita Martinez (1860 - 1879) - As a young lady, she loved going to dances and is not sure, but I believe this is where she met Pat Garrett. They married by a justice of the peace, and according to a magazine article interviewing Seledon's son Joe, it states she died 15 days after their marriage.
Apolonaria Gutierrez (1861 - 1936) - She was born around the beginning of the Civil War and would eventually meet and marry Pat Garrett. She seemed like a good fit for the lawman and quite the character, as there are some photos of her with a large gun when she is an elderly woman. She and Pat had eight children together.
Children:
Ida Garrett (1881 - 1896) - She died at a young age. the cause of death is uncertain, but most likely from disease.
Dudley Poe Garrett (1882 - 1930) - He and his father had a conflict with a local rancher that led to his father's death. He was also an enumerator.
Elizabeth Garrett (1884 - 1947) - She was quite an amazing woman. She developed blindness as an infant, but that did not slow her down in life. Elizabeth was an accomplished teacher of voice, piano, and organ. She taught at the New Mexico Institute for the Blind (NMSBVI) at Alamogordo from 1907 until 1915 and was later vice president of the school's Board of Regents. Elizabeth wrote the school song and the New Mexico state song, among many others. Early in her career, she gave concerts and small recitals to music clubs around the United States with a dramatic soprano voice. She sang popular American and Spanish folk songs. Her Castilian accent was appreciated by Hispanic audiences. She was promoted variously as The Songbird of the Southwest, the Blind Mockingbird, and Blind Nightingale. Elizabeth's death is a bit mysterious as there were no witnesses present. She was walking home during an electrical blackout in her city's business district. After crossing the street with her guide dog, Tinka, She apparently tripped on the curb, fell, and hit her head.
Anna Garrett (1890 - 1922) - She married and had two children with her husband. She unfortunately died in her early 30s. Her cause of death is unknown.
Patrick Floyd Garrett (1896 - 1927) - He was the second son of Pat Garrett but never married and died young.
Pauline Garrett (1900 - 1981) - She lived for quite a while but never married and died in the same place she was born. She would have witnessed World War 1, World War 2, Korean War, and Vietnam. She would have seen most of the 20th century.
Oscar Lohman Garrett (1903 - 1952) - He was involved in manufacturing in Minnesota. He died after a surgical procedure he had. He never married or had children.
Jarvis P. Garrett (1905 - 1991) - He was the last surviving child of Pat Garrett and had two children. He also lived longer than any of his other siblings. He was involved in oil manufacturing, as was his brother Oscar. He was the only son to have children and pass on the Garrett name.
Siblings:
Margaret Jane Garrett (1848 - 1931) - She married and had four children. She was born in Alabama but eventually moved to Louisiana with her family. She died in Louisiana.
Elizabeth Ann Garrett (1853 - 1874) - She married a pastor but unfortunately passed away after giving birth to her only child.
Sarah Martha Garrett (1855 - 1928) - She married and had four children, like her oldest sister. She died and is buried in Louisiana.
Susan Wilson Garrett (1858 - 1924) - She had four children like her previous two sisters. She married and lived in the same area as her family. She died in Louisiana.
John Lumpkin Garrett (1860 - 1941) - He was born on the eve of the Civil War and died on the eve of World War 2. He and his wife had 14 children.
Alfred Jarvis Garrett (1862 - 1923) - He and his wife had four children, which seemed to be a common theme with many of the Garrett siblings. He lived and died in Louisiana.
Hillary Warren Garrett (1867 - 1932) - He was the youngest sibling and had eight children. He was similar to all but his brother Pat Garrett in that he lived in the same area as his family and died in the same location.