The Pocomtuc Indian Tribe was known as a prominent Native American tribe in the Massachusetts Bay Colony. However, very little is known of their history as it faded over time.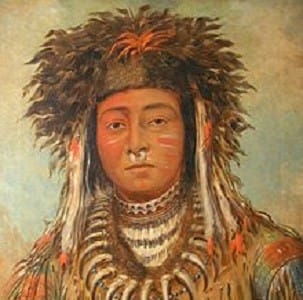 The Massachusetts Bay Colony consisted of the city of Boston and, eventually, the colony of Plymouth. The colony quickly expanded, which put much pressure on the various Native American tribes in the region, which included the Pocomtuc Indian Tribe.
History
The Pocomtuc Indian Tribe was an Algonquian-speaking tribe that resided around Massachusetts at the time of the Pilgrims and Puritans. It is not known whether or not the tribe actually came into contact with the Europeans or if they knew about them through other means. 
The Pocomtuc people were most likely related to the Mahicans and other tribes of the Hudson River Valley.
The Pocomtuc Indian Tribe led a lifestyle similar to other tribes of New England. They would have engaged in semi-sedentary agriculture of maize, beans, and squash. They also hunted game and fished in the Connecticut River, which served as a major inland transportation route.
The Pocumtuck were decimated by intertribal warfare with the powerful Mohawk Tribe, then based in present-day New York, and by smallpox epidemics after European contact. They had no immunity to the new disease and suffered high fatalities. In addition, they lost tribal members due to taking part in wars among the Dutch, English, French, and their respective Native American allies
During the first contact, the Wampanoag tribe helped the Pilgrims, but over a decade, the relations soured and resulted in King Philip's War. The war would last a few years and decimate the Native population. The Pocomtuc Indian Tribe would be hurt further.
At the close of the war, many Pocumtuc, Nipmuc, and other tribes fled to Schaghticoke, a village on the Hudson River. They remained there until the outbreak of the Seven Years' War (known as the French and Indian War in the United States) in 1754, when most joined and merged into the Abenaki tribes at Saint-François-du-Lac, Quebec, or moved further west.