President Jimmy Carter seemed like a breath of fresh air, considering that the United States had just endured the Watergate Scandal of Richard Nixon and pro-war Democrats that kept America involved in Vietnam.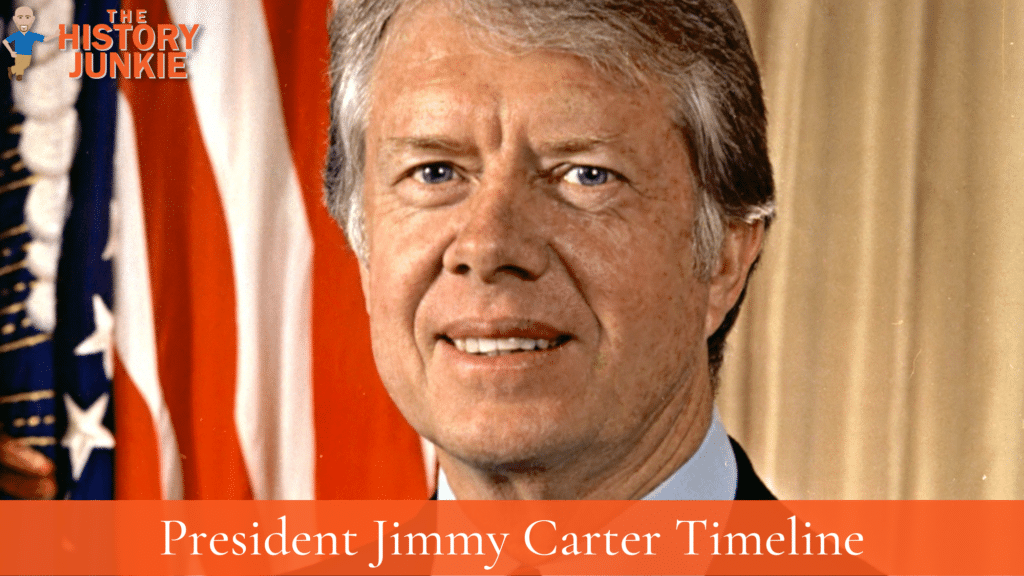 Carter took a more humanitarian position on foreign policy and was the first president since Theodore Roosevelt who prioritized the environment.
However, what seemed to be an ideal replacement ended up in disaster. Record high inflation, gas rationing, Iran hostages, and the perspective that America seemed to weaken all caused the quick demise of the Carter administration.
Jimmy Carter's accomplishments came after he left office. His work with Habitat for Humanity and other humanitarian projects influenced a new generation. His strong faith and pleasant demeanor made him extremely likable. He was also just a generally good person, which you don't see that often.
Timeline
November 11, 1976: Jimmy Carter defeats Gerald Ford, and the Democrats take the House and Senate. However, the Democrat party was divided and would struggle despite the large margins.
January 20, 1977: He delivers his inaugural address and thanks Gerald Ford for healing the country. He speaks of bringing in fresh faith in the old dream.
January 21, 1977: In one of the first acts, he pardons Vietnam draft dodgers.
February 2, 1977: He declares a Natural Gas Emergency
February 15, 1977: Secretary of State Cyrus Vance travels to the Middle East to try and reconvene the 1973 Geneva Conference.
April 18, 1977: Carter addresses the nation on energy conservation. He believed that this cause was the "moral equivalent of war."
May 22, 1977: The President speaks at Notre Dame and announces a departure from the anti-communist foreign policy of his predecessors and instead places a focus on human rights.
June 20, 1977: In a surprise move, the Carter administration stops production and opposes the B-1 strategic bomber.
July 19, 1977: The Carter administration meets new Israeli Prime Minister Menachem. Throughout his administration, he pursued peace in the Middle East.
September 7, 1977: Begins to transfer control of the Panama Canal to Panama. The transfer would be completed on December 31, 1999. Treaties were given to the Senate by September 16, 1977. The Panama Canal had begun being constructed during the presidency of Theodore Roosevelt.
December 29, 1977: Jimmy Carter meets with Polish First Secretary in Warsaw. After his meeting, he continued his travels to Tehran, New Delhi, Riyadh, Aswan, Paris, and Brussels.
March 9, 1978: After 81 days, Jimmy Carter helped negotiate an end to the Coal Strike.
March 17, 1978: Carter delivers a graduation speech and speaks of the threat of the Soviet Union.
September 5, 1978: In his most recognized accomplishment, Carter mediates a meeting between Israel and Egypt that would become known as the Camp David Accords. The peace treaty was officially signed in March 1979. It was a major breakthrough, perhaps the most significant by an American President dealing with Middle East affairs, and established a precedent for future high-level negotiations over these issues.
October 17, 1978: Jimmy Carter signed an act that restored the citizenship of Jefferson Davis, who was the former President of the Confederate States of America.
October 24, 1978: With inflation beginning to become a serious problem, The Carter administration addresses it.
December 15, 1978: Carter gives China full diplomatic recognition. President Nixon had begun to open China, and this policy continued under Carter.
December 17, 1978: Opec announces a jump in gas prices to the tune of 14% more. This causes gas rationing across the country.
January 1, 1979: China and the United States begin diplomatic relations. The United States recognizes Taiwan as a part of China, although the Taiwanese believe themselves to be independent.
June 18, 1979: Carter and Russian diplomats began the Strategic Arms Limitation Talks Treaty, but it was put on pause when Russia invaded Afghanistan in 1980.
September 27, 1979: The Department of Education is created
November 4, 1979: The Iran Hostage Crisis began when Iranian students stormed the United States embassy and took 70 hostages.
December 27, 1979: Soviet Union invades Afghanistan.
January 4, 1980: President Jimmy Carter announced an embargo on the transfer of technology from the USSR and a drastic cut in the grains sold to them.
January 20, 1980: The United States and 44 other countries boycott the Moscow Summer Olympics.
January 25, 1980: The Consumer Price Index announces that 1979 was the highest inflation in history since 1946.
April 7, 1980: The United States cuts off diplomatic ties to Iran and puts in place sanctions to hurt their economy. The hostages are still not released.
June 16, 1980: Congress successfully overrides a Presidential Veto against a president in the majority party for the first time in 28 years. This allowed Congress to pass a bill that rejected the imposition of a fee on imported oil.
November 4, 1980: Ronald Reagan easily defeats Jimmy Carter in the election of 1980.
January 18, 1981: Iran releases the American hostages.