Richard Henry Lee (January 20, 1732 – June 19, 1794) served as a delegate for Virginia to the Second Continental Congress. He was educated in England but was a fierce patriot and supporter of colonial rights. He served in the Virginia Commonwealth Legislature for some time without much recognition.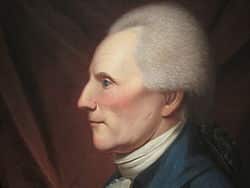 Although he is considered one of the great orators of the Continental Congress, it did not come about until later. The Stamp Act thrust him into the national spotlight, and his motion for independence would seal his legacy. Lee would become the voice of Virginia during the sessions of the Continental Congress. He served alongside fellow Virginia delegates: Thomas Jefferson, George Wythe, Carter Braxton, Benjamin Harrison V, Thomas Nelson Jr., and his brother Francis Lightfoot Lee.
Jump to:
Lee Family Legacy
Richard Henry Lee descended from the wealthiest families in Virginia. The Lee family influenced Virginia politics throughout its early days as a colony up until the Civil War.
The Lee family began in America with Richard Lee, who emigrated from England to Virginia. Richard became a wealthy Virginia farmer with his tobacco crop. His wealth set the stage for a powerful political family. His grandson, Thomas Lee, would be elected as Governor of Virginia. His two sons, Richard and Francis, would become signers of the Declaration of Independence and serve in the United States government. Richard Henry Lee is a descendant of the most famous person in the Lee family, Robert E. Lee.
Richard Henry Lee's Motion
The Continental Congress was in a deadlock for independence. John Dickinson, a Quaker delegate from Pennsylvania, was not in favor of independence and sought to reconcile the 13 original colonies with the mother country. John Adams, the leading voice for independence, argued that Britain could not be reconciled with and America should become a sovereign nation. This meant that the New England Colonies supported independence from Britain, the southern colonies did not support independence, and the middle colonies were split.
Richard Henry Lee then took to the Congress floor and delivered the speech that would begin to swing the discussion in favor of independence. His speech was lengthy, but the most powerful part of the transcript was the following:
Resolved: That these United Colonies are, and of right ought to be, free and independent States, that they are absolved from all allegiance to the British Crown, and that all political connection between them and the State of Great Britain is, and ought to be, totally dissolved.
The largest and most influential colony was Virginia. With Virginia siding with the side of Independence, the southern colonies quickly began to fall in line, and by the time of the Declaration of Independence, each colony voted for independence (New York abstained but later voted in favor). Without Virginia's support, there would not have been an American Revolutionary War, and it would have remained a local dispute between New England and Britain. Richard Henry Lee's motion for Independence is one of the crucial moments in American History.
Later Years
The defining moment for Richard Henry Lee was his motion for independence, but that is not all that he did in his political career. He served as a United States Senator and was present at the inauguration of his fellow Virginian, George Washington. He retired in 1792 from public life and died in 1794.
Richard Henry Lee is a name that is often left out of the school books, but is one of the founding fathers of the country. If it had not been for his speech, then one could argue that the revolution would have never taken place. His skill as an orator was only rivaled by Patrick Henry in Virginia.