The Know Nothing Party was a political party that rose to prominence in the 1850s. Its platform represented a strong stance on immigration, specifically targeting the anti-Catholic vote.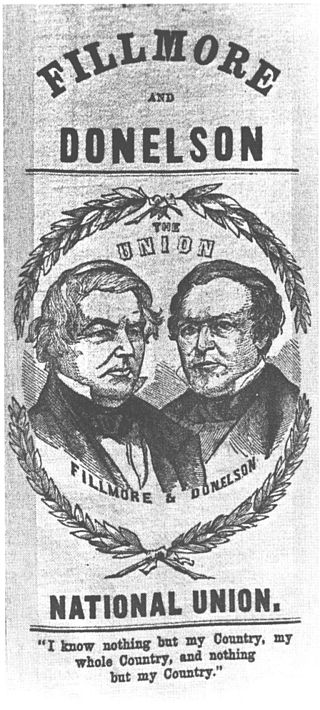 Jump to:
The Know Nothing Party Facts
In 1849, the secret order of the Star-Spangled Banner formed in New York City, and soon, lodges were founded in every major city in the United States. This would become the backbone of the party.
The Know Nothings were fearful of the influx of German and Irish immigrants.
They got their name when Members were asked about their nativist organizations and replied that they knew nothing.
As the party gained support, they changed their name to the American Party.
The Know-Nothing Party tended to be the middle ground between the pro and anti-slavery parties. They were particularly effective at the local level.
During the 1854 elections, the Know-Nothing party had elected 43 representatives. The passage of the Kansas-Nebraska Act helped increase their popularity.
Their power quickly waned. The party was divided along sectional lines over the proslavery platform pushed through by Southern delegates.
Former president Millard Fillmore ran as their candidate in the 1856 election and carried the state of Maryland.
After the 1856 elections, the party was absorbed by the two main parties. Anti-slavery Know-Nothings joined the Republican Party, and Southern members joined the pro-slavery Democratic Party.
The remaining Know-Nothings joined the old Whig Party and formed the Constitutional Union Party. They nominated John Bell of Tennessee for president.
He finished fourth in a four-man contest. The election all but finished off the party. The Know Nothings were never taken seriously again.
Related Pages