The Tutelo tribe was a Southeast tribe that lived on the borders of present-day Virginia and West Virginia.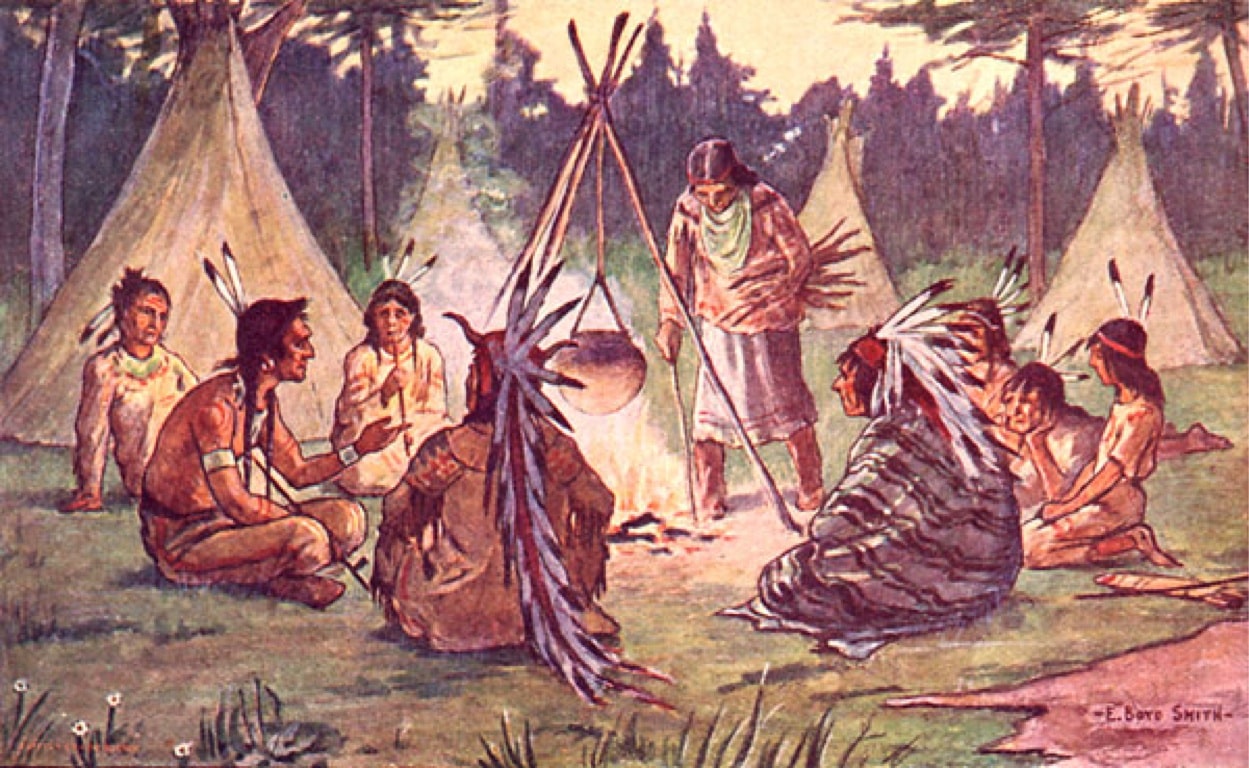 In the late 17th century, they joined the Virginia Siouan tribes to counteract the growth of power from the Iroquois Confederacy, who had allied themselves with the English. 
The tribe would be devastated by disease and eventually merge with their once rival, the Cayuga tribe, who resided in the New York colony in 1753, just a little over 20 years before the Revolutionary War.
Jump to:
History
The Tutelo tribe lived near the borders of modern-day West Virginia, Virginia, and Kentucky. They were familiar with the Appalachian mountains and lived off the game and fish in the Ohio River Valley.
This would change as the Iroquois Confederacy expanded. In 1670, during the Beaver Wars, the Iroquois drove many tribes that would conquer the land that was lived on by the Tutelo. Their expansion was due to the lucrative fur trade that had begun after European contact.
Although previously known to the Virginia colonists by their other names, a form of Tutelo first appeared in Virginia records in 1671, when the Batts and Fallam expedition noted their visit to "Totero Town" near what is now Salem, Virginia.
A few years later, the Tutelo / Nahyssan joined the Saponi to live on islands located where the Dan and Staunton Rivers join to become the Roanoke River.
In 1701, they were noted as living at the headwaters of the Yadkin River in North Carolina. After 1714, collectively known as the Saponi-Tutelo, they resided at Junkatapurse around Fort Christanna in Brunswick County, Virginia, near the border with North Carolina.
Over the 1730s, remnants of the Saponi, Tutelo, and Occaneechi Indians moved north to Shamokin, Pennsylvania, and sought the protection of the Oneida viceroy, Shickellamy. They moved further north into present-day western New York, where they settled.
The Cayuga and the American Revolution
The Tutelo tribe had lost many populations due to the Iroquois conquest, American migration, and European disease. With their population dwindling, their tribe was adopted by the Cayuga tribe, which was part of the Iroquois Confederacy. 
This new home was enjoyed for two decades until the Revolutionary War. During the war, the Iroquois Confederacy split, with some of the tribes supporting the Americans and most supporting the British. Many of the warriors that fought on the British side were under Mohawk chief Joseph Brant and had participated in effective attacks against the Americans. 
In response, the Continental Army was led by General Sullivan to attack the Native Americans. This devastating attack would be called the Sullivan Expedition and would all but eliminate Native Americans from the war.
The Cayuga village of Coreorgonel, which is where many of the former Tutelo lived, was destroyed along with many of their citizens.
After the war, The Tutelo tribe traveled with the Iroquois to Canada, where the British offered land for resettlement. They were eventually completely absorbed by the Cayuga through marriage.